Sometimes, Asian manufacturers may ask you for a high MOQ. Most suppliers use a cost and profit per-unit basis to calculate the MOQ. Thus, the MOQ is multiplied by the number of SKUs ordered from the same manufacturer. Considering that your order includes multiple SKUs, this quickly brings the required MOQ up to 10,000 units. Most small businesses can't afford such orders.
Limiting the list of products ordered to only one or two SKUs may be a viable option for some, but not for most. In this article, we explain how to reduce the MOQ required by your supplier. This is primarily done by optimizing the materials and components used, limiting the customization of items, and of course negotiating. Before we get into the details, we explain why MOQs are so expensive for Asian manufacturers.
This information and much more are developed in this article, which covers everything importers need to know about Asia's MOQ restrictions.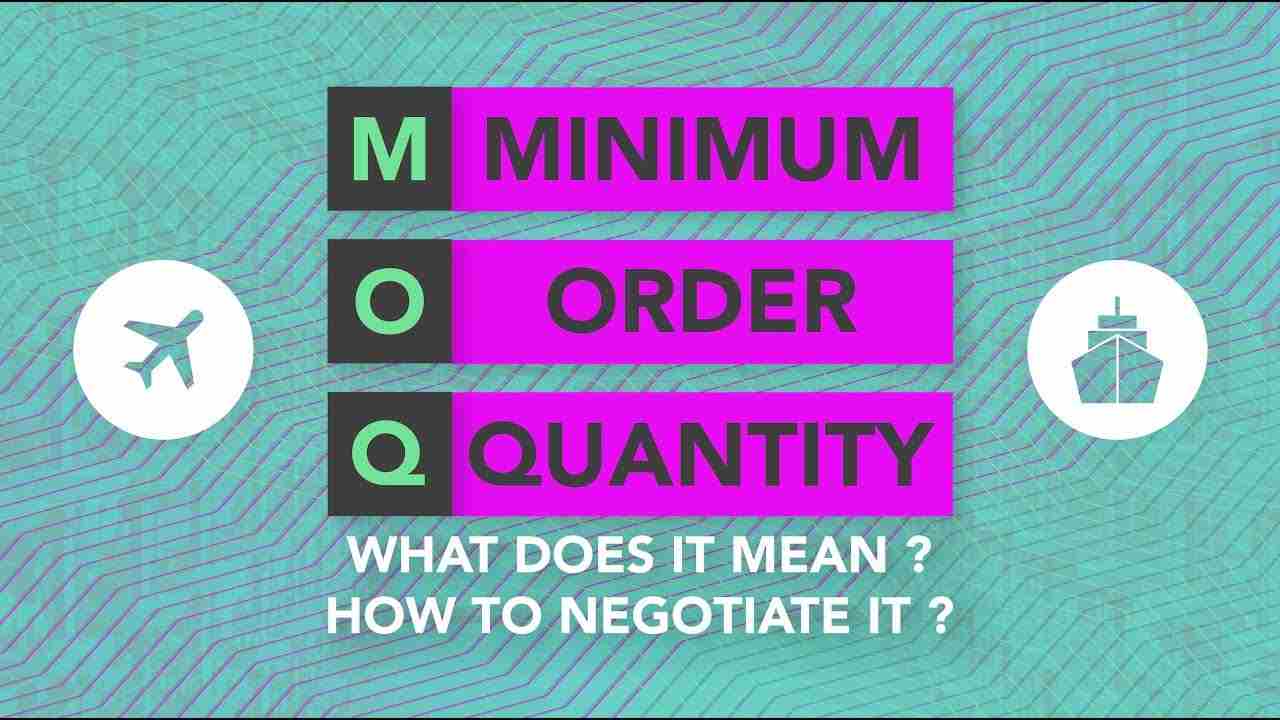 What is the minimum Order Quantity (MOQ)?
The minimum order quantity (MOQ) is the number of units you must order from a supplier. It can be customized by order, product, material, or color. If a supplier's MOQ is 750 pieces, for example, you must acquire at least 750 pieces before they can accept your order.
What is a minimum Order Value (MOV) ?
A minimum order value is the lowest amount of products that a supplier will sell per order or per product. If the minimum order value is set at $25,000, they will not take orders below that amount. Manufacturers, on the other hand, almost always specify a minimum quantity rather than a minimum value.
MOQ Examples :
Children's Products
750 – 1000 pcs per order
750 pcs per product/material
750 per pcs color
Kitchen Products
750 – 1000 pcs per order
750 pcs per product/material
750 per pcs color
Watches
750 pcs per order
750 pcs per model (including case size)
150 – 200 pcs per color (dial and case)
Electronics
750 – 1000 pcs per order
750 pcs per product
750 per pcs color
Clothing
750 – 1000 pcs per order
750 – 1000 pcs per color (custom colors)
150 – 300 pcs per color (standard colors)
150 – 250 pcs per size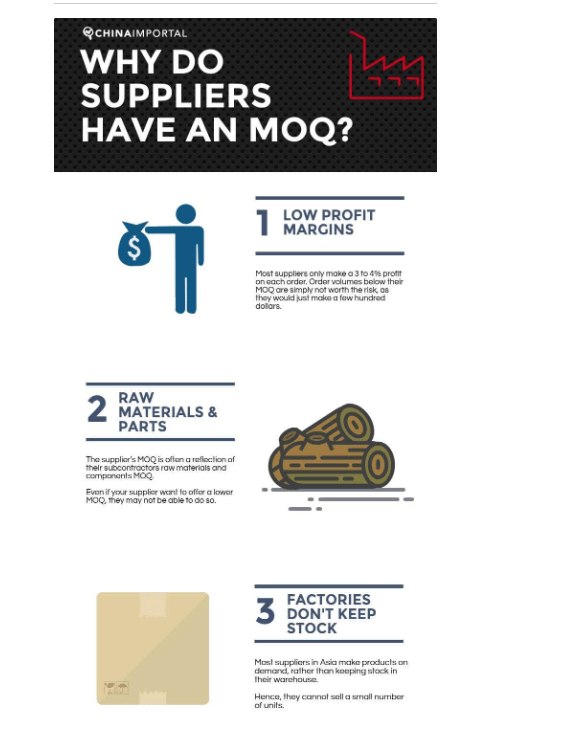 Why Asian suppliers have MOQ requirements ?
Low-profit margins :
The majority of Asian suppliers have razor-thin profit margins. Sometimes as low as 2 or 3%. To break even with low profit margins, the supplier must create a huge volume of products.
Trying to negotiate the MOQ requirement and the unit pricing at the same time is likewise a bad idea. On the other hand, a lower MOQ may necessitate a higher unit price from the supplier to compensate for a lower total profit on your order. Similarly, a lower unit price may result in a higher MOQ.
Expecting a supplier to offer both a price and a MOQ decrease at the same time is usually a bad business move.
MOQs set by their subcontractors :
High Minimum order quantity requirements are not necessarily the fault of the manufacturer. Chinese suppliers maintain a small amount of supplies and components on hand. As a result, they must purchase materials and parts on an as-needed basis from subcontractors. As a result, the plant must be able to meet the subcontractor's MOQ.
This also explains why MOQs for different items and materials (or even different hues of the same material) vary. It is possible to minimize the MOQ by identifying which materials and components the supplier keeps in stock or can procure in lower minimum order numbers with minor effort.
However, there are certain drawbacks to this strategy. Materials that must comply with reach or other chemical laws, for example, must be purchased in higher quantities.
Because product conformity is not optional, using standardized materials' to get around the MOQ requirement may not always work.
Asian suppliers don't keep many products in stock :
If a factory just kept ready-made products in stock, selling low volumes would be a breeze. They rarely do, though. At least not when it comes to 'export ready' products.
You may find tens of thousands of suppliers on Alibaba, all with ready-made goods. Off-the-shelf products are, nonetheless, made in China for the domestic market. This is a problem because such products are not manufactured in accordance with product labeling laws and safety norms in other countries (e.g., the United States or the European Union).
In the United States, for example, all products must bear an English-language country of origin label (i.e., Made in China). While certain off-the-shelf items may be compliant, you'll have to search hard to find them.
So, let's return to the original question. Off-the-shelf goods can be acquired in modest quantities; the issue is that you cannot buy such things – forcing you to return to "made to order" which means you must fulfill the supplier's minimum order quantity.
Suppliers often have multiple MOQ requirements : 
Many suppliers present a single MOQ for all products. However, that is rarely the case.
Take, for example, the textile sector. The MOQ for apparel producers is frequently as follows:
Per unit: 1000 pcs
Per standard material: 500 pcs
Per custom material: 1000 pcs
Per standard color: 250 pcs
Per custom color (i.e., RAL or Pantone): 500 pcs
Per size: 250 pcs
Standard materials and colors (i.e., those with higher turnover) are sold with a reduced MOQ, as shown above. The larger the minimum order quantity needed, the more customized a product is.
If you can receive this information from your supplier, you can make this work in your favor. In the preceding example, you must purchase 1000 units. You can obtain four distinct products if you buy a T-shirt in a regular material and color (SKUs).
A custom material, on the other hand, would only provide one SKU because the MOQ requirement is the same as for the "per order" MOQ.
This helps to explain why product MOQs are typically larger, although printing and other alterations can be given with lower MOQs. The same is typically true for cutting and other procedures that the supplier can handle.
DocShipper Advice : For all your logistics, feel free to dive deeper into the DocShipper website and contact us.
The impact of COVID-19 on MOQs
In our experience, COVID-19 has had no impact on Chinese vendors' minimum order quantity requirements. In fact, the prevailing trend is toward more flexible manufacturing and smaller MOQs.
We've also noticed that some suppliers are more willing to accept new orders, even if the buyer falls short of their typical MOQ. However, rather than being directly tied to the epidemic, this is more likely to be part of a broader trend toward reduced MOQ requirements.
It is also heavily influenced by the industry. For example, during the early 2020 medical supply rush, some manufacturers increased their MOQ requirements dramatically while also demanding full payment up front.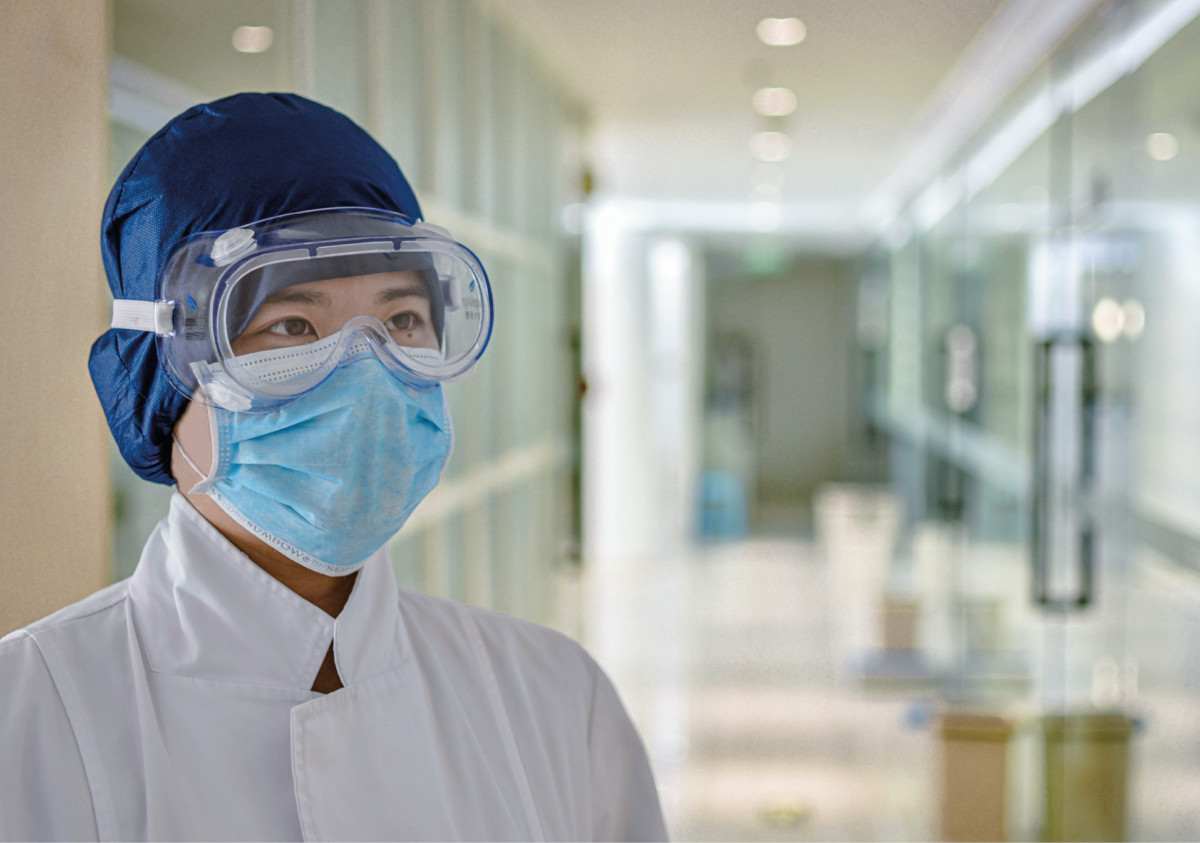 When it comes to MOQ restrictions, Chinese vendors are often cooperative
Unlike manufacturers in many other countries, We've discovered that Chinese vendors are more ready to lower the MOQ to accommodate smaller orders.
In Vietnam, for example, this strategy is uncommon because suppliers have greater MOQ requirements and are less inclined to haggle. As a result of the trade war, several companies have switched orders from China to Vietnam, giving factories in Vietnam less of a reason to maintain MOQs low.
The MOQ requirement varies depending on the season and the amount of orders the supplier is currently processing.
When compared to a factory that is desperate for fresh business, a supplier with full order books is less likely to accept lesser volumes.
DocShipper Advice : Do you have additional questions about the sourcing service ? Do not hesitate to contact us, one of our experts will answer you quickly!
Why you shouldn't always select the manufacturer offering the lowest MOQ

MOQs as low as 10 to 20 pieces are not uncommon to discover on Taobao and other supplier directories. Keep in mind that many of the suppliers with lower MOQs are trading businesses or distributors, not true manufacturers.
These products are typically off-the-shelf and made for the Chinese domestic market. As a result, 'low MOQ' products are not created to meet product safety and labeling laws in the United States, the European Union, or Australia.
Issues with buying "lower than the MOQ"
We talked with a European apparel manufacturer a few months ago to figure out why they were having quality concerns. After speaking with their Guangdong supplier, We quickly realized that the root of the problem was the fact that they only bought a certain amount of pieces per style.
The supplier could only get 'in stock' fabrics from local wholesalers on an order-by-order basis because they couldn't match the usual fabric MOQ.
The normal fabric was occasionally out of stock, resulting in quality concerns with the fitting and washing of their garment designs.
The solution was to buy fabric rolls in bulk for many orders, which allowed them to meet the MOQ requirement and assure that the same fabric was utilized on each order.
Docshipper Tip : You can count on DocShipper for if you're in need of any packaging and protection service to relieve your additional stress.
8 strategies to lower the MOQ required by your supplier
Present your MOQ bid to the supplier :
Rather than trying to figure out the supplier's theoretical MOQ, it's often more effective to send your own 'MOQ bid' to your suppliers. As a result, the supplier will have the opportunity to examine your full order volume.
After seeing an order list from a potential buyer, suppliers frequently offer drastically lower MOQs, at least on a per SKU or color basis. Given all the variables at play when a provider estimates the MOQ requirement, MOQ discussions can become very theoretical.
You can negotiate a lower Minimum order quantity requirement from your supplier. Yet, as mentioned in this article, the supplier often has very limited room for reducing the MOQ.
In fact, they may not be able to offer you a lower MOQ than they already do. At least not without taking a loss, or being forced to themselves take a bigger risk by buying more materials and components that are actually used for your order.
Some suppliers may consider offering buyers a lower MOQ in return for a higher price. But, working out the supplier's quantity requirement structure is often far more efficient.
By doing so, you can design your product, and use materials and parts that the supplier is able to procure in lower volumes.
Hypothetical case-study A: Clothing
A client arrives in Shanghai to visit manufacturers of clothing apparels. This client owns two stores in Europe. Large enough to meet the supplier's minimum order quantity, but only for one or two products.
This is a problem since stocking 10,000 blue skirts and another 10,000 red ones is not feasible for a small business with two locations.
As a result, the client's goal was to figure out how to add more SKUs (i.e., more colors and forms) while staying above the manufacturer's minimum order number.
The MOQ was controlled by a subcontractor, as we discovered. When it comes to color, though, they have more freedom. As a result, one important issue is resolved.
The finding of the supplier's own MOQ per cutting, which was set at 50 pieces, was an even greater deal. That makes sense because the provider has complete control over the MOQ per size. Cutting is a straightforward operation that does not necessitate a large amount of material in each variation.
As a result, the client may purchase skirts in four different colors and five distinct forms. Up to 20 SKUs are possible.
Hypothetical case-study B: Watches
Watchmakers often establish a minimum order quantity (MOQ) of 1000 pieces per case design. When it comes to the minimum order quantity per dial and case color, they are more flexible.
Even though you only get one watch case design, if you buy 500 pieces, you can still make five different variations (e.g. various models) of the same watch. Many brands, which concentrate in a single product category, have done this well.
Components and materials should be simplified :
As previously stated, your supplier's MOQs are always determined by its subcontractors. Vietnamese suppliers use a variety of subcontractors, rather than simply one or two. As a result, a product made up of a variety of materials and components pushes your supplier to meet the MOQs of a number of subcontractors, as well as you indirectly. Additional MOQs may be required as a result, especially if you want very specific materials and procedures.
To avoid this, it is preferable to reuse the same materials on multiple goods rather than just one. Your supplier will be able to meet the MOQs set by his subcontractors, allowing you to choose from a larger selection of products. If your supplier is at least flexible, this practical method helps smaller buyers to cut their MOQs.
Limit the customization of your products : 
A product can be customized to some extent. It's significantly easier to put a bespoke logo on pre-existing factory products than it is to make something altogether from scratch. Simple customizations enable the supplier to employ standard (high-turnover) materials and components, whereas highly customized materials need the supplier to outsource a completely new design.
These OEF components may not be compatible with the supplier's own products, resulting in large MOQs. When the product is made up of standard components, this difficulty is solved because they may be utilized for several orders from different purchasers at the same time. To demonstrate our idea, consider the following watch:
Case production MOQ: 500 standard units; 800 OEM units
Strap production MOQ: 500 standard units; 5000 OEM units
Dial production MOQ: 500 standard units; 4000 OEM units
Clock face production MOQ: 500 standard units; 4500 OEM units
MOQ of watch movement: 500 standard units; 2000 OEM units
Forcing a supplier to outsource an OEF product might result in a significant rise in MOQ, as shown in the list above. Remember to keep your customization to a minimum and use factory standard components whenever possible.
Offer a higher order price : 
Most Asian manufacturers keep a stock of components and materials that have a high turnover. Thus, they can (if they wish) produce smaller quantities of products. But considering their low margins, the effort and risk involved is not worth it. Offering to pay a higher price, say 10-20% higher, may encourage your supplier to accept a small order.
Negotiate the MOQ directly : 
Don't rely exclusively on this option, but nothing ventured, nothing gained. Some manufacturers may revise the MOQ after negotiation. However, do not expect the MOQ to decrease by more than 10-20%.
Source from Alibaba/Taobao : 
Using online marketplaces to source Chinese products has both risks and benefits. Just because a provider has been approved via an online marketplace doesn't imply you shouldn't do the same. On online marketplaces, however, MOQs are frequently low or non-existent, at least among adequately vetted vendors.
Look for small suppliers/manufacturers : 
Small manufacturers are often more flexible than major manufacturers, even if your order is not in the hundreds of thousands of euros, and they also have longer teeth. However, as previously said, the required MOQ should not be your exclusive criterion for selection. The same may be said for selecting a provider based on their size. Choosing a supplier who is poorly organized or incapable of producing to your country's standards is never a good idea.
Use DocShipper's service : 
DocShipper offers a service of sourcing where we find the best manufacturer and supplier for your business. We are able to put you in connection with a known and trustful network of suppliers, wholesalers and providers. With DocShipper you will get a full guide on how to source and minimize the MOQ requirement in Asia. You can supply us with pictures, quantities and prices expected for us to find the best matching service needed for you. We seek to offer you the best quality for your goods and the lowest upfront cost.
Order small quantities as a standard practice : 
For a first test manufacturing run, many suppliers are ready to accept a smaller MOQ. Keep in mind that they'll almost certainly want you to meet their MOQ demand for any future orders.
FAQ | An exhaustive guide to Minimum Order Quantity MOQ requirement in China
How can the MOQ affect your online business?
MOQ can be a limiting factor for new online businesses, as some suppliers are not willing to reduce their MOQ to fit the buyer's budget. Thus, online businesses will have no choice but to seek out smaller retailers. These offer minimum quantities and high unit prices to offset the overall production costs.
Why is the MOQ important?
MOQ is an important metric for any manufacturer. It not only covers the production costs, but also makes profit. The majority of Chinese manufacturers operate with low profit margins. As a result, they focus on high-volume production in order to respect the time, cost and energy used during the production process.
What are the disadvantages of MOQs?
While the MOQ system is an advantage, it does have its drawbacks. The initial cost of producing your units may seem high, especially if you are a new company. For example, one manufacturer is offering a 900-piece MOQ at $15 per unit. That means you'll have to pay a whopping $13,500, which may exceed your budget. Indeed, this is one of the main reasons why most novice importers are reluctant to take the plunge.
Will a small pilot batch lead to a sacrifice in quality ?
Yes, you may have difficulties if your supplier is unable to offer materials and components that comply with your specifications. Because most Chinese manufacturers have a minimal stock of materials and components, this is the case. Subcontractors are required to purchase materials and components. This is also the primary rationale for the MOQ requirement in the first place.
DocShipper info: Do you like our article today? For your business interest, you may like the following useful articles :
DocShipper Advise : We help you with the entire sourcing process so don't hesitate to contact us if you have any questions!
DocShipper China | Procurement - Quality control - Logistics
Alibaba, Dhgate, made-in-china... Many know of websites to get supplies in Asia, but how many have come across a scam ?! It is very risky to pay an Asian supplier halfway around the world based only on promises! DocShipper offers you complete procurement services integrating logistics needs: purchasing, quality control, customization, licensing, transport...
Communication is important, which is why we strive to discuss in the most suitable way for you!