You can choose which product to market once the product study is complete. Finding a trustworthy wholesale supplier in China to produce your goods is the next crucial step, as the country offers the finest conditions for producing high-quality goods at a competitive price.
With the growth of the Internet, you no longer need to travel to China to identify vendors. There are still numerous methods to locate them online. Many of you may only be familiar with Alibaba, which has so many wholesale supplier that choosing which ones to engage with can be difficult.
It's not appropriate for everyone because the MOQ can occasionally be too high for many newbies. We will thus outline four different ways to locate Chinese suppliers online other than Alibaba in today's post. These strategies can be used by middle-sized to large enterprises, which have budgets of over $100,000, as well as tiny firms, even those with only $100.
Method 1: Look for vendors on DHgate and AliExpress
A quick overview of DHgate and Aliexpress
For people who own tiny enterprises or merely wish to buy a very small amount of goods, AliExpress or DHgate will be the greatest options for finding Chinese suppliers and importing such goods from China. Considering that both of these websites are incredibly user-friendly and tailored for small-batch purchases, making online buying on them as straightforward as possible. The only thing you need to do is look at the reviews and the selling history of the providers, and then you can click your mouse to complete the entire purchasing process.
When you select a delivery option or a quantity, the cost of international shipping is automatically computed. Because all packages are either sent by FedEx or DHL courier services or by China Post airmail, you don't need to have any expertise of import or export. You can easily seek a refund if you're unhappy with the product quality you received.
Which is better for you, AliExpress or DHgate?
First off, AliExpress is best suited for small orders under $100; purchasing a single item for personal use is OK. Most of the time, the price difference between purchasing 1 unit and 100 units of the same product is negligible. And it goes without saying that you must use AliExpress if you operate a dropshipping business.DHgate, meanwhile, is better suited for purchases between $100 and $1,000. It's fairly simple to discover that many vendors on DHgate would set several price tiers for different order sizes, such as 10, 50, 100, or 200.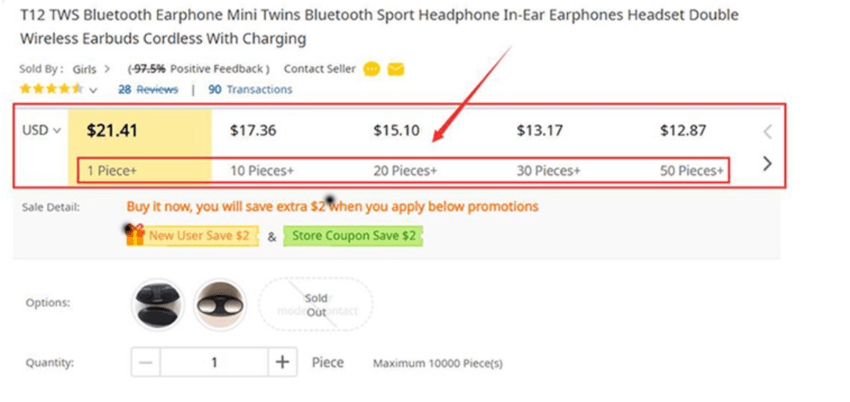 DHgate will be a wonderful site for you to check out if you think the MOQ of Alibaba suppliers is too high and the wholesale pricing on AliExpress is too pricey. This website is ideal for small company owners, especially if you own a brick-and-mortar store. I'll use a product as an example. The resistant band set has been a very popular item in recent years, whether sold on Amazon or through dropshipping. A single pair from AliExpress costs about $8 and takes 30 days to arrive in America. For the same thing on DHgate, the price ranges from $4.5 to $5, including shipping. Additionally, if you purchase more than 100 sets, the provider will send your order by DHL, which only needs 7 days to reach America.
The second distinction between these two websites is the fact that AliExpress has more suppliers and a wider selection of products than DHgate. Because Taobao and AliExpress are both owned by the Alibaba Group. Chinese manufacturers are urged by Alibaba Group to transfer all of their inventory from Taobao to AliExpress. Then, utilizing tools, Chinese vendors may quickly convert every product description from Chinese to English. However, as DHgate is an independent business, you often won't always find the precise item you're looking for there.
However, W must admit that these two platforms are not appropriate for a rapidly expanding firm, as the majority of their vendors are wholesalers rather than producers. Typically, they purchase their goods from several producers or trading firms. Therefore, it is difficult to guarantee that the goods you purchase in various batches are of the same quality.
And if you want to spend a few thousand dollars on the same product in the upcoming months because you intend to do a long-term business with it. These two tiny quantity wholesale websites are not a very smart choice in this situation.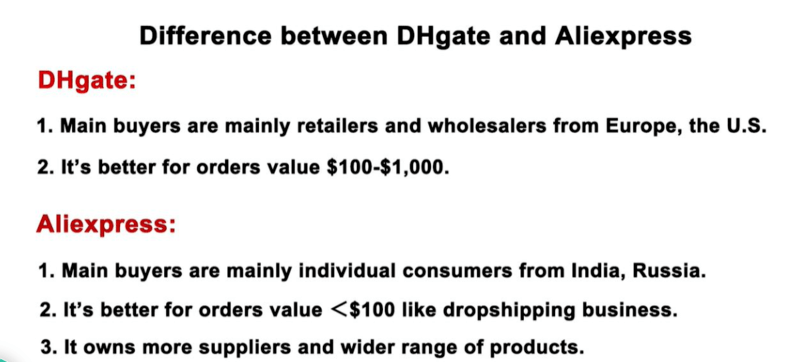 Method 2: look for suppliers from Alibaba or other B2B trading platforms
If you have set aside a few thousand dollars in your budget to build a long-term, rapidly expanding business. It goes without saying that you must utilize Alibaba or other B2B trade platforms to locate trustworthy manufacturers or trading firms to serve as your wholesale supplier.
Alibaba is similar to an online trade show in that you can only choose vendors by perusing their product descriptions and photographs. Before placing orders, you must contact suppliers via email or Alibaba trade messaging to discuss pricing for various purchase amounts or how to personalize products with your own packaging or design.
The wholesale supplier will assist you in creating the contract and invoice, and after they have received your cash, they will begin manufacturing brand-new goods and organize transportation to your nation. This is a typical workflow for a classic trading business.
 Two main categories of suppliers on Alibaba
On Alibaba, there are two main types of suppliers:
Manufacturers and traders
The person who manufactures goods and sells them directly to international customers is the manufacturer. In trading businesses, the products are obtained from producers with whom they have a working relationship and then sold to customers abroad.
Trading firms always favor manufacturers with very competitive prices who don't employ English salespeople. You will have a difficult time locating these manufacturers on Alibaba. It follows that even if you'll be purchasing from trading firms on Alibaba, the cost won't be significantly greater than if you were to purchase from manufacturers. Even those trading firms can provide a more skilled and effective level of service.
2 Two methods to find  suppliers on Alibaba
On Alibaba, there are two methods for finding wholesale supplier. You can either utilize RFQ to submit your purchasing question and have the best-suited wholesale supplier get in touch with you, or you can directly search the product keywords and contact suppliers one at a time.
Transaction on Alibaba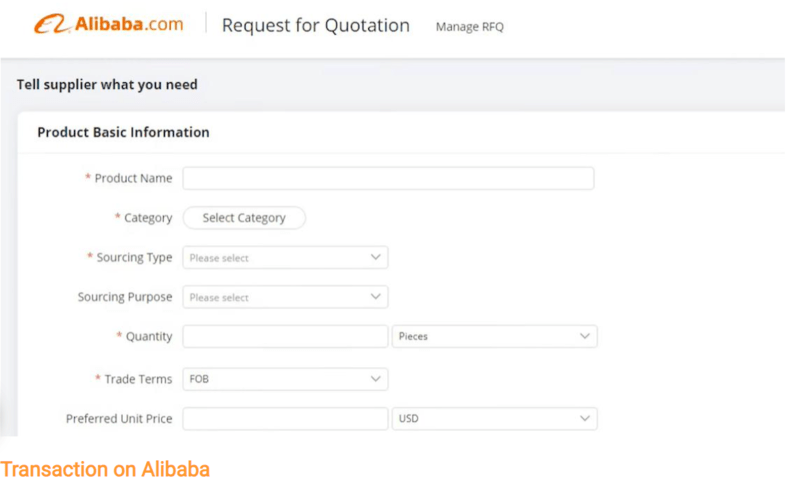 When you make orders, you can complete the transaction similarly to conventional trading by sending money to the provider via a wire transfer. Because there is no third-party organization to safeguard you, it doesn't sound safe.You could also process your transaction using Alibaba Trade Assurance. Alibaba offers refunds if you don't get your order in a timely manner, or it is of low quality.Other B2B trade platforms
Compared to other B2B trading platforms, Alibaba has the most wholesale supplier and products, and it can meet the needs of the majority of buyers. The only two options you have, though, if you really want to explore any alternatives, are Global Source and Made in China.
Made-in-China has greater benefits when it comes to manufacturing machinery, but during the past ten years, they have fallen behind Alibaba in the B2B trade space. They must therefore concentrate on the machinery sector, which Alibaba does not. Most likely, Made in China has more wholesale supplier of machinery.
Gifts and electronics are better off at Global Sources. Finding some large-scale, venerable manufacturers will be simpler on this website because of the platform's $30,000 annual membership price for suppliers. Small manufacturers or trading enterprises cannot afford this price. While Alibaba only costs about $4,000 for membership annually.
Method 3: Find suppliers by using Google search.
One might question how so many suppliers can be found on B2B trading platforms like Alibaba. This is due to the high volume of potential customers who visit them.
Since Alibaba's fame, it receives a lot of traffic because whenever consumers want to discover suppliers, they just think of the name of Alibaba. They invested a lot of time, money, and effort to create this well-known brand.
Another significant factor is the significant amount of traffic Alibaba receives from Google, whether through paid or organic search results.
Alibaba provides suppliers with access to these buyers' traffic in exchange for yearly member fees ranging from $4,000 to $10,000 as well as PPC marketing, allowing the suppliers to compete with one another. In other words, Alibaba generates revenue by bringing in customers and selling to suppliers.
The cost for suppliers to receive acceptable consumer queries has increased significantly over the past few years due to the intense rivalry amongst them on Alibaba.
Some of them consequently came to the realization that they could also create a company website and use Google Ads or Google SEO to attract more potential clients at a reasonable cost. Instead of remaining on Alibaba, they can gain more exposure to clients and face less competition.
How can I use Google to find Chinese wholesale supplier?
By combining the following suggested keywords with the product keywords, you can locate Chinese wholesale supplier on Google. Then, take a look at the Top 100 search results, whether they are organic results or advertisements, and note which websites resemble Chinese trading companies or manufacturers. You can email them or use their website to send them a message, and often you'll hear back from them within one or two business days.
How can I evaluate Google Search suppliers?
However, if you utilize Google to look for wholesale supplier, your main challenge will be determining whether the provider is trustworthy because there is no independent party to confirm whether the supply is genuine. Let me share some helpful advice with you. If they have an Alibaba store, you can inquire. If they have, you can complete the purchase using the Alibaba trade assurance. If not, you can convince them to utilize PayPal in order to conduct a secure transaction.
The majority of Chinese vendors, however, are unable to take PayPal payments of more than $1,000 since they have heard several horror stories of sellers being duped by consumers. For instance, some con artists who purchased things nevertheless requested refunds despite receiving them for a variety of fictitious justifications. Additionally, you can still utilize Who is to determine the date that the wholesale supplier's website domain was registered. The less likely they are to be con artists, the longer the domain has been registered, and the firm has been operating.
When you visit their websites, you can see their actual address in China as well as pictures of their office, suppliers, and staff. Or they upload several images and details about going to various trade exhibitions. They should then be more dependable. In a similar vein, you should exercise extreme caution when working with vendors who never publish business or team images on their websites. They most likely consist of just one person's home office-based firm.
For the same goods on Alibaba, there are far too many vendors, many of whom are wholesalers. Therefore, it can be challenging to select the expert ones from among this many wholesale supplier. In certain cases, it will be more effective to search for suppliers on Google rather than Alibaba, particularly if you don't have a specific product in mind to purchase and are instead just looking for a reputable manufacturer to assist you in developing a new product.
Method 4 :Use Facebook or LinkedIn to find suppliers
Alibaba and the Canton fair are typically the only two reliable routes for Chinese suppliers to interact with overseas buyers, since they are so hungry for foreign business. Instead of remaining in the same location with too many competitors, some of them start to try whatever method they have heard of that has a possibility to attract customers.
Due to the fact that it's free, they frequently use Facebook and LinkedIn to discover consumers. To find new customers, they frequently choose a keyword that is associated with the product or their sector. And after that, strive to attract more potential customers by advertising their items, providing information about their company's products online, or writing articles about them. The same method can be used to locate them on LinkedIn or Facebook. To find out if any Chinese suppliers are posting relevant information, just search the product keywords and mix them with certain business-related terms.
Consider the perfume bottle as an illustration. On LinkedIn, you can perform a keyword search for "perfume bottle manufacture." Finding salespeople from glass bottle manufacturers, salespeople from trading firms for cosmetic packaging, or even business owners, is quite simple. Additionally, a lot of product details or images from the manufacturer are shared by vendors.
However, using this method to find suppliers has significant drawbacks. Compared to Google or Alibaba searches, you can never locate too many vendors. Additionally, it is very difficult to comprehend the suppliers' corporate history or product line by simply visiting the salesperson's Facebook or LinkedIn page. To request their product catalogs, you must get in touch with each individual company separately. Alternately, you can inquire whether they can assist you in creating the precise item you require.
Let DocShipper help you find the right supplier or manufacturer
We are DocShipper top sourcing firm. Contact us if you require any assistance with importing to and from China.  As well as the rest of the world (Asia, Europe, North and South America, Middle East and Africa).
FAQ | 4 Ways to Find a Reliable Wholesale Supplier in China
Why DocShipper instead of a different one?
Perhaps just because we approach the market differently. Look for a competitor who can handle the whole product cycle, including 3PL services, international freight, customs clearance, compliance & standards, and quality control. You've finally located a collaborator to manage your global trade without anxiety.
How might DocShipper help us in selecting a trustworthy wholesale supplier?
DocShipper is the best freight forwarder that can assist you if you're looking for a reliable wholesale supplier in Asia, specifically in China. With the help of our sourcing services, our experts can accompany you through the entire process and audit the ideal and trustworthy wholesale supplier in accordance with your needs.
How can we guarantee that the goods the factory delivers won't be flawed?
Three services from DocShipper take care of it for you: The specs are a list of the requirements that must be followed by the product, both functionally and non-functionally. Quality control: To monitor and regulate the goods' quality throughout the production cycle, we dispatch skilled inspectors to the manufacturing facility. This action enables a production error to be fixed before it is too late, hence it is strongly advised. The sample: To make sure the product has been created in accordance with the specifications, we request that the manufacturer provide you a sample of the product. This is a crucial step that needs to be completed before making a big order.
How to find a trustworthy manufacturer?
An alternative to this time consuming process is to visit trade shows. You can easily meet hundreds of manufacturers at the same time, saving you weeks of effort. It is also possible to find some manufacturers at your local watch trade as well.
DocShipper info: Do you like our article today? For your business interest, you may like the following useful articles :
DocShipper Advise : We help you with the entire sourcing process so don't hesitate to contact us if you have any questions!
DocShipper China | Procurement - Quality control - Logistics
Alibaba, Dhgate, made-in-china... Many know of websites to get supplies in Asia, but how many have come across a scam ?! It is very risky to pay an Asian supplier halfway around the world based only on promises! DocShipper offers you complete procurement services integrating logistics needs: purchasing, quality control, customization, licensing, transport...
Communication is important, which is why we strive to discuss in the most suitable way for you!