Rail freight in China is one of the most important modes of transport for the movement of goods within the country and internationally.
The rapid development of China's rail transport system has led to significant improvement in rail freight services over the past decades, making it an attractive choice for companies wishing to transport goods across the country.
With the establishment of the New Silk Road, also known as the Belt and Road Initiative, rail freight in China has become even more important for international trade, providing an efficient, reliable and economical means of transportation to connect China with its trading partners around the world.
DocShipper China offers an expert rail freight service from all Chinese cities to Europe, or anywhere in the world, providing increased flexibility to customize our offers to the specific needs of our customers.
We have compiled in this guide all the essential information on rail transport between China and Europe, Russia or Central Asia. If you're looking for an efficient alternative to air or ocean freight services, you've come to the right place. We invite you to dive into this instructive and enriching read!
DocShipper is a company specializing in international logistics, which offers a full range of shipping services. We organize all the stages of your shipment, from the collection of the goods to their final delivery. We also take care of all the necessary formalities, such as customs formalities, documentation, packaging, storage, transport and tracking of your shipment.
We also offer a wide variety of shipping services to meet all of our customers' needs, whether it's ocean freight, air freight or ground freight. our goal is to facilitate the safe and efficient shipping of your goods, while providing excellent customer service. If you have any questions or would like a quote for your next shipment, do not hesitate to contact us via our online form.
Our rail freight services from China
We offer rail freight solutions that ensure safe, reliable and environmentally friendly transport services, covering a wide geographical area that stretches from Europe to Asia. As for sea freight, we offer two options: shipping LCL (Less-than-Container-Load) or FCL (Full-Container-Load).
LCL in rail freight
If a shipment is not large enough to fully fill a container, we can organize the reservation of your cargo in groupage. This type of shipment is called LCL (Less than Container Load) shipment. We will organize a full container (FCL) with a primary carrier and consolidate shipments from multiple shippers. This means that the forwarder (here DocShipper) who reserves a full container accepts goods from different shippers and groups all these goods in one container as a fully loaded container - FCL. The freight forwarder sorts these goods at their destination or at the transhipment points, intended for different recipients in different ports.
Fast and secure transport of your cargo in LCL (Less-than-Container Load)
Regular departures from major business centers across Europe and China
Fixed and reliable transit times
FCL in rail freight
Shipping in FCL (or full container) does not mean that you need to have enough freight to fill an entire container. You can ship a partially filled container as an FCL. The advantage is that your cargo will not share a container with other shipments contrary to a solution in less than one container (LCL). Keep in mind that a full container (FCL) becomes profitable from the moment it is half-filled.
Regular departures from major business centers across Europe and Asia
An ecological alternative for your FCL freight transport
Services available for containers, trailers, wagon groups and train block movements
Container sealed from origin to final destination
Booking of a wagon from China to Europe
For a large quantity of goods shipped or exceptionally large products, transport by train and booking an entire wagon is an option to consider. This can reduce costs compared to using containers: raw materials, building materials, etc. The DocShipper team also has a wealth of experience managing the shipment of goods by the whole wagon.
Transit times between China and Europe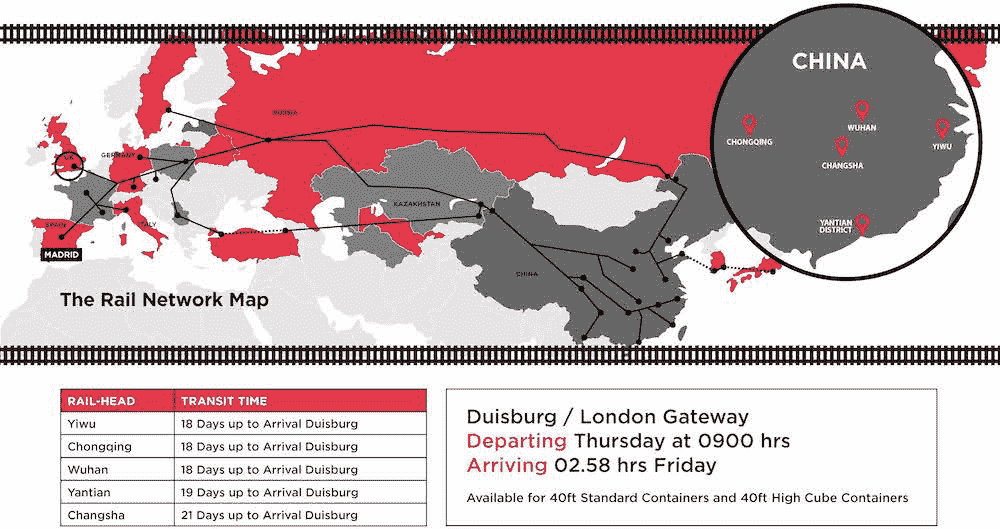 Note DocShipper: The central station in Europe is Duisburg, from that checkpoint, your cargo will be dispatched across Europe. As you can see. it generally takes 2 weeks to send a container from China to Europe, an unbeatable compared to the sea freight method.
How much does rail freight cost from China?
When we make an offer for rail transportation, we will base our pricing on multiple factors. Are you planning to ship your cargo by train? Then clarify the following points which will be essential to determine the adequate offer:
Cargo volume: The dimensions of your cargo after packaging
Cargo weight: Gross weight of the goods on the scale
Distance: The costs will be proportional to the distance traveled by train
Origin and destination: These 2 points will, in particular, make it possible to determine the trucking costs from/to the stations
Nature of goods: Some goods are more complex than others, for example, dangerous goods
Insurance: You decide to insure your shipment? This will have a cost not to be overlooked
Customs clearance: Customs duties and taxes will be an important factor you will have to consider
However, in general, rail freight costs from China to other countries can range from a few hundred dollars to several thousand dollars per container.
For an accurate estimate, we suggest you contact us directly to discuss your shipment and obtain a quote.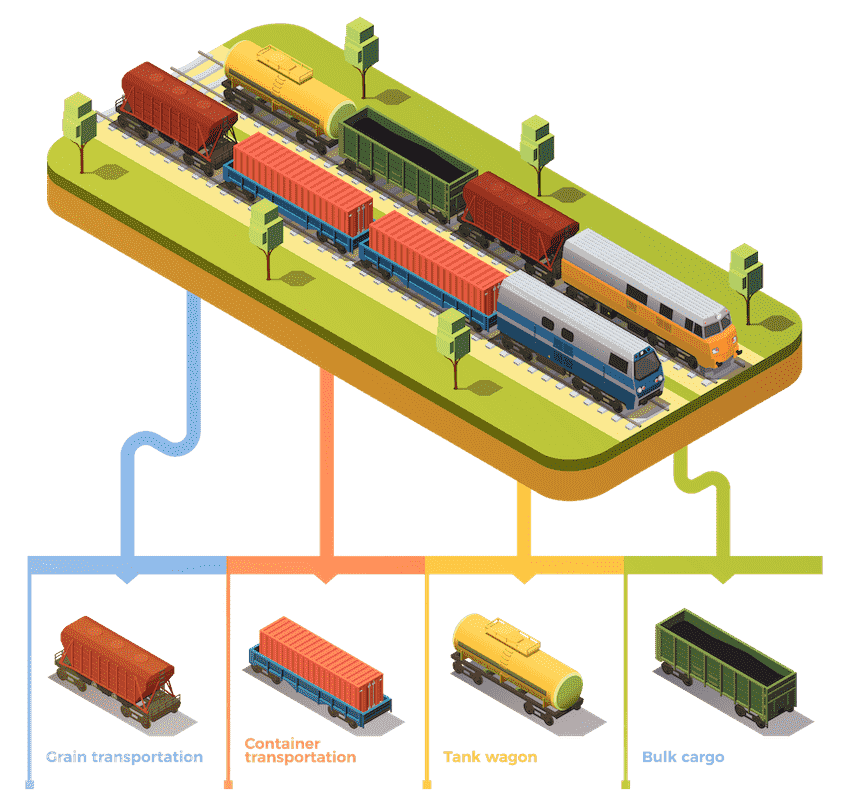 Advantages and disadvantages of rail freight from China
Don't ask too much! It's still the beginning of the rail transport, but the future looks bright! As mentioned previously, with the heavy investments of the world's leading power, we can be sure that things will change, and quickly!
A railway line that crosses the world from the Far East to Western Europe is the new Silk Road! Indeed, it sometimes happens that sea freight or air freight is not a perfect alternative to freighting from China. It was around mid-2017 that this route really took shape with the transport of a cargo over 12,000 km, from East China to Great Britain in London, just that!
Faced with the rise of this mode of transport, DocShipper, a freight forwarder based in China, also offers rail freight services. Now let's take a look at the main advantages of this method of transport.
Rail freight advantages
reliable
Rail transport is the most reliable mode of transport because it is less affected by weather conditions than other modes of transport.
Well organized
Rail transport is safer, more uniform and regular than other modes of transport thanks to its fixed routes and schedules.
High speed over long distances
Rail transport is the best choice for long-distance traffic due to its superior speed compared to all modes of transport except air.
Suitable for bulky and heavy goods
Rail transport is economical, faster and better suited for transporting heavy and bulky goods over long distances.
Cheaper transport
Rail transport is economical because most operating expenses are fixed costs and it requires less labor than motorized transport, although ocean freight remains the cheapest method for large volumes.
Security
Rail transport is the safest mode of transport with insignificant risk of accidents and breakdowns compared to other modes of transport, and traffic can be protected from weather conditions.
Larger capacity
Rail transport has an extremely large and elastic transport capacity which can be easily increased by adding more wagons if necessary.
Public welfare
The railways are the largest public company in the country, provide many public services, have fares based on the principle of "taxing what the traffic can bear", and are considered a national necessity to help the poor.
Government administrative facilities
The railways provide administrative facilities to the government. The defense forces and civil servants derive their mobility mainly from the railways.
Rail freight disadvantages
Huge capital investment
Rail transport requires a large capital investment with high construction, maintenance and overhead costs compared to other modes of transport, as well as specific and real estate investments which can lead to a considerable waste of resources if the traffic is insufficient.
Lack of flexibility
Another disadvantage of rail transport is its lack of flexibility. Its routes and times cannot be adjusted to individual needs and must follow standards.
Absence of door to door service
Rail transport is limited in providing door-to-door service, resulting in higher costs, accumulated wear and tear and loss of time for intermediate loading and unloading, and inconvenience related to terminal operations which are also present in sea freight.
Monopoly
As the railways require considerable investment, they can give rise to monopolies and harm the public interest. Even if it is controlled and managed by the government, the lack of competition can lead to inefficiency and high costs.
Not suitable for short distances and small loads
Rail transport is neither suitable nor economical for short distance journeys and reduced freight traffic.
Booking formalities
It takes a lot of time and work to book and take delivery of goods by rail, compared to the sea or air freight.
No rural service
Rail transport is hardly economically viable in rural areas due to capital requirements and traffic, resulting in a lack of rail service in large rural areas, causing inconvenience to people in those areas.
Underused capacity
The railway must have a full load for its ideal and economical operation. Because of its very large carrying capacity, the underutilization of its capacity in most regions is a serious financial problem and a loss to the economy.
Centralized administration
As a public service, the railways have a monopoly position and, therefore, a centralized administration. The local authorities do not meet the personal requirements of the population in relation to the roads.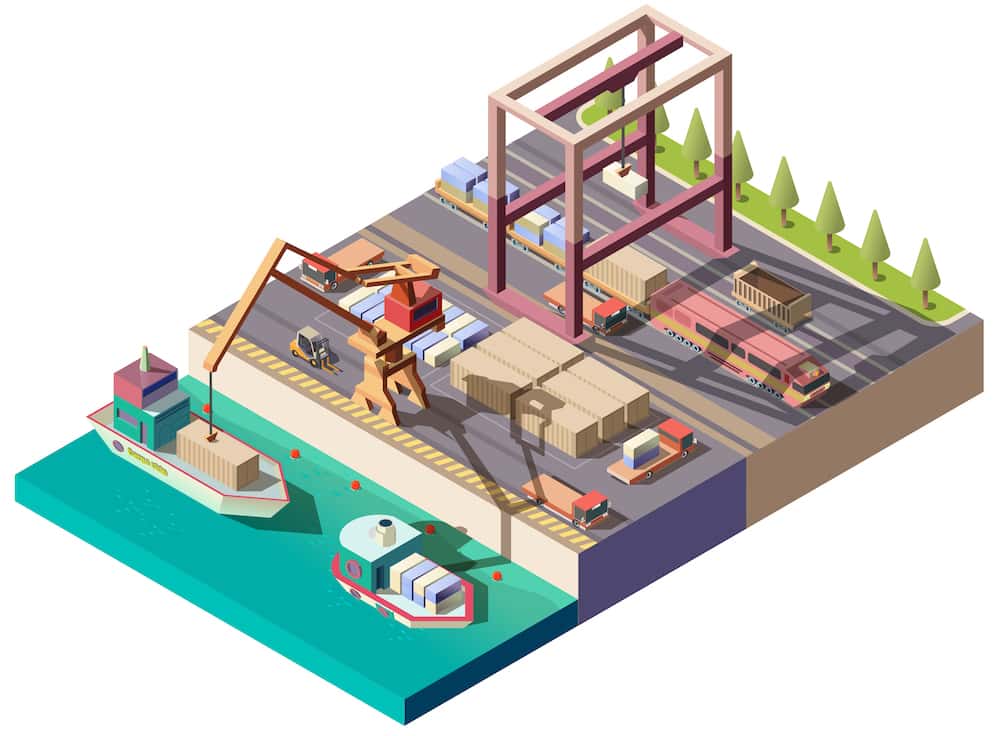 Rail vs Sea vs Air freight
As previously stated, DocShipper is able to offer rail, sea, and air transport.
Normally, before choosing a shipping process, we need to assess:
The place of origin and destination and if there is an appropriate infrastructure
Quantity and type of goods you import from China
Cost of freight from China to different destinations
By performing an appropriate assessment, we will recommend the shipping process that will be most in line with both your budget and time requirements.
Of course, we do all of this by weighing the possible pros and cons of each process. Let's see this together: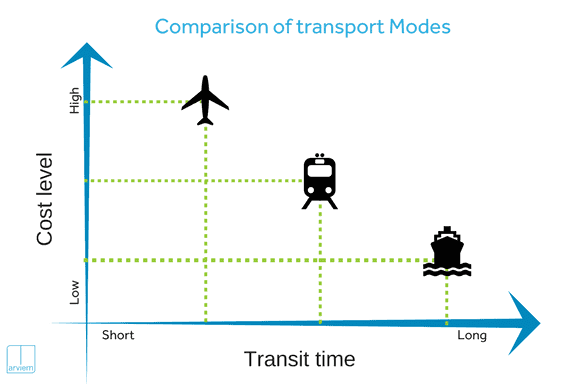 Speed vs cost
As we can see on the above schema, rail freight represents the happy medium between sea freight and air freight :
It is cheaper than air freight
It is faster than sea freight
Volume capacity
An average freight train has 41 containers while a Boeing 777 could only take 9. Containers seem to be very different compared to ships: the largest container ships sailing today can carry more than 21,000 containers twenty feet - more than 400 freight trains.

Info DocShipper: VousIf you have any questions or need further information on sea freight or air freight, do not hesitate to contact our experts or fill out the form on our dedicated pages.
Rail freight terminals
A rail service offers more than just shipping from one station to another. Frequently, services are required to ensure that the shipping process is undertaken reliably, securely and in accordance with applicable legal regulations. If necessary, we are happy to provide the appropriate terminal services through our partners.
Railway stations in Europe
Germany: Burghausen, Basel, Duisburg, Hamburg, Kornwestheim, Leipzig, Munich, Nuremberg, Schkopau, Ludwigshafen
Austria: Vienna, Wels
Belgium: Antwerp
Spain: Barcelona, Bilbao, Tarragona, Madrid
Sweden: Goethenburg, Malmo
Finland: Kotka
Italy: Bologna, Trieste, Verona, Busto Arsizio
France: Bayonne, Lyon
Netherlands: Rotterdam
Hungary: Gyoer, Budapest
Poland: Malaszewiche
Norway: Oslo
Railway stations in Eurasia
Russia: Ekaterinburg, Saint Petersburg, Moscow, Vladivostok, Irkutsk, Nizhny Novgorod, Kaluga, Tomsk, Bazaiha, Cheljabinsk, Perm, Samara, Omsk, Novomoskovsk, Tobolsk
Estonia: Tallinn, Narva, Paldiski
Belarus: Minsk, Mogilev, Orscha
Kyrgyzstan: Alamedin, Bischkek, Osh
Azerbaijan: Baku, Kishly
Latvia: Riga, Zilupe, Daugavpils
Ukraine: Kiev, Odessa, Dnepropetrovsk
Uzbekistan: Taschkent, Chukursay, Uchkuduk
Turkmenistan: Aschgabad, Balkanabad, Turkmenbaschi
Lithuania: Vilnus, Klaipeda, Kjana
Kazakhstan: Almaty, Aktau, Karaganda
Tajikistan: Duschanbe, Hudzhand, Kurgan-Tjube
Railway stations in Asia
China: Changchun, Changsha, Chengdu, Chongqing, Dalian, Foshan, Guangzhou, Hangzhou, Ningbo, Qingdao, Shanghai, Shenyang, Shenzhen, Suzhou, Tianjin, Wuhan, Xiamen, Zhengzhou, Yiwu
Russia: Moscow, Nizhny Novgorod, Voronezh, Volgograd, Samara, Yekaterinburg, Novosibirsk, Vladivostok
Central Asia: Naushki (MN), Karagandy (KZH), Atyrau (KZH), Almaty (KZH), Baku (AZB), Bishkek (KRG)
The 2 distribution centers in Europe
Duisburg - Germany
Interior barge services: in Rotterdam and Antwerp, 3 x per week.
Rail connections: to Rotterdam-RSC, Antwerp's main hub + Combining during the week
Storage capacity: 7,500 TEUs on 120,000 m²
Crane options: 4 stacker stackers, 2 gantry cranes, 1 water crane
Rail/water infrastructure: 6 rail tracks (700 m each), platform (250 m)
Truck fleet: chassis for all container sizes, side loaders
Container depot
Container repairs
Customs clearance services
Hamburg - Germany
Rail connections: Ludwigshafen / Frankfurt / Karlsruhe / Munich / Kornwestheim / Stuttgart / Duisburg / Neuss / Rostock / Lübeck / Kiel / Nuremberg / Cologne / Basel / Busto (IT) / Verona (IT) / Lovosice (CZ) / Taulov (DK) / Napoli (IT) / Madrid (ES) / Patras (GRC) / Vienna (AT) per day
Storage capacity: 1280 TEU, 120 trailers over 320,000 m²
Opening hours: 24 hours a day from Monday to Saturday
Terminal management: 400,000 units per year
Crane options: 7 gantry cranes, 2-terminal tractor
Railway infrastructure: 4 railways (720 m each), 4 railways (620 m each), 4 railways (585 m each)
Truck fleet: chassis for all container sizes
Refrigerated caps
Stationary brake test facility
Container depot
Container repairs
Customs clearance services
FAQ | Rail transport advantages
✅What are the advantages of rail freight compared to other modes of transport?
It's faster than a boat, cheaper than a plane, it's sometimes the perfect balance, the perfect formula for your expedition. Moreover, it is a reliable, well-organized transport, suitable for heavy and bulky goods. In fact, DocShipper China provides a professional rail service from all cities in China to Europe.
🌍Where can DocShipper provide its rail service?
(1) In stations in Europe: (Austria, Belgium, Spain, Sweden, Finland, Germany, Italy, France, Netherlands, Hungary, Poland, Norway) (2) Eurasia: (Russia, Moscow, Estonia, Belarus, Kyrgyzstan, Azerbaijan, Latvia, Ukraine, Uzbekistan, Turkmenistan, Lithuania, Kazakhstan, Tajikistan) (3) Asia: (China, Russia, Central Asia)
📝What documents are required for road haulage?
The CIM consignment note or the Lettre de Voiture Internationale (LVI). This document is drawn up by the consignor and the railway company. There is a contract of carriage as soon as the company has agreed to carry the goods. This acceptance is evidenced by the date stamped on the consignment note at the forwarding station.
❌What are the disadvantages of rail freight?
The cost of shipping by rail freight can be quite expensive when it comes to short distances. Delays at border crossings if there is a change of rail operator. Due to strict routes and timetables, rail freight transport lacks flexibility. Door-to-door delivery is not possible. Once the freight arrives at the rail terminal, alternative logistics solutions must be considered to transport it to its point of destination. The booking process is longer compared to the organisation of freight transport by road.
💸What are the variables that determine the cost of shipping by rail freight?
The calculation of the cost of sending by rail freight depends on several factors described below. If you are considering shipping goods by rail in order to choose the cheapest freight transportation service, please consider the following: (1) Shipment dimensions: These include the size and weight of the goods being transported. (2) Distance: rail is the cheapest means of freight transport for long distance shipments. (3) Pick-up and delivery points: How far from the nearest railway station are the pick-up and delivery points? (4) Nature of goods: what types of articles are best suited for rail freight transport (fragile objects, toxic, flammable substances, etc.)? (5) Insurance: Depending on the nature of the goods transported, additional insurance forms may be required. (6) Customs clearance: when your shipment crosses the border, customs clearance and import fees may apply.
DocShipper info: Do you like our article today? For your business interest, you may like the following useful articles :
DocShipper Advise : We help you with the entire sourcing process so don't hesitate to contact us if you have any questions!
DocShipper China | Procurement - Quality control - Logistics
Alibaba, Dhgate, made-in-china... Many know of websites to get supplies in Asia, but how many have come across a scam ?! It is very risky to pay an Asian supplier halfway around the world based only on promises! DocShipper offers you complete procurement services integrating logistics needs: purchasing, quality control, customization, licensing, transport...
Communication is important, which is why we strive to discuss in the most suitable way for you!