Because of its proximity to China and the main transport flows, Vietnam is beginning to establish itself as a stronghold of globalization.
As a member of the DocShipper group, we are present all over the world. DocShipper is therefore also present in Vietnam to assist you in all your international purchasing and logistics operations. You will find that importing and exporting has never been easier!
DocShipper services in Vietnam
Sea freight from/to Vietnam
There are many methods of transporting goods, but sea freight remains the most widely used to send goods and merchandise around the world, all in large quantities and at a competitive price. Here are the two most common shipping methods :
- Full Container Load (FCL): You reserve the whole container. This one is sealed from departure to arrival
- LCL (Less than Container Load): You group your goods with other shippers in one container.
Air freight from/to Vietnam
Unlike sea freight where you want to ship a maximum of goods, air freight allows you to ship your goods in an extremely short time by covering large distances in a minimum of time. Sometimes it only takes a few days for your package to cross the world. However, this means of transport remains very polluting. Here again, there are 2 different options for sending your goods:
- Express airfreight: If you have a small parcel - usually less than 100 Kgs - we recommend sending your goods with an express company like TNT, UPS, DHL, FedEx...
- Conventional air freight: You use the space available in the classic airlines like Air France, American Airlines, Qatar Airways...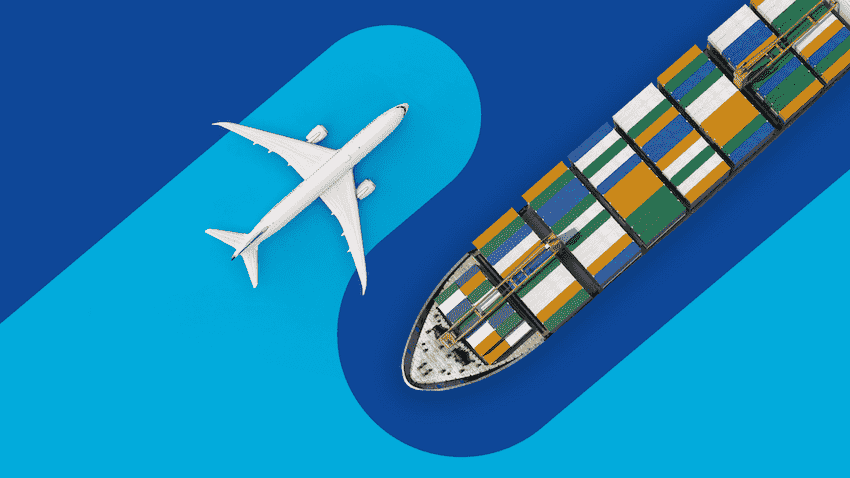 Road Freight to/from Vietnam
Unlike the other two methods, which are rarely complementary, road freight is often combined with another option. From the airport to your office, or from your warehouse to your home, road freight is often used as a way to connect the different terminals.
There is even the possibility of using trucking for direct door-to-door solutions such as cross-border transport.
DocShipper Advice : Do you have any questions about our services? You want to get more details? Do not hesitate to send us a message, our experts will answer you within 24 hours!
Post-transport services in Vietnam 
You don't know where to stock your goods? You need a warehouse to store your goods for a short or long period? DocShipper offers you a multitude of post-transport logistics solutions in Vietnam including the possibility of a packing service to avoid unpleasant surprises, which is not to be underestimated in logistics ! Not taking this step seriously can lead to serious consequences for the rest of your operations, so do not neglect it.
DocShipper advisors are available if you have any questions about our post-transport services
Customs clearance services in Vietnam
The customs clearance service is a key step for your business. Indeed, it is what will determine if your products can pass the border or not. Without the approval of the authorities, you will be unable to ship your goods.
To avoid any refusal and bad surprises, you will have to fill in a documentary file allowing the customs authorities to check the conformity of your goods. Be careful, the slightest oversight and your shipment may be blocked at customs!
Sourcing services in Vietnam
Finally, the only thing left to do is the final step: procurement. This is a major issue in your logistics and the most important step. That's why DocShipper has developed its personalized procurement services, offering you a customized service that takes the hassle out of finding the right supplier and the right products.
Here is a non-exhaustive list of possible services:
- International logistics: We naturally handle all the logistics needs up to your warehouse.
- Quality control: We analyze your shipment according to 2 main criteria: the quantity to be controlled and the depth of the control.
- Compliance: Because products in Asia are not necessarily in line with the regulations of your market, this point is crucial!
- Sampling: Need to analyze your product before launching production? We can arrange for a sample to be sent to you.
- Price negotiation: Let our years of experience in import/export negotiate prices for you.
- Supplier search: We find suppliers in line with your project.
Operational capability across Vietnam
Logistics services in Hanoi
Hanoi, which literally means "the city between the two rivers", as it lies between the Red River and the Duong River, is the capital of Vietnam and the second most populous city.
It is located along the Red River about 90 km from the Gulf of Tonkin and is 1,760 km north of Ho Chi Minh City.
With a population of about 8 million, it is the second most populous city in the country after Ho Chi Minh City.
Finally Hanoi has an international airport called Noi Bai located in Soc Son district 45 km north of central Hanoi and the largest airport in northern Vietnam.
DocShipper info :Hanoi airport is the place you have to pass through to start in Hanoi. So you have to know and understand by heart the airfreights.
If you want to be an expert in this matter, please read our article : Air freight | Delay - Documents - Process - Advices
Logistics services in Ho Chi Minh City
Ho Chi Minh City, also known as Saigon, is located along the Saigon River about 60 km from the mouth of the great Mekong River and only 40 km from the East Sea (formerly the South China Sea).
With a population of over 13 million people spread across the vast metropolitan area, Ho Chi Minh City is the most populous city in Vietnam.
Located in the south of Vietnam, about 1,150 km south of the capital Hanoi. It is the commercial and financial capital of Vietnam.
All these advantages make Ho Chi Minh City one of the main hubs of air and sea traffic in Vietnam, especially with its port of Ho Chi Minh City and Tan Son Nhat airport.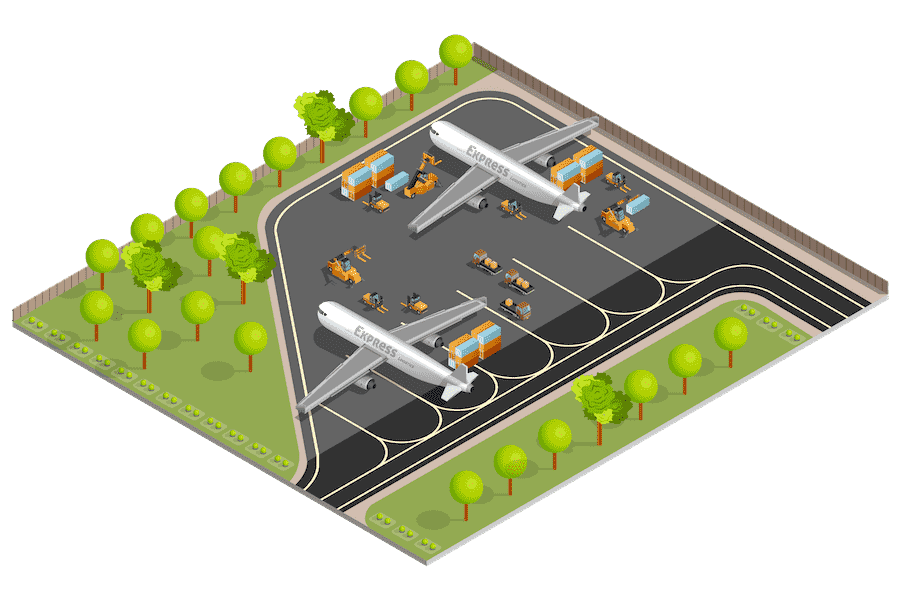 Docshipper Tip : In addition to the advantage of having a major airport, Ho Chi Minh City also has access to the sea with its port.
If you plan to import/export goods there, it is important to know about sea freight.
Transport terminals in Vietnam
International ports in Vietnam
Port of Ho Chi Minh City
The port of Ho Chi Minh City is located on the Saigon River. It is the main economic center of the country and contributes to more than 2/3 of the country's economy, which justifies its ranking as the 24th largest port in the world in terms of cargo.
It consists of a series of ports that function as a major center for the import and export of goods in southern Vietnam.
Furthermore, the port of Ho Chi Minh City is best known for its industries, such as mineral extraction, shellfish processing and agriculture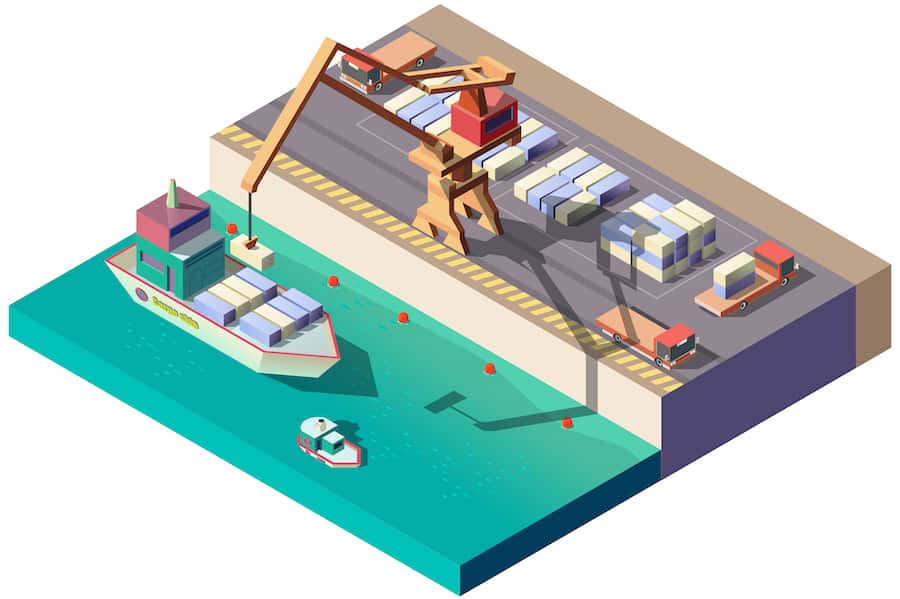 International airports in Vietnam
Noi Bai International Airport
Originally built by the North Vietnamese military air force, Noi Bai Airport became Hanoi's main airport after the reunification of Vietnam (1975).
Located 35 km north of the capital, Hanoi, this international airport is the arrival point for all flights to Hanoi.
Having undergone modernization and expansion, Noi Bai is now the country's second-largest airport in terms of air traffic and passenger numbers, after Ho Chi Minh City's Tan Son Nhat Airport.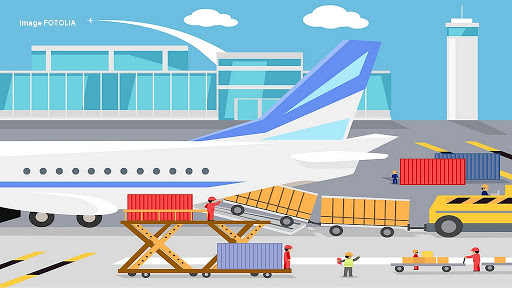 Tan Son Nhat Airport
Tan Son Nhat Airport is located a short distance from the city center. It is the reference point for all flights to Ho Chi Minh City.
Moreover, with a traffic of more than 38 million passengers annually (2018), Ho Chi Minh City Tan Son Nhat Airport has become the main airport in Vietnam.
However, despite its strong influence and high stakes, the airport was built for a maximum capacity of only about 25 million passengers per year, so it is often congested.
It is therefore necessary to anticipate complications and delays in terms of deadlines.
DocShipper Advice : Like Noi Bai International Airport, sometimes airports are overcrowded and this complicates your imports and exports.
But don't panic! With its express service offering, DocShipper is committed to taking care of your logistics from A to Z, guaranteeing a reliable and efficient experience while taking the stress out of your life.
FAQ | Freight forwarders and sourcing supply agent in Vietnam
Is DocShipper a freight forwarder ?
Yes and no! We act as a freight forwarder, but also much more. Our business model is unique and offers us the ability to support and follow our partners throughout the entire project lifecycle: our sourcing department supports you in the purchasing process, our logistics department takes care of the transport transactions and finally our 3PL service assists you in the management of your B2C orders (if you are an E-Commerce). All you have to do is focus on the marketing of your products, we take care of the rest.
How can DocShipper help me find a supplier ?
DocShipper is primarily a network of agents and suppliers certified by us worldwide. Therefore, we may have a partner in our database who is likely to be of interest to you. If not, our sourcing department will search our network for the distributor that best suits your needs: in terms of price, quality and quantity.
How much will I pay for DocShipper services ?
We cannot offer you an abusive price. Except for a few services that have a fixed price, most of our interventions are made according to each case. The costs of a single project are therefore extremely variable. If you have any questions about the price or technical aspects, do not hesitate to contact us. Our teams will answer you in less than 24 hours and 48 hours for a quotation (provided we have all the necessary information and the elaboration of a solution).
What is door to door service ?
A door-to-door service is a logistics solution that includes all the needs of your project: packaging, international freight, customs clearance ... You have nothing more to do, we take care of everything. Good thing is, this service is our specialty !
How can DocShipper help me in Vietnam ?
DocShipper offers unique support, a tailor-made solution that includes all of your needs. From supply to distribution, including compliance, quality control, transport and customs clearance. You no longer have to waste time in an area that you do not master, leave it to the professionals !
DocShipper info: Do you like our article today? For your business interest, you may like the following useful articles :
DocShipper Advise : We help you with the entire sourcing process so don't hesitate to contact us if you have any questions!
DocShipper China | Procurement - Quality control - Logistics
Alibaba, Dhgate, made-in-china... Many know of websites to get supplies in Asia, but how many have come across a scam ?! It is very risky to pay an Asian supplier halfway around the world based only on promises! DocShipper offers you complete procurement services integrating logistics needs: purchasing, quality control, customization, licensing, transport...
Communication is important, which is why we strive to discuss in the most suitable way for you!