Any freight forwarder worthy of the name must provide professional packaging services to importers and exporters. It is a guarantee of quality and simply a guarantee for your goods that they will arrive at their destination in due and proper form! Of course, packaging services are not cheap, but it is sometimes preferable to slightly increase your costs rather than end up with unsaleable goods!
In this page dedicated to our packaging services, we will explain why packaging is so important before advising you on several points: How to manage the packaging by yourself? Why hire professionals?
Enjoy reading and do not hesitate to contact us if you need more information!
Why is packaging so important?
The packaging is too often a botched logistical step. Many importers/exporters try to save as much money as possible on this important step!
Cargo security
The packaging is carried out directly after the production of the products, on leaving the factory. It is a step that secures the cargo from departure to arrival of the goods, it is, therefore, essential to ensure safe transport.
Docshipper Tip: We understand that packing services may seem expensive, but they are essential to protecting your cargo from departure to arrival. Investing in the security of your goods is always more cost-effective than facing significant losses due to damage during transit. Don't take unnecessary risks and contact DocShipper now to benefit from our packaging and logistics expertise. Your satisfaction is our priority.
Avoiding conflicts with insurance
The insurance company, as usual, will try to find the slightest problem so as not to reimburse in the event of a dispute. Note that the packaging is one of the arguments most taken up by insurers to avoid compensating for breakage, theft, loss. If it is not made in accordance with international standards, the insurer will not consider it as standard packaging.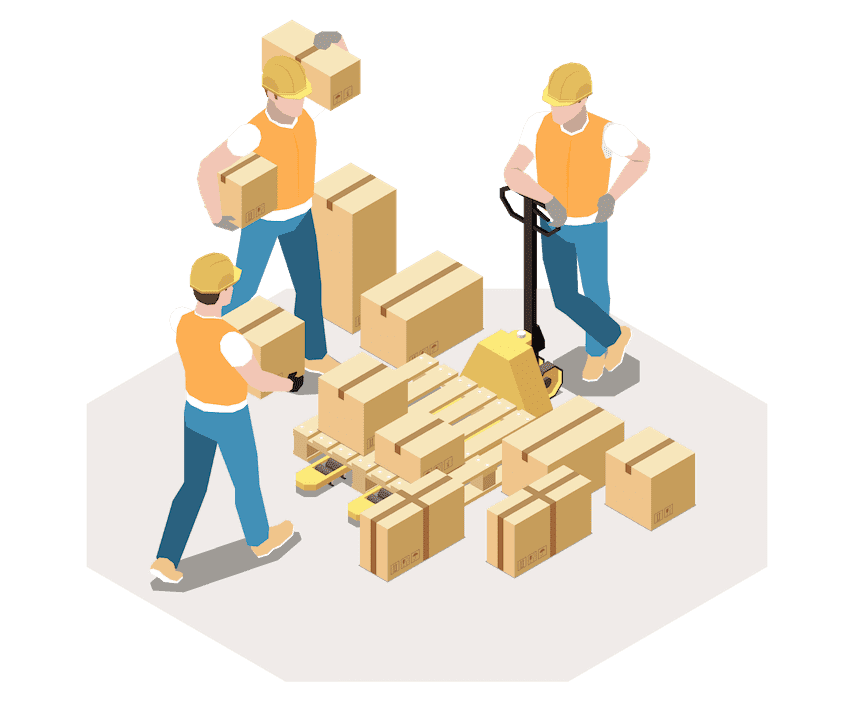 Which is the best type of packaging should I choose when shipping?
Packaging is a key element in the transportation of goods and merchandise around the world. It protects items during transport and keeps them in good condition until they reach their final destination. The choice of the appropriate type of packaging depends on the type of goods being transported, the conditions of transport, and government regulations.
Corrugated boxes
These boxes are made of several layers of corrugated cardboard, which makes them very strong and able to support heavy loads. Food products, pharmaceuticals, office supplies, clothing, and electronics. They are also used to ship bulky items such as furniture and industrial equipment.
Wooden crates
Wooden crates have been used for centuries to transport and store goods. They are often used to transport heavy, fragile, or large products such as machinery, industrial equipment, agricultural products, or works of art.
Wooden crates are often preferred for their strength, durability, and ability to protect products during transport. They are also often used for international shipments because they comply with international phytosanitary standards for wood treatment, which reduces the risk of spreading pests or diseases.
Containers
Containers are large containers used to transport goods by sea, rail, or road. They are designed to be stacked and can be transported by trucks, trains, and ships specially designed to carry them.
Containers are made from strong materials such as steel, aluminum, or composite materials. They are available in a variety of sizes, the most common being 20-foot (6-meter) and 40-foot (12-meter) long containers. Some containers are also refrigerated to carry fresh or frozen products such as food or pharmaceuticals.
Containers are used to transport a wide variety of goods, including manufactured goods, raw materials, food products, and heavy equipment. They are also used to transport dangerous goods that must be transported safely.
Postal bags
Mailing bags are a convenient and economical type of packaging for sending lightweight, non-fragile products such as clothing, books, stationery, and other small items. These bags are often made from materials such as polyethylene, Kraft paper, nylon or polyester and are available in a range of sizes and colors.
Mailing bags are lightweight, water-resistant, and can be hermetically sealed to protect the contents from weather and minor damage. They are also easy to store and ship, as they take up little space when not in use.
Padded envelopes
Padded envelopes, also known as bubble envelopes, are a popular type of packaging for shipping lightweight and fragile products such as jewelry, CDs, DVDs, electronic gadgets, and other similar items. They are typically made from a plastic padded material with an inner layer of air bubbles, which provides extra protection against bumps and scratches during shipping.
They are lightweight, easy to use, and inexpensive, making them a popular choice for small businesses and individuals shipping fragile products, also available in a variety of sizes and styles to meet a variety of shipping needs.
Padded envelopes are often used for shipping products by mail or delivery services. They are also used by businesses to send documents, brochures, and advertising materials.
How to pack by yourself ? The step-by-step guide
The packaging is not an easy thing, especially for industrial products which are often subject to international safety standards. Hazardous materials such as chemicals must be packaged by a certified organization to ensure the safety of the products until their final destination.
In addition to goods, we will also discuss the packaging of personal effects (especially with regard to removals). Although sometimes the move is a "liberation", some people are really not in a hurry to prepare their belongings for the big trip. In order to make the task easier, it is important to keep one guideline in mind: How do I get started? With what? With whom? When? That's what we're going to see below.
DocShipper Alert: Remember, the safety of your belongings is paramount, so take the time to protect them properly. However, if you want to make sure your belongings are properly packed, don't hesitate to contact DocShipper. Our packing experts can help you pack your goods safely
Getting started and organized
Gather all the packing materials and the different boxes. Different sizes of boxes will be necessary to adapt the packaging to each of your goods. Make sure you buy good quality packing materials and sturdy moving boxes or cartons; if you have any doubts, don't hesitate to consult our experts!
Upholstery
Bubble wraps
Packaging sheets
Newspapers, blank newsprint
Scissors
Heavy-duty packaging tape
Labeling stickers
Markers
Create a "special moving folder" with all the documents you will need when you leave. Collect and collate your truck/hotel reservations, pet vet records (if applicable), emergency money, contact information for important people (real estate agent or landlord), and any important documents you may need before you can decompress.
Organize and adapt the packaging by category. It is important to separate goods and not to pack them in bulk. Why not? Simply because this will greatly facilitate the final phase: unloading and final storage.
Packing efficiently
Allocate one (or more if necessary) dedicated space for packaging. Firstly because it is much easier to pack and have enough space for several people and the goods in question. In addition, this limits the risk of breakage/damage to the goods or their environment.
Pack strategically and organized. Wrap each item individually (if necessary). Heavy items should be placed in the bottom of the cartons to leave room at the top for light and/or fragile items. If the item is very fragile, then individual packing should be used to ensure smooth transportation. Finally, don't hesitate to pad the empty spaces with bubble wrap or "newspaper", you will reduce the risk of breakage during the journey.
Finish packing in style!
Take care of your packing list. The packing list is a very important document that lists the entire shipment. It is therefore important to fill it out carefully, as it will be used directly by customs during the customs clearance phase. This document, therefore, indicates the nature of the goods, their quantity and their values (unit and total).
DocShipper Advice : Build up the packing list little by little by listing the packed goods as you prepare (especially in the case of a move). This "technique" also allows you to have control over what you have already packed and what remains to be done, on "paper".
Make a box with the basic necessities. Don't forget to leave a cardboard box filled with "essentials". We are thinking in particular of all the hygienic items for the move (sponge, towel, the minimum for cooking, etc.).
What can DocShipper do for you?
The most important step is to establish your needs. Before taking any steps, our experts establish all the packing needs that the shipment will need to be transported safely. This report is naturally done in close collaboration with the client, who has the "final word" on the operation (as long as it complies with international standards).
The organization for D-Day. Once a consensus has been reached between our offer and your expectations, our expert who will follow you from departure to arrival will organize the whole packing: What day? How long? Do you have relatives who can help you to save money ?... It is also this flexibility that we offer at DocShipper!
DocShipper Alert: As experts in international moves, we have gained a lot of experience in the field of packing, which allows us to offer packing services for all types of products. Moving is a real challenge when it comes to packing, as goods can be very different and need to be handled accordingly. Contact us to know more about our packing services. Contact us to learn more about our packing services.
Safety is priceless. Calling on a packaging professional like DocShipper is certainly not giving! But how many people make the mistake of saving on packaging and end up with a destroyed shipment on arrival? We see far too many of them to not alert our customers, but they are free to make their own decision: your decision is ours.
Points not to be neglected during packing
The packing list
As mentioned above, the "packing list" is an important element that should not be rushed since it will be directly transmitted to the local customs.
DocShipper info : Many customers ask us how to value second-hand goods (especially in the case of removals). This is indeed a delicate question that appeals directly to common sense:
If you overvalue the goods: You will pay more taxes when clearing customs, and insurance will also be more expensive.
If you undervalue the goods: Customs may raise a doubt, investigate and block the goods at the border until a fine is paid. At your own risk... If you have any doubts, do not hesitate to contact our experts!
Labelling
From a practical point of view, this is a definite advantage! For you on arrival, for transport professionals so as not to confuse the goods, or finally for customs officers because it supports the veracity of the "packing list". Labelling is a quick, inexpensive operation that is so beneficial, so don't forget!
The advantages and disadvantages of packing yourself
Advantages 
Packing yourself can save you money and time, but you need to prioritize what's important to you.
Doing some of the packing yourself allows you to purge items you don't need to move.
Packing your own things helps the organization because you know where everything is going.
No one else goes through your belongings when you pack them yourself, which can make some people more comfortable.
Disadvantages
Packing takes longer than expected, with a typical customer only packing 4–5 boxes per hour.
It's easy to miss things that need to be packed, leading to underestimating the time and resources needed.
When you pack yourself, you're responsible for any damage, and some items may be too valuable to risk packing yourself.
Insurance may not cover damage caused by inadequate packaging.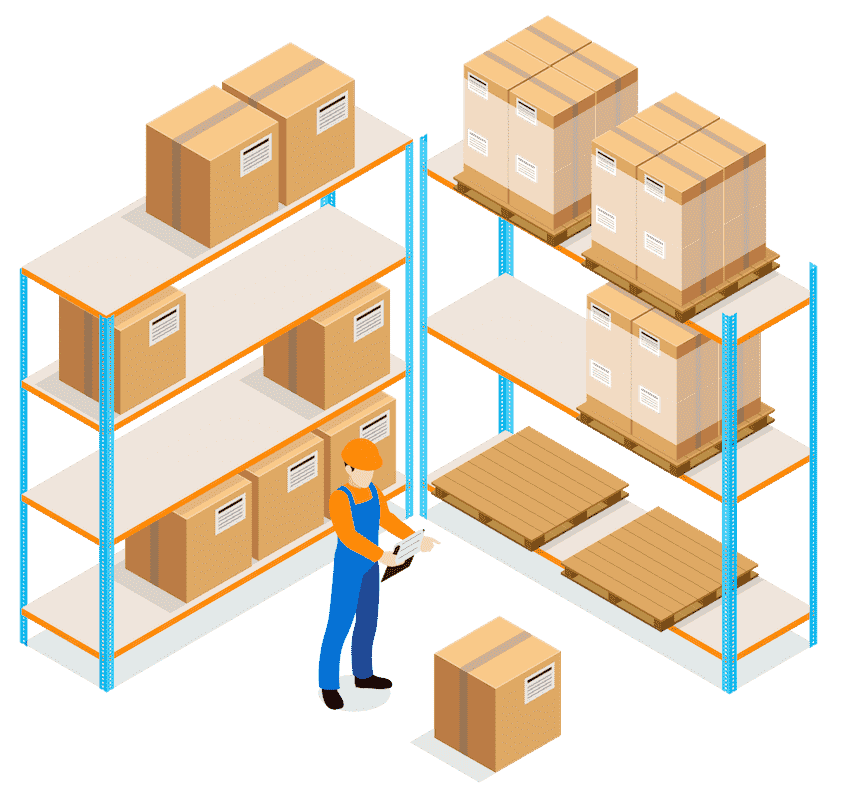 Why hire a team of professionals for packaging?
The packaging process is more complex than it looks. It comes with a lot of different little things to plan and anticipate. On the other hand, setting up the shipping process is long and stressful.

We advise you not to waste even more time packing yourself, especially if you don't have the necessary equipment to do so. DocShipper works with a team of experienced professionals who can really take care of your goods.

Even though packing services represent an additional cost, it is a key step that must be managed in the most efficient way. We adapt the materials to the goods to be shipped, while adapting our offer to your budget as well!
Professionals save you time
Packing services can be particularly useful if you need to move quickly. If this is the case, DocShipper can pack your entire inventory in one day, when you might need a week to do it yourself.
In fact, packing comes with specific expertise and you may not have the knowledge of the amount and type of packing materials to use. Professional packers will use appropriate packing supplies for each item. For example, we will use padded packaging for your fragile items and special boxes for small parts.
You become eligible for insurance
Most packing companies offer insurance for your cargo. Indeed, in packaging services, the risk of breakage is extremely low, but even if unfortunately one or more of your products are damaged, the company must pay to compensate you.
Docshipper Tip : Protect your valuable goods during shipping with DocShipper's reliable insurance program. Our experts can guide you through the insurance process and ensure that your cargo is fully covered. For more information, contact us or visit our dedicated page: Transport Insurance.
FAQ | FREIGHT PACKING SERVICES
What is shipping packing?
Shipping packing is the process of preparing goods or materials for transportation from one location to another. The goal is to protect the items from damage during transit and prevent loss or theft of the goods. The type of packaging used depends on the nature of the goods, mode of transportation, and distance involved. Proper shipping packing is critical for minimizing the risk of damage or loss and ensuring customer satisfaction. It is important to work with experienced logistics partners to ensure that products are packaged appropriately for safe and efficient transportation.
What is the purpose of the packing list?
A packing list is a document that accompanies a shipment, providing a detailed inventory of the contents of the shipment. It includes information such as the names of the sender and recipient, the date of shipment, the number of packages or containers, and a detailed description of the contents of each package. The primary purpose of a packing list is to ensure that the correct items are included in the shipment and to provide a record of the contents in case of disputes or discrepancies.
Can I ship my goods internationally without insurance?
No, it's too risky. However, when you choose to go through professionals you become eligible for insurance. At DocShipper, we make sure your shipment is covered for international shipping. Even though the risk of breakage is low when you use professional DocShipper Care is there to ensure that you are compensated for the damage, making sure you don't lose any money.
What's the best type of cargo packaging?
There is no one-size-fits-all answer to the question. It is important to carefully consider the specific needs of each shipment and work with experienced logistics partners to determine the most appropriate type of packaging. This can help to ensure that goods arrive at their destination safely and efficiently, while also minimizing the risk of damage or loss.
DocShipper China | Procurement - Quality control - Logistics
Alibaba, Dhgate, made-in-china... Many know of websites to get supplies in Asia, but how many have come across a scam ?! It is very risky to pay an Asian supplier halfway around the world based only on promises! DocShipper offers you complete procurement services integrating logistics needs: purchasing, quality control, customization, licensing, transport...
Communication is important, which is why we strive to discuss in the most suitable way for you!