Do you have an emergency? You need to consolidate products from several suppliers? Or maybe you simply need to wait for the end of production of a batch? Either way, you'll need a warehouse to store, consolidate and prepare your shipment for export.
This is naturally a service we offer at DocShipper China! Learn more about our storage services on this dedicated page. Enjoy reading !
What storage service do you need?
Storage of commercial goods
DocShipper China offers a wide range of storage solutions for businesses of all sizes. From small startups in E-commerce that need flexible and low-cost storage for their goods, to large organizations that need complete logistics solutions, including local, national and international collections and deliveries.
We understand that consumers expect to receive their purchases as quickly as possible and that good quality storage in which inventory can be well organized means that your company can efficiently deliver what your customers want.
So why struggle with inadequate or overpriced professional storage?
At DocShipper, we provide the right storage at the right price that will help your business prosper. And if your business needs collection, delivery, inventory management, packaging or supply chain fulfillment, we can also help you with our 3PL Solution.
Storage risk assessment
In order to specify the technical requirements in terms of storage for your merchandise, it is important to :
identify potential hazards
analyze the probability of their occurrence

determine

who and what could be the cause of it

choose

a solution in line with your needs
You must then take all necessary precautions to ensure that all risks are minimized. You will also need to record your results and remember to review your assessment regularly.
Types of possible risks in the warehouse
goods falling off shelves or racks
someone who falls off the shelves
stock or materials blocking emergency exits
used packaging accumulations
poor storage resulting in increased risk of manual handling, e.g. by placing bulky items above head height
spills of goods causing environmental damage or increasing the risk of slips and trips
exposure to improperly stored hazardous substances
contamination or danger caused by the simultaneous storage of unsuitable materials
the use of mechanical handling equipment, e.g. loads falling from forklift trucks
vandalism, theft and arson causing pollution
combustible substances
*This list shows only a few examples, there may be more that apply to your business.
Warehousing services across China
DocShipper wants to accompany on the whole Chinese territory to store and consolidate your goods!
With a strategic presence in the country's major metropolises, we are able to manage your purchases anywhere in China.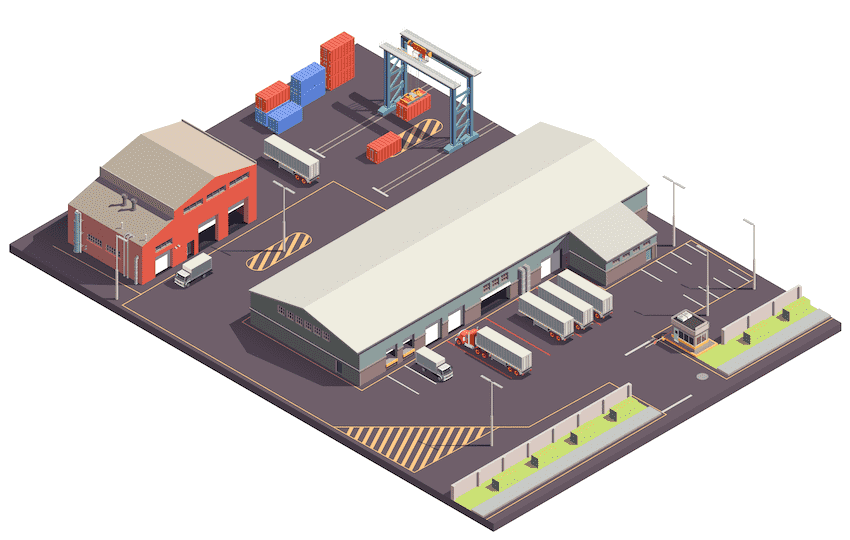 Distribution Center for E-Commerce (3PL)
DocShipper is a group that accompanies its customers from the beginning to the end of the product cycle, which is our big advantage! Do you need help with your purchases? Our sourcing department is there! You need to charter goods worldwide? Our forwarding department will handle the operations. You need help with the distribution of your products? Call on our 3PL services!

With a distribution center based in Camprosso in Northern Italy, we are perfectly located in the heart of Europe to dispatch parcels across the continent. Do not hesitate to contact our experts or take a look at our dedicated page to learn more: 3PL services.
What is a 3PL service?
When you opt for a 3PL service, you opt for ease! No more need to manage your inventory yourself, prepare orders and take care of B2C deliveries, we now manage them for you. Here is the range of services that our 3PL department is able to manage:
Storage and inventory management
This is the first step once the shipment has arrived at the distribution centre. Revenue is recorded and arranged in an orderly manner (model grouping). The inventory is thus established on Spreadsheet (online excel sheets generated by Google) and is updated in real time according to the entries and exits of the stock.
Preparation of orders
It's time to deliver a customer! The first thing to do is to prepare the order: consolidate the products if necessary, print the label to standardize the shipment, pack the order... It is notably in this phase that you can personalize the order (for example with a sticker) to highlight your brand image.
Delivery of orders
What is a distribution centre without parcel delivery service? Naturally, we will take care of the shipment once it has been planned. With advantageous lead times, look for proximity to your customers! The delivery of products from China is not viable for your brand image, with delays that exceed one month, you can be sure to lose a good part of your customers . By operating a distribution center directly in the heart of Europe, your product will be delivered in a few days (3/5 days max in Europe), up to 24h/48h in France...
Important note :
If you send us your orders before 8:30 am (French time): your orders will be shipped the same day.
If you send us the orders after 8:30 am (French time): your orders will be shipped the next day.
FAQ | Warehousing Services
🤔 Why request the services of a warehouse?
It is very useful to request the services of a warehouse when your business starts to grow and you no longer have the space to manage your stock independently. Good quality storage where inventory can be well organized can also help you ship your orders faster to your customers.
💰 How are storage rates determined?
There is no fixed price for warehousing services, warehouse rates are determined by the space used for the stock, the speed with which products will enter and leave the warehouse, and the specific handling and shipping requirements for an individual product.
🚨 What are the risks of having your goods in a warehouse?
There is no such thing as zero risk, so you should still be aware of certain risks that can occur when using a warehousing service. These can be goods falling off the shelves, exposure to dangerous substances improperly stored, contamination or danger caused by the simultaneous storage of inappropriate materials, vandalism, theft and arson causing pollution and many others. That is why it is important to be well informed about the warehouse where you wish to store your goods.
🛡️ How do you know if your goods are safe in a warehouse?
It is important to check the security and standards used before entrusting our goods to a normal warehouse. At DocShipper, all our warehouses are equipped with the highest level of security for your goods, including: state-of-the-art video surveillance 24/7 with 30-day hold, security systems connected to the cells, and continuous human surveillance.
📦 What is a 3PL warehouse?
The 3PL is generally dedicated to e-commerce, it allows companies to use services of reception, storage and distribution of goods so that the customer can focus on the growth and expansion of his business through marketing to have less burdens in the daily management of operations.
DocShipper China | Procurement - Quality control - Logistics
Alibaba, Dhgate, made-in-china... Many know of websites to get supplies in Asia, but how many have come across a scam ?! It is very risky to pay an Asian supplier halfway around the world based only on promises! DocShipper offers you complete procurement services integrating logistics needs: purchasing, quality control, customization, licensing, transport...
Communication is important, which is why we strive to discuss in the most suitable way for you!