Air freight is one of the safest and fastest method of freight shipping. It allows in particular to provide a certain number of unique advantages: unbeatable deadlines, precise follow-up thanks to tracing numbers, worldwide coverage ... This is what we are going to dive in on this page!
Whether you're a large company, a small business, a start-up or an individual, DocShipper can organize your air freight from start to finish, without you having to do anything. Tell us about your neeeds, so our experts can find the most appropriate solution for your freight and give you tips on how to save on shipping costs. We'll answer any questions you have!
Air freight from China: price, delay and process
It is important to note the difference between 2 types of air cargo: the so-called "classic" air cargo and the so-called "express". Naturally, each type of freight have their advantages and disadvantages and this will vary depending on several factors that we will discuss later in this article.
Classic air freight from China
Conventional air freight is now one of the most popular methods of transporting goods. It allows, in particular, to send products from one end to the other of the world with an unbeatable delay. Conventional air freight, unlike a so-called "Express" solution, allows goods to be transported via traditional airlines: Air France, Air China, Thai Airways, Etihad, etc. Products are shipped on conventional flight lines, in a dedicated space. You should be able to find further information directly on the official website.
For example, you will find more information on the official websites:
Express services in China
Express air freight involves shipping products through large multinationals, more commonly known as "couriers companies". Everyone knows them, here is a non-exhaustive list (with links to go to the site if you need more information):

DocShipper Alert : DocShipper is an international freight forwarder that organizes the transportation of your goods from the supplier's warehouse to the final destination. Relax, because we take care of everything: from packing, to organizing the transport, to customs clearance and administrative procedures, regardless of the shipping method (air, sea, road, rail).
Contact us to receive a free estimate in less than 24 hours. You have a question ? Call our consultants for free.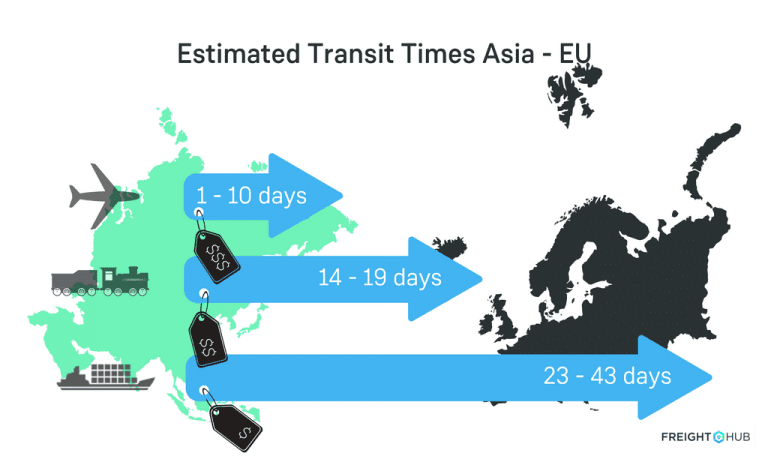 You want further information about these 2 freight methods: Sea freight & Rail freight
Air freight between China and the world – Estimated delay
How long do I need to ship from China?
In order to give you a real idea of the transit times for conventional air freight, we have therefore considered all of the shipping steps in order to give our estimates: pick-up and delivery by truck, export declaration on departure, the customs clearance phase on arrival and of course the freight… Note that the freight does not vary greatly in terms of time, the difference between a direct flight and a flight with a stopover would only be a few hours (a few days at most), but can sometimes save money.
*Important note: The above schema displays transit times (1 to 10 days for air cargo). Keep in mind that this delay does not include all the stages before and after transport by plane (trucking, customs clearance, airport charges ...)
In order to give a fairly brief table, we have based ourselves solely on departures/arrivals in the city of Shanghai:
| | |
| --- | --- |
| | Shanghai |
| Paris | 6 - 8 days |
| Moscou | 4 - 6 days |
| Hong Kong | 2 - 4 days |
| Doha | 3 - 5 days |
| Los Angeles | 6 - 8 days |
| New York | 6 - 8 days |
| Buenos Aires | 4 - 6 days |
| Sydney | 3 - 5 days |
| Johannesburg | 7 - 9 days |
Note DocShipper: The times indicated above are only an indication, the times varying according to the nature of the cargo, the times of transport by trucks ...
Can DocShipper China book a space on the plane the same day?
If time permits, that the request is processed in the morning or at the start of the day, it is sometimes possible to ship the cargo urgently the same day. Note however that this kind of operation can be very expensive, we always advise our customers to start the process as soon as possible to avoid any problems on the D-Day.
What are the main airports in China for air freight?
Here is a list of the 10 busiest airports in the country with the airport code:
Beijing Capital International Airport: PEK
Shanghai Pudong International Airport: PVG
Guangzhou Baiyun International Airport: CAN
Kunming Chang Shui International Airport: KMG
Hangzhou International Airport: HGH
Hong Kong International Airport: HKG
Chengdu Shuangliu International Airport: CTU
Xi'an Xianyang international Airport: XIY
Chongqing Jiangbei International Airport: CKG
Shenzhen Bao'an International Airport: SZX
Shanghai Hongqiao International Airport: SHA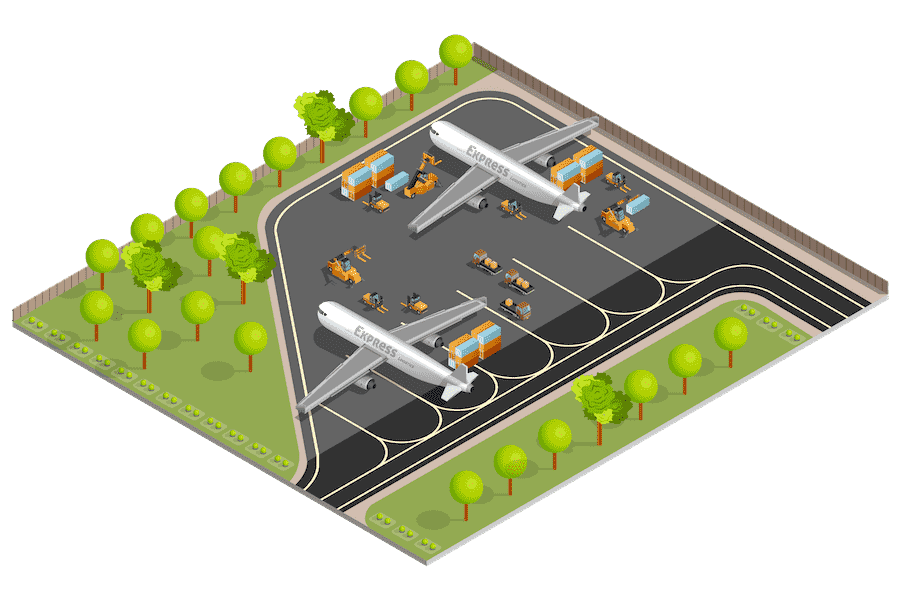 How to receive an air freight quote?
What does Docshipper China need to know to give you a price?
Incoterm
Incoterm is a term that defines the responsibilities for the transportation of cargo between a seller and a buyer. We will return later in this article to this notion and the pitfalls to avoid.
*We will cover this subject in more detail later in this article.
Note DocShipper: Generally the Chinese suppliers sell their products under the FOB incoterm (your goods are directly in the departure terminal, ready to be shipped…), but it is possible that your supplier sells you under the EXW incoterm (Ex Work). Don't panic, DocShipper takes care of all your transportation needs in China!
Volume in m3 and weight in Kg
The volume (or the dimensions) as well as the weight of the cargo are the 2 factors that most influence the price of your shipment. It is therefore important to understand these 2 terms which may seem simple at first sight…
Info DocShipper: Volumetric and gross weight
There is a difference between what is called the volumetric weight and the gross weight, the first is based on the volume and the second on the weight (on scale) of the cargo. To this, we must also retain the following proportion: 1 m3 is equal to 167 Kgs (200 kgs for expeditions in "Express"). Finally, the transporter will consider the most important value between the volumetric weight and the gross weight.
DocShipper example: Volumetric and gross weight
Person A wants to send a 1 m3 (100 cm x 100 x 100) cardboard box filled with feather, so it is very light since it weighs only 20 Kg.
Person B wants to send a 0.1 m3 (10 cm x 100 x 100) carton filled with lead, so it is very heavy since it weighs around 85 Kg.
Let's say that the Kg costs US $ 2.00, then person A will pay US $ 334.00 (the volumetric weight is 167 Kg) and person B, US $ 170.00 (the gross weight is 85 Kg and the volumetric weight of 16.7 Kg).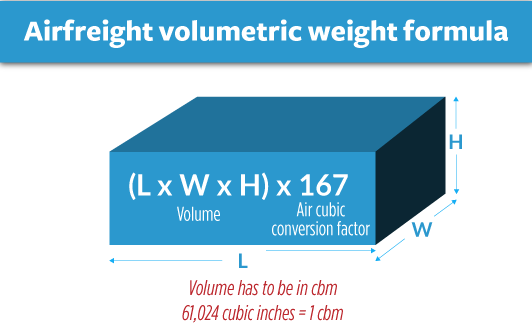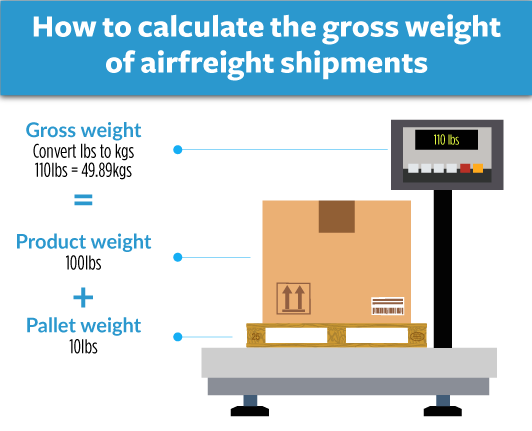 Nature of the products
Some products are more difficult than others to transport, this is the case in particular for chemicals, pharmaceuticals, dangerous ... In this case, security procedures have been put in place in order to comply with international standards.
Departure and arrival address
This is one of the basic pieces of information that is needed to be able to provide an air cargo quote. Note that some details are important, including the conditions of access from departure to arrival. Indeed, the smallest detail forgotten can be expensive, so it is important to plan everything to avoid this problem. Perfect, that's our role!
Packing needs
Some cargoes require a packing service, either because the products are fragile like glass for example, or in compliance with international standards like with certain dangerous products. Anyway, this is an important point not to skip.
DocShipper Alert : Are you planning to ship goods from China by plane? Whether it's a groupage shipment or a full container, DocShipper takes care of all the procedures with the various players in the logistics chain.
A single point of contact, dedicated service, peace of mind, expertise... DocShipper makes importing and exporting more pleasant.
Contact us to receive a free estimate in less than 24 hours.
You have a question ? Call our consultants for free.
Required licenses
Some specific products require appropriate measures in order to comply with the country's import laws generally, but this can also be for export. Until your cargo is up to standard, we will not be able to ship.
The packing list
This document represents the inventory of your cargo, namely the products, the quantity, the unit price, and the total. Finally, this document also mentions the name of the owner of the goods as well as the details to contact him (telephone, email, address).
Others (depending on the nature of the products)
How to find the cheapest air freight prices in China?
We have made a list of the 7 points which we consider to be the most important if you wish to make an expedition by air freight.
Have a good understanding of your business
Know the market and prices
Use the correct shipping method (Express vs Classic)
Audit your quotes
Plan effectively
Optimize the packaging of your cargo
Don't consider everything urgent
Express or Classic - DocShipper recommendations
It is difficult to give specific recommendations on the most suitable method of transport. Many factors come into play which makes recommendations difficult before having examined the needs in detail. However, certain factors are decisive enough to select the appropriate method:
This is the case of the weight: in general we recommend that you take an interest in the express method if the weight of your parcel is less than 100 Kgs (150 Kgs in some cases). It will simply be the least and safest solution.
Or the nature of your products: Some "courier companies" will refuse certain classes of products, this is particularly the case for certain batteries, liquids, dangerous products ... Do not hesitate to contact us for more information.
DocShipper China - Our Scope of work
Products sensitive to temperature variations
Dangerous products
High-value products
Perishable goods
Personal effects
Pets
Note DocShipper: Do you have specific products to send? A last-minute emergency? Do not hesitate to contact us for more information.
Air freight services for E-Commerce
E-Commerce is today an important part of everyday purchases. The majority of people have already tried the experience and it will become a standard in the coming years (if not already).

DocShipper China wishes, as a key player in Chinese logistics, to take part in this E-Commerce Golden way by operating on several phase:
B to B
In B to B, we generally talk about purchasing or buying wholesale. It is therefore necessary to go through a conventional air freight solution (or even sea / rail freight if necessary) since shipments should logically be large. In addition to the freight service, we also manage the whole process: documentation, obtaining licenses (if necessary), declaration of products to local customs, etc.
B to C 
B to C is different, we usually talk about small parcels that you want to ship directly to your customers in China or elsewhere. Our Express service will take over and process your request in order to deliver your customers.
3PL and more
Finally, in order to have control over all operations, we offer so-called "3PL" (Third Party Logistics) services. In other words, we manage all the logistical processes of your business: from the storage of your products in our warehouse, the establishment of an inventory updated in real-time, the preparation of orders and shipments. Stop wasting time on your operations and focus on your marketing!
3PL Services [BROCHURE]
With a warehouse based in Camporosso in northern Italy, our distribution center is perfectly established to distribute your products across Europe. Special mention for delivery in France or we are particularly competitive (if not the best prices on the market!). Would you like more information on this service? Don't hesitate to download our PDF brochure: [BROCHURE] 3PL DocShipper Services 📦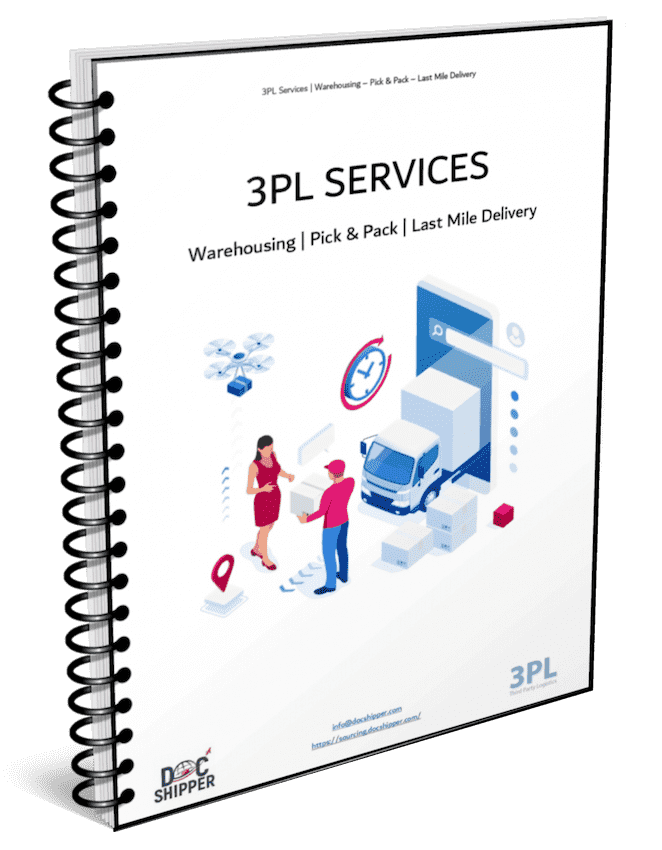 Air freight insurance: the DocShipper Care plan
Why subscribe to air cargo insurance?
International logistics is not an exact science. The multiplication of operators and the numerous manipulations from start to finish gives space for human (or material) error. It is therefore recommended to cover yourself in case of breakage, theft, or loss. Whatever happens, it's best to let your plot go free.
How much does air cargo insurance cost?
It is difficult to give a precise figure since insurance costs depend on the nature of your project. Indeed, the costs are not the same considering the risks of litigation: a fragile and expensive product is not as easy to insure as a common and not very fragile good.
Info DocShipper: Generally speaking, insurance costs are based on the declared value of your goods: 0.95% for goods and 3.1% for personal effects.
Declared value - Show the happy medium
As mentioned above, the insurance will be based on the declared value of the goods (customs duties apply the same rule), so it is necessary not to take this detail lightly.
DocShipper Note: Our customers often ask us how to report personal effects that they have had for many years (for example). So you have to use common sense:
Do not under-declare your goods: Certainly you will pay less tax during customs clearance, but the insurance will only reimburse you for the amount declared in the event of a dispute. Also note that if in doubt, local customs can inspect your goods and review the declared value. In this case, a fine and costs will be incurred so be careful!
Do not over-declare your goods: Conversely, it is also important not to overvalue your goods, at the risk of paying more taxes on the day of customs clearance.
Why should you work with a local freight forwarder like DocShipper China?
It is obvious that working with a local forwarder is easier and more effective for an importer/exporter. Communication, which is one of the most important points, is one of the primary factors in the selection of a local freight forwarder.
Competitive
A local freight forwarder is generally more competitive than a foreign freight forwarder. Indeed, while the local forwarder will call on these own operations, the foreign forwarder will subcontract the maneuvers to a partner, which adds a step in the procedure (and therefore more costs).
Agile
It is really necessary for a forwarder to adjust operations as quickly as possible in order to better meet needs and also to offer flexibility in order management.
Foreign freight forwarders are forced to use partners to transport your shipments, which is sometimes not the best option because their partner may not have the expertise for you.
Dedicated service
A foreign forwarder will (in general) require you to do business with several interlocutors while a local forwarder will process your request from start to finish. It allows you to provide a more intimate (and personalized) relationship that can help you optimize your operations.
Air freight advantages and disadvantages
Air freight advantages
Delay
No geographic limit
Very punctual
Shipment tracking
Low risk of litigation
Air freight disadvantages
Price
Weight / volume limitation
Influenced by the weather
Very affected by the price of oil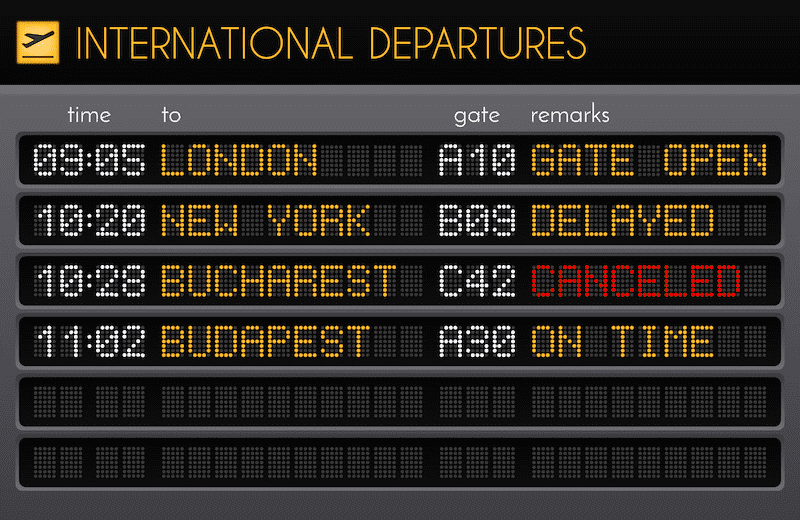 International air freight - The step by step process
Step 1: Pick up goods from your supplier to the warehouse of your forwarder
We get in touch with your supplier to coordinate the pick up of the goods and define if there are certain additional needs: packaging service, loading of goods ...
Step 2: Transport goods from the warehouse to the airport of origin
After checking the documents and the goods, we send them to the airport to prepare them for departure.
Step 3: Export declaration of the cargo
A final step in the territory of origin in order to submit the documents to local customs. You will not be able to get goods out of the country without going through customs clearance.
Step 4: Air freight from departure to arrival
Freight is reserved and goods are chartered to the airport of arrival. A few hours and your goods have finally arrived in the destination country. Only 2 steps left and the products are yours!
Step 5: Customs clearance at destination
Once the goods have arrived, you will be subject to local customs duties. Our customs declarant will get in touch with the local authorities to organize the release of the goods (following payment of taxes).
Step 6: Trucking from the arrival airport to your place
Finally, to finish the transport, we will deliver the products from the arrival airport to your warehouse (or office/home). Note that the conditions of access and unloading of goods must be clarified in advance with the forwarder so you won't have any bad surprise on the D-Day.
Incoterms and air freight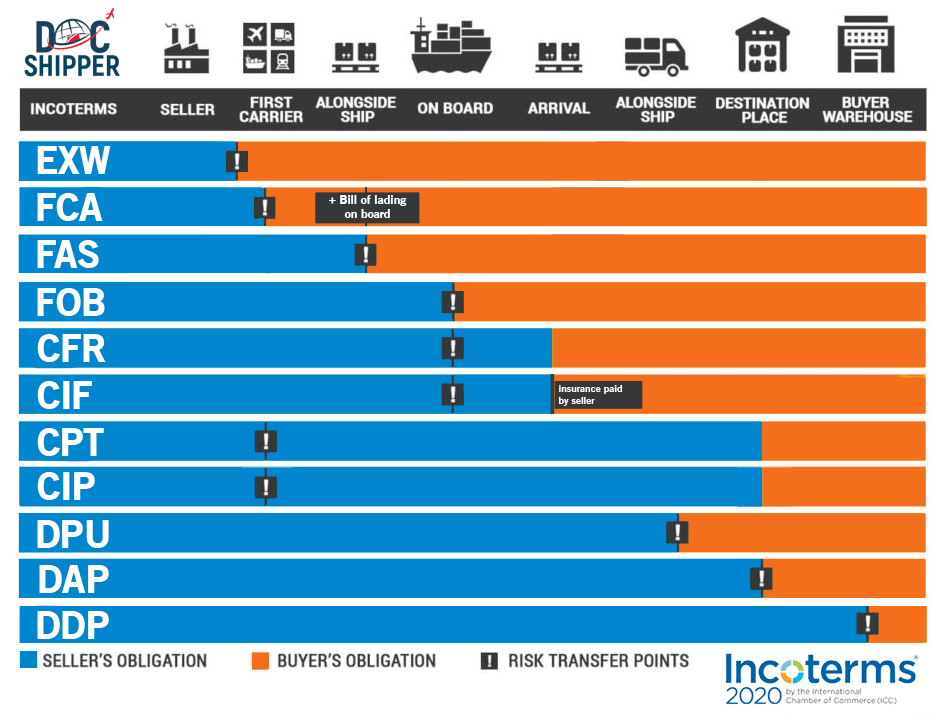 EXW (Ex Work)
Purchasing goods in EXW means that the buyer will have all the responsibilities of the supply chain: from the supplier's factory to delivery at the final destination.
FOB (Free On Board) or FAS (Free Alongside Ship)
A purchase of goods in FOB means that your supplier will deliver the products directly to the ports/airports of departure. The export documents will be submitted to the authorities, so you can take back control of the freight (sea or air).
CIF (Cost, Insurance and Freight) ou C&F (Cost and Freight)
A CIF / CFR purchase allows freight (sea or air) to be included at the terminal of the destination. It basically means that you will still have to pay the customs clearance process with local authorities, local airport charges, and delivery to the final destination.
Note DocShipper: Be careful because CIF/CFR is not equal to DAT or DAP as many people think. Indeed, your Chinese supplier can sell you the products under "CIF Miami" which means that the cargo is transported to Miami, but does not include any local charges in the US. It is therefore important to clarify all the stages of logistics before getting started.
DAT (Delivery At Terminal)
As its name suggests, "Delivery At Terminal", this incoterm allows you to buy your products with delivery AND customs clearance included. Note, however, that this solution does not include trucking between the terminal and the final address (Warehouse, office, or home). It doesn't include duties and taxes as well,
DAP (Delivery At Place)
Unlike the DAT method which ends at the terminal, DAP allows the entire supply chain to be included directly in purchases. In other words, with DAP purchases, your supplier manages the entire logistics process.
Does DocShipper offer door to door air freight services?
With its presence and its network, DocShipper is able to provide a service called "door to door". The premium option in other words, you do nothing and DocShipper manages all of your logistics! From pickup on departure to delivery to the final destination, ship your goods with peace of mind.
Documents required when sending products from China by air freight
Airway bill 
An "Airway bill"  is a receipt issued by an international airline for the goods received. It is also a proof of the contract of carriage, but it is not a title to the goods. Therefore, the air waybill is not negotiable.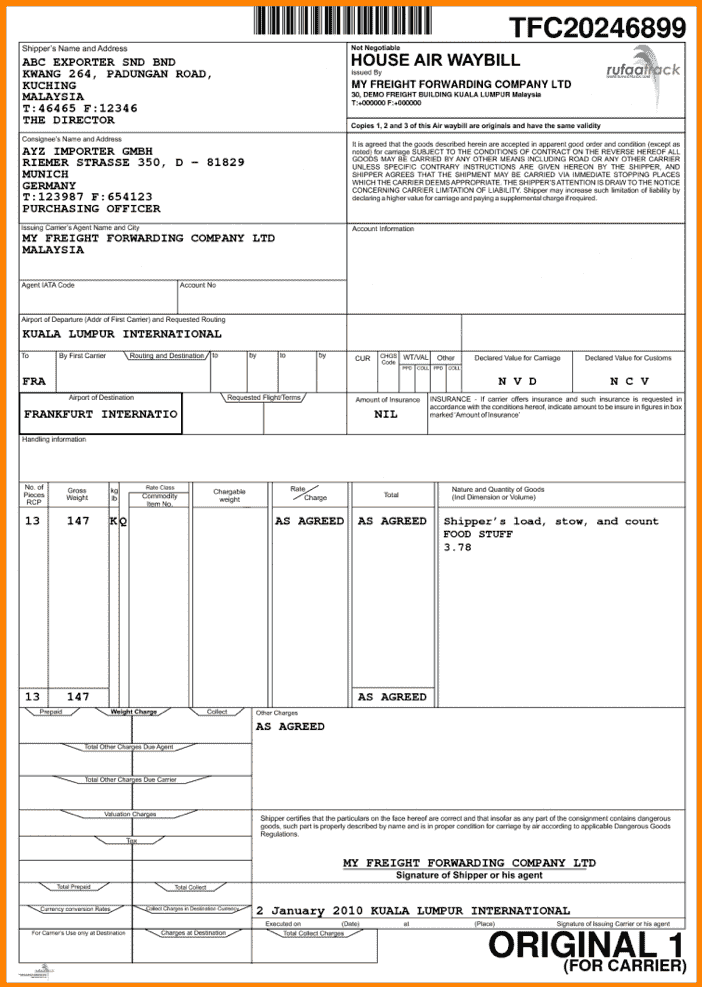 Commercial invoice
Document required by customs to determine the actual value of imported goods, in order to assess duties and taxes. A commercial invoice (in addition to other information) must identify the buyer and the seller and clearly indicate (1) the date and conditions of sale, (2) the quantity, weight and / or volume of the shipment. , (3) the type of packaging, (4) full description of the goods, (5) unit value and total value, and (6) insurance, shipping costs and other costs (if applicable).
Packing list
The "packing list" is a document that represents the inventory of the cargo. This inventory must be detailed so as to include the same information as the commercial invoice.
DocShipper Note: A commercial invoice can only contain products from one supplier. On the other hand, the "packing list" makes it possible to consolidate purchases from multiple suppliers.
Certificate of origin (C/O) 
A certificate of origin (often abbreviated as C/O) is a document used in international trade. In printed form or as an electronic document, it is completed by the exporter and certified by a recognized issuing body, attesting that the exported goods have been produced, manufactured or processed in a given country. A "certificate of origin" is also called a "Form A"
Insurance certificate
An insurance certificate is a document used to provide information about specific insurance coverage. The certificate confirms the insurance and generally contains information on the terms and conditions, the insurance company, the contract number, the name of the insured, and the effective periods of the contract.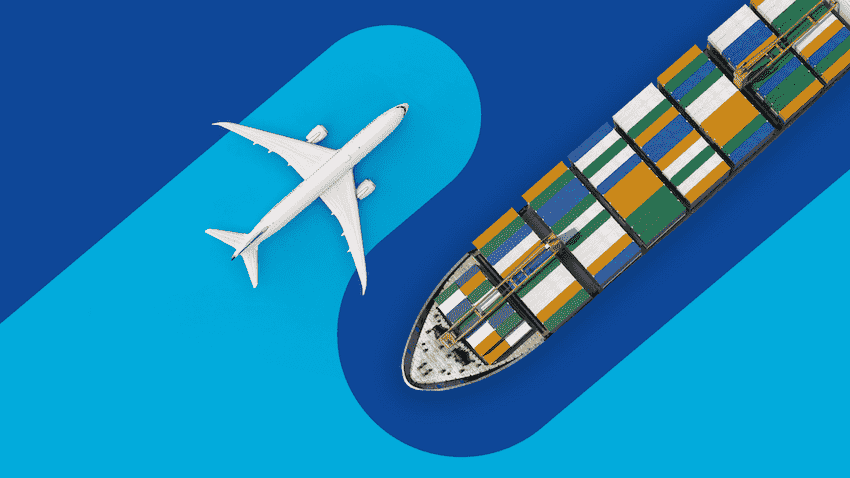 Air freight Vs. Sea freight – The comparison
Cost
Sending bulky goods (generally more than 2 m3) is much more cost-effective by sea freight. On the other hand, air freight can sometimes be cheaper than sea freight, this is particularly the case for small parcels (less than 2 m3).
Rates also vary depending on the price of oil, the destination of departure, and arrival ... For more information, do not hesitate to contact our experts.
Delay
In terms of delay, air freight is undoubtedly the fastest method of transport we have. For example, the transit times between China and Europe would be:
6 to 8 days by air freight
40 à 45 days by sea freight
Reliability
In addition to the advantages of pricing for small parcels and delays, air freight also has the advantage of being very reliable. Litigation in the air cargo industry is fairly low:
Little breakage because of less handling than with sea freight
Little loss/theft because the industry is more opaque than sea freight
Little delay because the overhead lines are very precise
Air freight or sea freight - DocShipper's recommendations
As mentioned above, there is a financial factor to consider first: generally, if your parcel is less than 2 m3, it will be cheaper to ship it directly by air. Note also the importance of delays, all urgent shipments will be processed by air freight taking into account transit times.
Finally, some products with high added value can be sent by air, the transport price having little impact on the cost price of the product.
DocShipper Alert : DocShipper assists small and medium-sized businesses and individuals in importing or exporting, by arranging all the steps in international transport, including customs clearance. If you are looking for assistance from A to Z, request a quote. We look forward to learn more about your needs!
FAQ | AIR FREIGHT SERVICES
✈️ How is air freight from China charged?
First of all, it must be understood that the transporter will be based on the most important weight between the gross weight (on the scale) and the volumetric weight (depending on the dimensions). You will then be invoiced by Kg, for example around 3 USD / kgs between China and the US.
🚀 What is the difference between conventional and express air freight?
Conventional air freight uses the space available on conventional airlines such as Air France, Qatar Airways, Air China, Emirates ... On the other hand, express companies are specialized in the field: DHL, FedEx, UPS, TNT, Aramex. .. Note that the volumetric weight (mentioned in the question above) is calculated differently: by the conventional way, 1 m3 = 167 Kgs while by expressway, 1 m3 = 200 Kgs.
✅ What are the advantages of air freight?
We can consider 8 main advantages with regard to air freight: (1) Fastest method of transport on the market, (2) reliable timetables, (3) global coverage with airports, (4) secure shipping, (5) no need for palletization unlike sea freight and finally, (6) precise and easy tracking of the shipment.
🛫 What are the most important Chinese airports?
Here is the ranking of the most operated airports in China for cargo shipment (in descending order): Hong Kong (HKG), Shanghai (PVG), Beijing (PEK), Guangzhou (CAN), Shenzhen (SZX), Hangzhou ( HGH), Chengdu (CTU), Zhengzhou (CGO), Kunming (KMG), Chongqing (CKG).
🛬 What is the role of an air freight forwarder?
Its mission is to organize the liaison between the different carriers and to ensure the continuity of transport, as well as all related administrative operations Its role is to provide you with its expertise and to give you access to discounts that it passes on to its large volume of business with the major carriers.
❌ Are there any restrictions I should know about?
Yes, as in every field there are some. And we're here to refer you. The International Air Transport Association (IATA) has imposed restrictions on electronic devices such as cargo containing lithium batteries, or other. To comply, the shipper must package the goods in accordance with IATA regulations, ensure that the goods are properly labeled, and provide the required documentation.
✔️ Why choose DocShipper China?
Quite simply because a local forwarder is more competitive than a foreign forwarder. Moreover, communication is an important factor - it is more appropriate to choose a forwarder who speaks your language. Also, a local forwarder will handle your order from start to finish, without interlocutors.
⚠️ Can goods be imported without a freight forwarder?
Technically, it is possible in some cases but the majority of shipment must be handled by a freight forwarder. Indeed, you will need a customs broker to clear your goods, an operation team to book space on shipping line and airline companies...
🏁 Do I have to choose a freight forwarder in the country of origin or destination?
It is best to choose a single, preferably local, freight forwarder who will take care of your goods from A to Z. They will coordinate with several agents to handle the whole logistics process including freight, packing, storage, customs clearance...
DocShipper China | Procurement - Quality control - Logistics
Alibaba, Dhgate, made-in-china... Many know of websites to get supplies in Asia, but how many have come across a scam ?! It is very risky to pay an Asian supplier halfway around the world based only on promises! DocShipper offers you complete procurement services integrating logistics needs: purchasing, quality control, customization, licensing, transport...
Communication is important, which is why we strive to discuss in the most suitable way for you!