Do you live in China, Asia, or halfway around the world? Do you want to know how to get your order delivered to a Chinese supplier? You are located in France (for example) and plan to receive merchandise at your home or warehouse?
If you were expecting to come across a page describing the whole process and tips for road freight in China, it's all here.
As a French-speaking freight forwarder based in China we have developed a strong experience in overland transport of goods related to this country.
Although railways are developing in the territory under the aegis of the CREC (China Railway Group Limited), we decided to build this article because road transport is still indispensable and has many advantages.
We will, therefore, provide you with the most comprehensive information on trucking services within China and its cross-border countries.
When you think of easy and affordable trucking, think DocShipper. A leading freight forwarder in the Chinese transportation market with countless years of experience and a dedication to completing every shipment job on budget and on time.
Why use road transport?
Today it is very difficult to choose among the choice is so important due to the explosion of the industry. Road freight services are by far the most commonly used transport option in international logistics. For example, considering a large number of factors, road is still the best means of transport for exporting goods and products around the world. It should be noted that road freight is simply indispensable, at the very least to link the various terminals with origin and/or destination.
Road freight - indispensable method of transport
Above all, road freight is indispensable as it will link the different terminals throughout the transport cycle. It is indeed by a truck that we will collect your goods from the supplier, it is also by a truck that we will make the final delivery to your warehouse, your office, or your home...
For Multimodal / Intermodal transport of LTL deliveries
The goods can be packed/consolidated in containers that are also used for sea or rail transport.
It is not only LTL deliveries that travel by truck. LTL carriers rely on rail or air to move some of the freight to its destination. LTL carriers are normally able to deal with railways more efficiently than smaller shippers since they typically ship a large volume of freight on a daily basis. For example, a significant portion of Chinese rail intermodal traffic consists of semi-trailers, often dozens in a single intermodal train, carrying LTL freight. LTL carriers are able to monitor railway performance to ensure timely delivery of goods. An intermodal freight shipment uses several methods of transporting goods from start to finish. For example, a shipment will start with the railway, then transfer to a marine carrier and end up in a truck before being delivered.
Intermodal transportation is seen as advantageous by some shippers because there is no handling of the cargo when it changes from one carrier to another. Pallets are used to consolidate many items into one container that is easy to move. Because handling is reduced, it also reduces damage and loss, increases safety and allows for faster transportation.
Info DocShipper: Would you like more information about this transport solution? Do not hesitate to go to our dedicated page: Freight multimodal
Road Freight Advantages
Benefit: Road freight will simply be an indispensable element in the logistics cycle as it provides the link between origin, destination, and the various terminals (ports, airports, and stations).

Cost-effectiveness:

Road transport is generally the cheapest mode of transport when a cross border shipment is possible.
Speed: Most requests for truck transport as a convenient means of transporting goods are made for reasons of speed of delivery. Compared to other types of cross-border transport services such as sea transport service, the transit time it will take for the package to arrive at the designated location will be reduced by road transport service. There are even times when the road delivery process is shorter than the air delivery process.
Suitable for short distances: it is cheaper and faster for transporting goods over short distances. Delays in the transit of goods due to intermediate loading and handling are avoided. Goods can be loaded directly into a road vehicle and transported directly to their destination.

Ideal for transporting

perishable goods (fruit and vegetables), which are very common in China.

Goods location

is easy to monitor.
Flexible service: Road transport has an advantage over other modes of transport due to the flexibility of its service, routes, and schedules, which can be adapted to individual needs without inconvenience.

Rural service:

Road transport is best suited for the transport of goods to and from rural areas that are not served by rail, sea or air transport. The exchange of goods between large cities and small villages is only possible by road transport. This is therefore crucial for China's geography.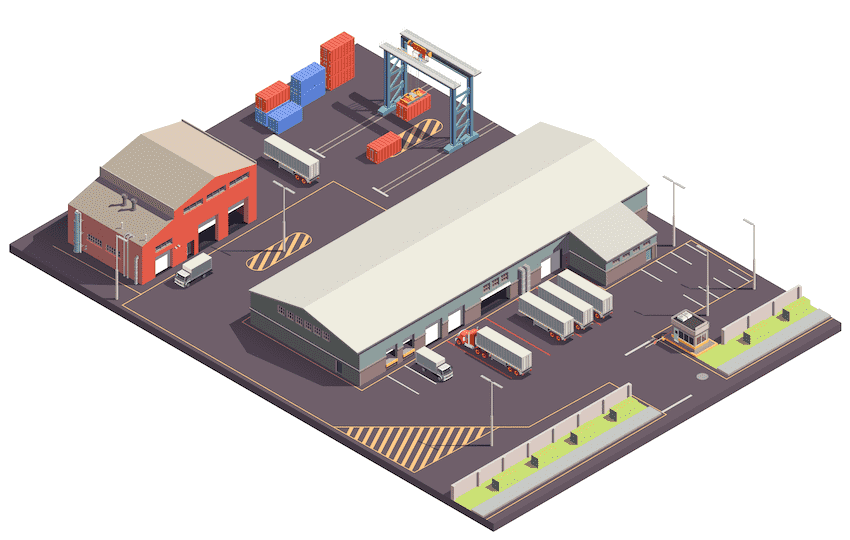 Methods of Road Transport
Which method will save you time and money?
In today's complex world of logistics, transporters stand out for their speed, efficiency, cost, and ability to communicate.
Increased consumer demand for ever-faster delivery has led to an era of rapid technological innovation in logistics and transportation.
As freight forwarders (such as DocShipper) have evolved to meet increased customer expectations, the logistics industry has followed suit by developing technologies and strategies to move materials and products from origin to destination ever more efficiently.
Full Truckload (FTL) and Less Than Truckload (LTL) are two delivery methods that carriers use to offer a high level of personalized service.
Today we will clarify FTL and LTL transport, as well as the advantages and disadvantages of each method. We will show you how the two strategies can be used together to make carriers more efficient and save you time and money.
FTL - Full TruckLoad shipping: The dedicated service
FTL shipping differs from LTL shipping in that it does not combine cargo from multiple shippers and shipments do not stop on the way to their destination. This method is comparable to an FCL (Full Container Load) solution in ocean freight, where the container is reserved just for you.
Our Full Truckload (FTL) services can help you take care of any high-capacity, high-volume shipment that needs to be done right the first time.
An FTL shipment is a shipment that requires the reservation of all the available space on a truck, in general we recommend an FTL shipment as long as you fill more than half of the available space. If you are looking for transportation by this dedicated trucking solution, your shipment will require expertise to :
A particularly valuable shipment
Large volume shipping
Unbalanced loads
Very isolated pick-up/delivery location
FTL services are ideal for companies looking to transport high-value or heavy items over long distances, especially in bulk. We can use specialized equipment such as extra-long platforms, gooseneck semi-trailers and tandem drivers to ensure we have the capacity and expertise to move your goods from point A to point B.
What is FTL delivery?
Deliveries usually over 4,500 kg.
10 pallets or more.
The truck is dedicated to a single shipper.
Less profitable for small deliveries, more interesting for full truck loads.
Advantages of the FTL method
Although FTL shipping cannot offer the reduced prices inherent in LTL shipping, it is a superior quality solution that often meets the needs of large companies that need to ship large quantities of palletized goods more efficiently.
The best choice for large shipments

: Keep space available exclusively for you and your company with our trucking services. Our team knows what permits and equipment you will need to get your extraordinarily heavy or bulky load to where it needs to be transported in the shortest amount of time.

Perfect for high-risk and fragile shipments

: Because of the time and care taken with each shipment and the unique machinery required for FTL, your goods are safer over longer distances than if they were transported by a standard LTL shipment.

Shipment stays on a truck from point A to point B

: There is no switching and no repackaging, your shipment moves from source to destination without changing hands or containers. Once your shipment is fully packed, it will not move until it is unpacked.

Faster than LTL

: Because there's no changing hands and no preparation, your freight moves incredibly fast to its destination. Fast and reliable shipments are ideal for meeting abnormally high demand.
Disadvantages of the FTL method
Many of the problems associated with FTL deliveries are directly related to the advantages of LTL :
The cost of FTL shipping is often prohibitive

for shippers who need to transport smaller quantities of freight, as it would generally not make sense to use a half-empty truck when a shipment could be combined with many others.
FTL also gives drivers more influence in setting prices, determining availability, and choosing their preferred destination. Because there is a massive shortage of drivers, it can be

difficult to find the right driver at the right time

.
Why choose DocShipper for your FTL deliveries?
To help you join us in a relationship of trust, we track all your shipments so that you can follow the progress of your shipment and keep you informed of urgent problems. Do you have questions about your freight? Contact us in the middle of your shipment, and if you need to make changes - we'll be available and flexible to help you meet your deadlines.
Don't worry about the awkward shape or excessive size of cargo. We handle the logistics of your shipment through our exceptionally extensive network. We have a multi-modal shipping system combined with equipment options and a reliable transport chain, allowing us to handle even the most demanding tasks.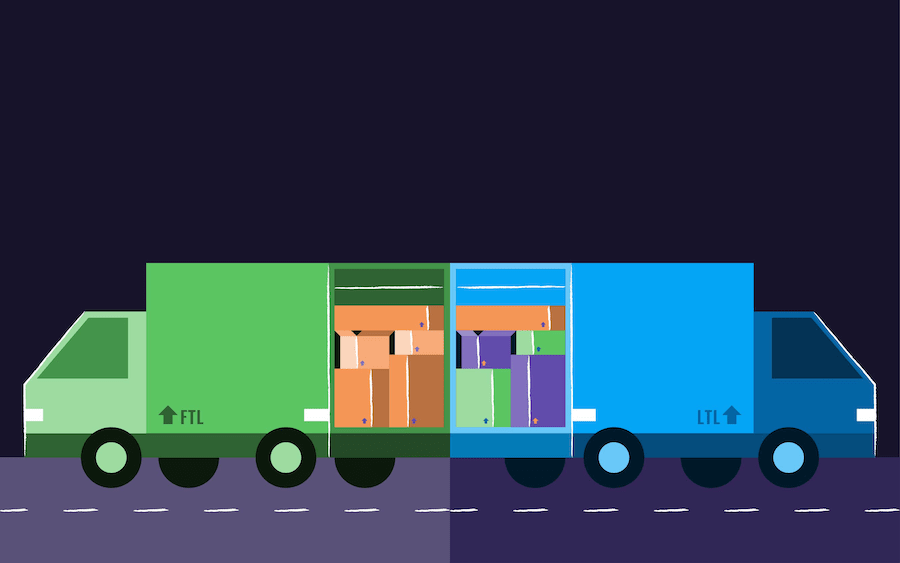 LTL - Less Than Truckload shipping: Truckloads
LTL delivery exists to increase efficiency and reduce transport costs. Without it, most companies that ship products to consumers would have difficulty staying solvent. On the same principle as ocean freight, an LTL shipment (by truck) is equivalent to an LCL shipment (by ship). LCL stands for Less than Container Load, which means that your shipment will be consolidated with other shippers to save on logistics costs.
What is LTL delivery?
Shipping loads between 150 and 10,000 Lbs (45 and 4,500 Kg).
Shipping up to 12 pallets.
Loads are combined with those of other shippers.
Cargo does not fill a standard 48 or 53-foot semi-trailer.
By consolidating cargo from multiple shippers, carriers can maximize profits for a given load and reduce the average amount of unused space in their shipping containers. This strategy also benefits shippers, as carriers often give discounts to shippers who request a continuous flow of LTL loading.
LTL freight fits perfectly with a recent global trend that sees a growing number of smaller manufacturers entering the scene. These small manufacturers would not be able to survive - or at least ship domestically - if they did not use LTL loading.
Advantages of the LTL method
Economical: If you don't ship enough goods to make up a full load or if you need to make several deliveries, LTL is much more cost-effective. It is also much more economical than shipping parcels. By safely consolidating your cargo with other goods, you don't pay for air freight.
Pickup and delivery assistance: This is especially useful when trucking to multiple destinations. We also provide optional extra services such as indoor delivery, sorting and separation, liftgate service, and pallet trucks for hassle-free shipping for you.
Flexibility: Delivering a variety of small, diverse shipments to destinations across the country.

Speed

: In China, trucking is one of the most efficient ways to ship freight nationally or regionally. Plus, with LTL, you don't have to wait until a shipment is big enough to fill a truck before you can start delivering to your customers. DocShipper takes care of all the logistics for you and gets your product to its final destination in the most efficient way possible.
Disadvantages of the LTL method
While it is clear that LTL transportation opens many doors for small and medium-sized businesses to land transportation, it is important to understand some of the negative factors of this mode of transportation.
LTL freight can take much longer to reach its destination, as it experiences multiple stops, as not all cargoes share the same destination. LTL freight also travels on a hub system, which means that shipments may be transferred several times before arriving at their destination.
This creates a host of possible problems:
The first and most obvious problem is that while the whole process tends to take longer than FTL shipping, LTL freight is also susceptible to delays.
In addition, the increased transfer and handling of cargo increases the risk of damage to shipments.
Frequent last-mile stops - as opposed to a single stop at a product's final destination - increase shipping delays and can increase fuel costs.
Why choose DocShipper for your FTL deliveries?
DocShipper provides efficient LTL freight transportation that gets your small shipments to where they need to go quickly through our extensive domestic trucking network. By securely consolidating your freight with other shipments, you save time and money.
We also offer personalized customer service. We always answer the phone and answer your questions when you need them. You won't have to navigate through an automated telephone system. Our shipping experts will free you from the logistics headache - let us determine how your LTL freight gets from point A to point B on time and within your budget while allowing you to get back to doing what you do best.
Cost of road transport in China
How is the price of an LTL and FTL service determined?
Carriers use the postal codes of the departure and destination locations to determine the distance the freight must travel. Then they use the weight and class of cargo - based on the NMFC codes established by the NMFTA (National Motor Freight Traffic Association) - to determine the cost of the shipment.
Carriers also generally offer a discounted rate to customers who choose to consolidate their freight with other shippers. These discounts are usually provided through the carrier lowering the freight class of the items shipped, thereby reducing the price.
The final factor that determines LTL shipping rates is the presence of accessories.
Accessories are additional services that shippers may require at the final destination to ensure that the product gets into the right hands quickly. Naturally, these accessories take time and slow down the delivery of other shipments, so carriers must adjust their prices accordingly.
Here are a few examples of common accessories:
Inside Pick-up
Residential Service
Inside-delivery (Inside delivery)
Fuel surcharge
Notification of arrival
FTL rates are a little simpler to evaluate since an entire truck is dedicated to a company's shipment. Carriers price FTL shipments based on cost per kilometer or on a single door-to-door rate. FTL shipments are also subject to fuel surcharges.
DocShipper Note: As of 2012, invoicing is now based on dimensional weight measurements (or "volumetric weight") to increase the loading efficiency of LTL trucks. This means that you have to consider the greater of the gross weight (on the scale) and the volumetric weight considering 1 m³ = 333 Kgs.
FAQ | TRUCKING SERVICES
📋 What documents are required for road haulage?
The documents required for the road transport of goods are as follows: (1)CMR (Consignment note ): This is a document that confirms the existence of an international road transport contract. It indicates the type of goods, origin, destination, carrier, sender and receiver. It also serves as a receipt for the shipper, signifying that he has delivered the goods to the carrier. (2)ADR document: When it concerns dangerous goods, this document specifies the type of goods, their classification or UN number and the measures to be taken to transport and handle them.
🚍What are the delivery methods for road transport?
Full Truckload (FTL) and Less Than Truckload (LTL) are two delivery methods that carriers use to offer a high level of personalized service. FTL services are ideal for companies looking to transport high-value or heavy items over long distances, especially in bulk.
💰How is the price of an LTL and FTL service determined?
Carriers use the postal codes of the places of departure and destination to determine the distance the cargo must travel. They then use the weight and class of cargo - based on the NMFC codes established by the NMFTA (National Motor Freight Traffic Association) - to determine the cost of the shipment. Carriers also generally offer a discounted rate to customers who choose to consolidate their freight with other shippers. These discounts are usually granted by the carrier lowering the freight class of the items shipped, thereby reducing the price.
⏲ What is the maximum weight allowed for transport by truck?
It depends on the mode of transport. If you choose FTL delivery, it will exceed 4500 kg. And if you choose LTL delivery, the weight of the goods will be between 45 and 4500 Kilos.
🤷🏽How do I know which shipping method to choose?
Choose one according to your needs, the weight of your goods, the number of shippers and the quantity. Indeed, FTL delivery will correspond to you if you have large shipments, while LTL delivery will correspond to small shipments.
DocShipper China | Procurement - Quality control - Logistics
Alibaba, Dhgate, made-in-china... Many know of websites to get supplies in Asia, but how many have come across a scam ?! It is very risky to pay an Asian supplier halfway around the world based only on promises! DocShipper offers you complete procurement services integrating logistics needs: purchasing, quality control, customization, licensing, transport...
Communication is important, which is why we strive to discuss in the most suitable way for you!