Do you want to ship your goods via sea freight from China? This page contains all of the answers to your questions. There are several factors to take into consideration regarding maritime transport activities such as: LCL or FCL, the delays, the advantages and inconveniences, the benefits and the essential information to keep in mind.
Sea freight provides an opportunity to participate in economies of scale thanks to «the shipping line » which allows (maritime companies) to transport thousands of containers per trip, therefore making it the most exploited method of transport in today's world.
Whether you're a large company, a small business, a start-up or an individual, DocShipper can arrange your shipment from start to finish, without you having to do anything. Tell us about your project, so our experts can find the most appropriate solution for your freight and give you tips on how to save on shipping costs. We'll answer any questions you have!
Sea freight from China: price, delay and process
LCL (Less than Container Load)
LCL means « Less Container Load ». If a shipper does not have enough commodities to book a full container (what we call FCL), he has to work on an agreement with a consolidator to reserve a spot on the cargo. This type of shipment is called LCL which technically means that you are sharing a container with others. The consolidator organizes a complete container (FCL) with a principal transporter and consolidates the parcels of other shippers.  This process implies that the shipping company which reserves a complete container accepts the merchandise of different clients and group them all in one container that he has booked as an FCL (Full Container Load). The shipping company (as DocShipper) sorts the merchandise in the order of destination or by points of trans-shipments, intended to different recipients in different ports.
Once the merchandise reaches their destination, the freight forwarder dispatches them to each final destination separately while collecting the necessary costs, where appropriate.
FCL (Full Container)
FCL means « Full Container Load ». If a client has enough volume to transport, he will book one container which is something we call an FCL (Full Container Load). This container will be filled with its products. Note that the shipper is not obliged to fill the container totally; the decision to occupy or leave empty any space is solely made at the convenience of the client.
DocShipper Alert : DocShipper is an international freight forwarder that organizes the transportation of your goods from the supplier's warehouse to the final destination. Relax, because we take care of everything: from packing, to organizing the transport, to customs clearance and administrative procedures, regardless of the shipping method (air, sea, road, rail).
Contact us to receive a free estimate in less than 24 hours. You have a question ? Call our consultants for free.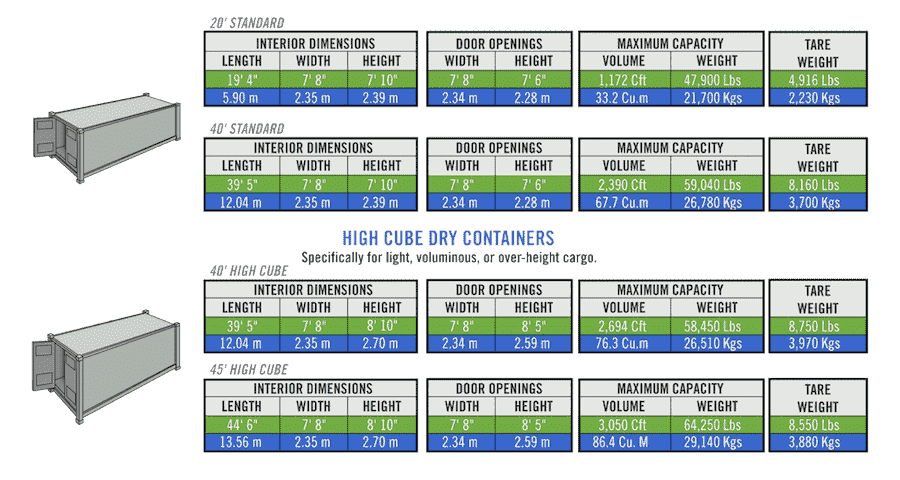 Sea freight from China – Estimated transit times
How much time is needed to send a container from China?
| | | | | |
| --- | --- | --- | --- | --- |
| | Ningbo / Shanghai | Hong Kong | Guangzhou | Tianjin |
| Sydney | 18 days | 15 days | 16 days | 20 days |
| Singapore | 7 days | 5 days | 5 days | 10 days |
| Dubai | 20 days | 18 days | 19 days | 25 days |
| Rotterdam | 35 days | 32 days | 33 days | 35 days |
| Antwerp | 40 days | 36 days | 35 days | 40 days |
| Fos/Mer | 35 days | 32 days | 33 days | 35 days |
| Los Angeles | 20 days | 20 days | 24 days | 20 days |
| New York | 35 days | 32 days | 31 days | 35 days |
| Barcelona | 35 days | 34 days | 34 days | 35 days |
Note DocShipper: From 15 m3, we recommend taking an FCL which will be more cost-effective than the LCL even if the container is half empty. Note that this volume of 15 m3 is only a reference, for certain destinations an FCL solution (whole container) will be profitable from 13 m3 or 14 m3, as it can be from 17 m3 or 18 m3 on certain other destinations.
Note DocShipper: The delays of transit indicated in the above table are indicative title. The delays do not include additional procedures such as clearance which can sometimes delay the cargo a few days.
Nature of your product(s) 
Some products are more complex than others to handle: some are fragile, others are dangerous… It is, therefore, necessary to institute measures in order to comply with international rules to anticipate the slightest problem from the start to the end.
Address of origin and destination
Essential point to allow our department to quote: the spot of departure and arrival. This allows us to calculate the collection and delivery costs between the terminals.
Note DocShipper: In the case of international freight, the carrier will consider the largest value between the so-called "volumetric" weight and the "gross" weight. The "gross" weight is the weight on the scale, generally in kgs. For the "volumetric" weight, simply multiply the volume (in m3) by 1000 (considering the following ratio: 1 m3 = 1000 kgs). Basically, the volumetric weight will be used if your goods are not dense.
Packing needs
Some products will require specific packaging in order to ensure their transport in a safe way. Sometimes it will even be mandatory to respect a certain type of packaging so that the goods can be chartered in a completely legal manner (for example the palletization in LCL).
DocShipper Tip: Packaging is one of the most important steps since it allows you to condition your products for the whole logistics process, so it's important not to skip it.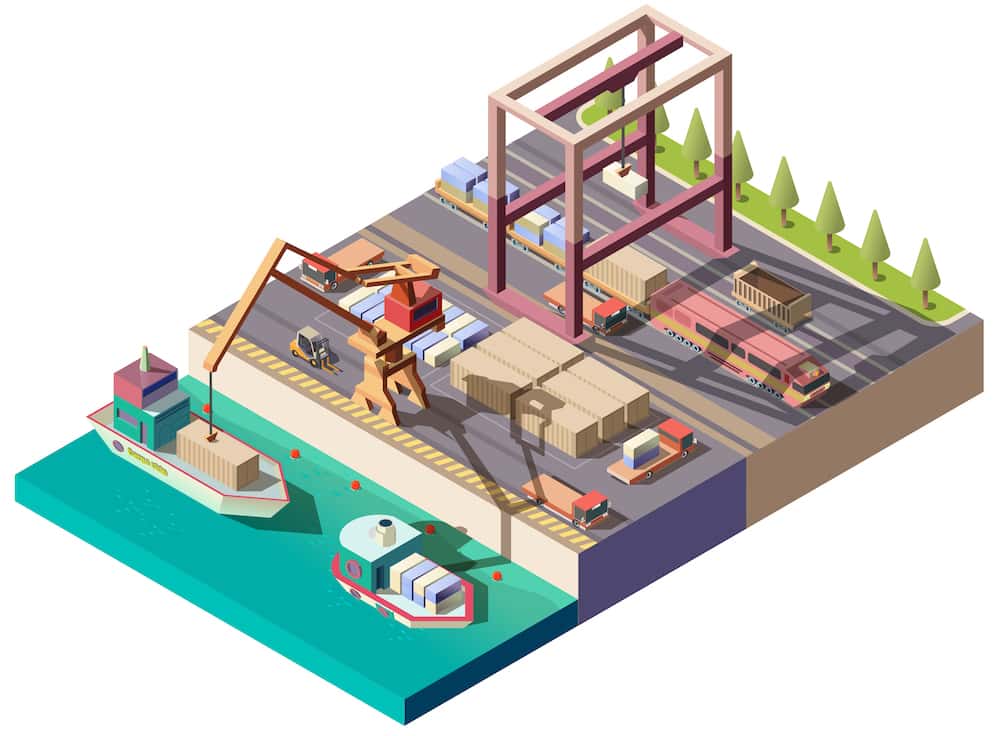 How to get the cheapest sea freight services?
We have made a list of the 7 points that we consider the most important if you want to make a shipment by sea freight:
Have a good understanding of your business
Know the market and prices
Use the correct shipping method (LCL vs FCL)
Audit your quotes
Plan effectively
Optimize the packaging of your cargo
Don't skip any point
DocShipper sea freight department - Our scope of work
Products sensitive to temperature variations
Dangerous products
Bulky goods
Perishable goods
Personal effects
Note DocShipper: Do you have specific products to send? A last-minute emergency? Do not hesitate to contact us for more information.
Sea freight insurance - The DocShipper care plan
Why should you subscribe to a freight insurance?
International logistics is not a simple procedure. The succession of actors and manipulations throughout the expedition involves a part of the risk. This risk is innately: technical error, human error, or simply "mother nature". Either way, there's a risk you can't deny, so it's best to protect yourself in the event of theft, breakage or loss.
How much is a sea freight insurance?
Insurance costs vary depending on the estimated risk. Consequently, several factors will be established, particularly: the route, the handling involved, the packaging, and the nature of the product.
Info DocShipper: Insurance costs are generally around 0.95% for professional goods and 3.1% for personal effects.
% of the value declared on your packing list
You also have the possibility of subscribing to a third party insurance, you can inquire on their website directly. Here are some ocean freight insurers: AIG, AXA, Berkshire Hathaway...
Declared value - The happy medium
As mentioned, the insurance will be based on the declared value of your goods. Coverage in the event of a dispute will also depend on the declared value. It is therefore important to highly consider this value (the customs duties will apply will also be based on the declared value).
Note DocShipper: Many customers ask how to value personal effects that have no more (market) value for example. It will then be necessary to show "common sense":
Do not under-declare your goods: when going through customs, if the authorities have doubts on the value, heavy charges will be incurred or even a customs fine. In addition, the insurance will only reimburse you up to the value in the event of a dispute.
Do not over-declare your goods: on the other hand, if increasing the value of your goods, customs duties, as well as insurance costs, will be more expensive obviously.
Why should you work with a local freight forwarder like DocShipper China?
What could be more convenient for a client to deal directly with a local freight forwarder? DocShipper China has understood that proximity to the customer is an asset above all, a priceless trust.
Competitive
Thanks to market knowledge (and a network of certified partners), we can now compete with the biggest in the market at very competitive prices.
Agile
In addition to an attractive price, we also insist on the flexibility of our teams. We handle operations optimally in order to provide a flexible service, adaptable to all needs.
Dedicated services
DocShipper China will assist you throughout your project(s). One DocShipper expert will be dedicated to you and will be your only point of contact, and those in order to optimize operations and avoid you back and forth with traditional "customer services".
French quality
The majority of our management team is french which implements a rigorous execution process. We are also very punctual obviously,
Advantages and disadvantages of sea freight
Sea freight advantages
Cheapest method for large volumes
No volume limit
(Most) ecological method
Sea freight disadvantages
Delay
Affected by the weather
Repetition of handling
DocShipper Alert : Are you planning to ship goods from China by sea? Whether it's a groupage shipment or a full container, DocShipper takes care of all the procedures with the various players in the logistics chain.
A single point of contact, dedicated service, peace of mind, expertise... DocShipper makes importing and exporting more pleasant.
Contact us to receive a free estimate in less than 24 hours.
You have a question ? Call our consultants for free.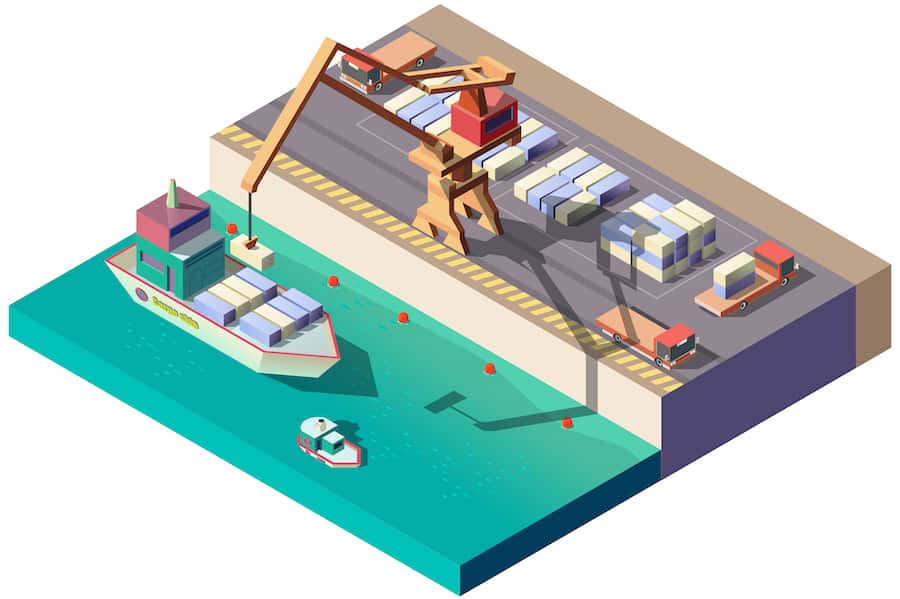 How to ship a container: The step-by-step procedure
Step 1: Pick up the goods from your supplier to the warehouse
We contact your supplier in order to plan the pick up of the goods but also to anticipate any potential need, in particular in terms of packaging or loading of goods.
Step 2: Transport the goods from the warehouse to the port of origin
After approval of the documents by our export department, the goods are transferred to the port of departure.
Step 3: Presentation of documents to pass "export customs"
In order to legally export goods, it is mandatory to go through export customs and to declare the nature of the products (especially with the "packing list").
Step 4: The cargo is chartered from the port of departure to the port of arrival
Once the goods have been loaded onto the boat, it goes for the port of arrival. A few weeks later, the boat moored at the destination port. The goods are soon released!
Step 5: Customs clearance with local authorities
Once the goods have arrived, you will be subject to local customs duties. Our customs declarant will get in touch with the local authorities to organize the release of the goods (following taxes payment). The documents will be provided to the customs authorities to establish the amount of the taxes. We will thus make the link, thanks to a mandated "customs declarant", between the authorities and you.
Following the payment of customs duties, the goods will be released for delivery.
Step 6: Trucking from the port of arrival to your warehouse
To finish the shipment, we will use our truck network to deliver the goods directly to the desired address. If necessary, we will also manage the unloading of goods once arrived (this last point should be clarified with your dedicated expert).
Incoterms in international sea freight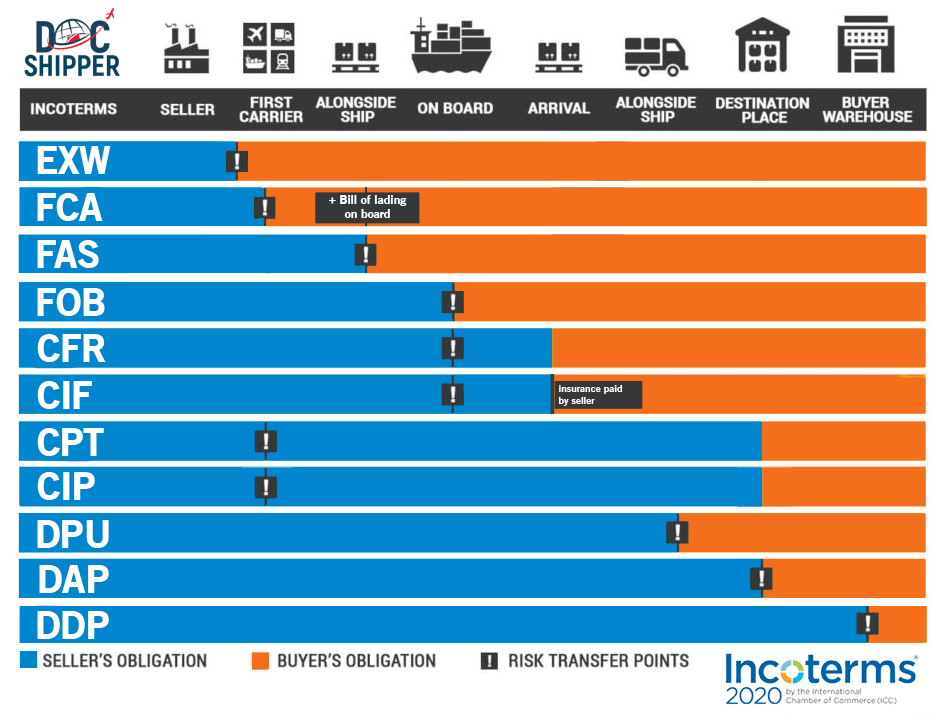 EXW (Ex Work)
If you buy under the incoterm EXW, this means that the entire supply chain will be under your responsibility: from the supplier's factory to the final destination. It will then be your role to manage all of the steps or to hire an agent like DocShipper China who provides door-to-door services.
FOB (Free on Board Shipping)
When buying under FOB, the supplier is responsible for delivering the goods to the port of departure with what is known in the logistics jargon as "delivery FOB". This means that the cargo has already been approved for export by local customs and is already loaded on the ship.
CIF (Cost, Insurance and Freight) ou C&F (Cost and Freight)
Next one, CIF or CFR. It is the same as FOB incoterms, except that freight (sea or air) is included in the service. Note that the difference between CIF and CFR is the insurance that is included in the CIF.
Note DocShipper: Be careful, many people make the mistake of confusing CIF/CFR incoterms with DAT or DAP incoterms. The CIF/CFR incoterms do not include import charges, particularly unloading of the container, customs clearance (which also includes customs fees on arrival).
DAT (Delivery At Terminal)
This incoterm makes it possible to buy goods and have them delivered directly to the destination terminal (at the port of Miami for example). It is then possible for you to go directly to collect the goods in a public area of the port. Note that the DAT incoterm includes all local costs, namely unloading the container, unbundling costs (if any), and customs clearance.
DAP (Delivery At Place)
Finally, the last incoterm is the DAP, it corresponds to a "door to door" solution which means that the goods are delivered directly to the desired final address: your warehouse, your office, or your home.
Does DocShipper offer door-to-door services with sea freight?
DocShipper Group has built a solid experience of international freight over time to provide a "door-to-door" services. It's a premium option so to speak, you do not manage anything and DocShipper takes care of all operations from departure to arrival.
Documents required when sending products from China by sea freight
Bill of lading (BOL)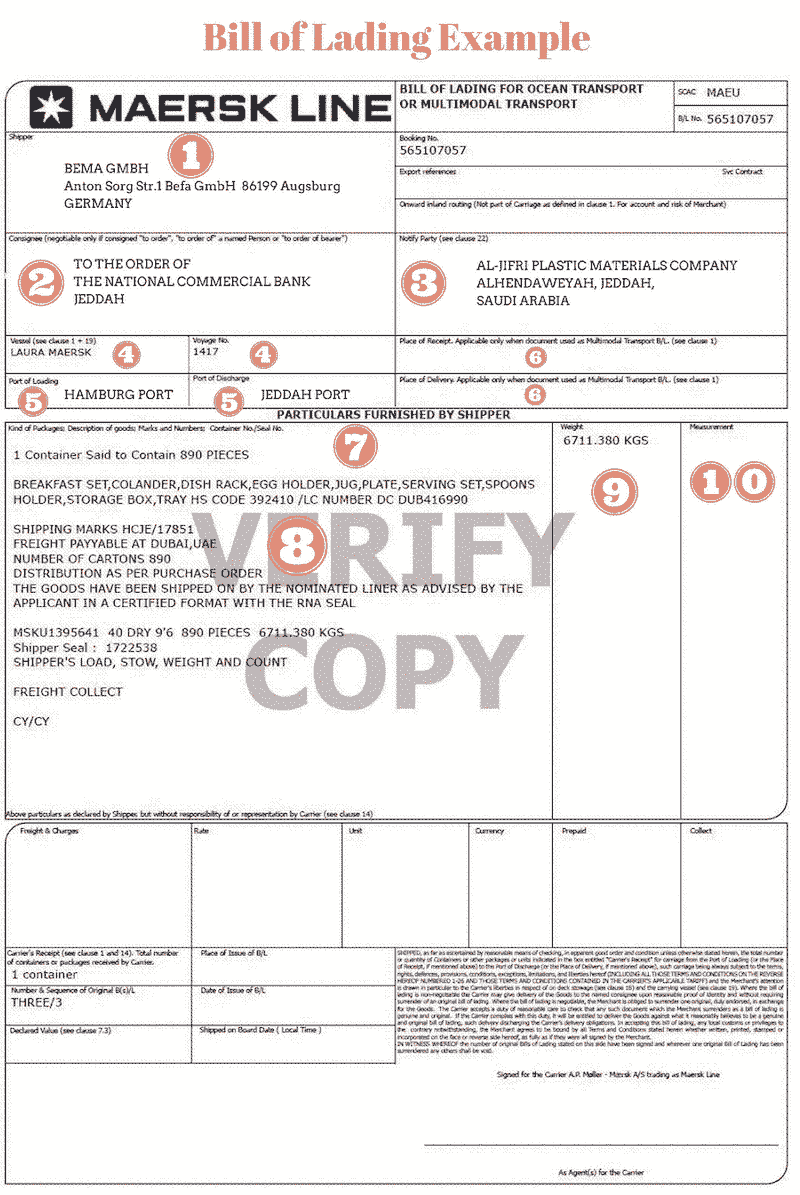 Document issued by a carrier or its agent to the sender as a contract for the carriage of goods. It is also a receipt for goods accepted for transport and must be presented for receipt at the destination.
The contract contains, among other things, (1) the names of the shipper and the consignee, (2) the names of the ports of departure and destination, (3) the name of the shipping line, (4) the dates of departure and 'arrival, (5) detailed list of goods transported with the number of packages and the type of packaging, (6) marks and numbers on the packages, (7) weight and / or volume of the cargo, (8) tariff and amount of freight.
Commercial invoice
The document requested by the local authorities to define the exact value of the cargo and thus determine the future tax duties. A commercial invoice must indicate several points including:
Seller and buyer details
Date and conditions of sale
Cargo packaging
Products description
Unit and total value
Insurance, shipping or other charges
Terms and conditions
Packing list 
It is an essential document for international freight (whether by sea, air or rail). Like a commercial invoice, the packing list lists all of the cargo information.
Note DocShipper: Unlike the commercial invoice which is only between ONE supplier and ONE buyer. The "packing list" allows you to make an inventory of purchases made from different suppliers.
Certificat of origine (C/O)
A certificate of origin (often simplified in C / O) is a document used in international logistics. Whether in paper or electronic form, the exporter fills it in with the approval of a state body that certifies the conformity of the information. Chinese suppliers sometimes tend to call this document a "Form A".
Insurance certificate
An insurance certificate is the proof of contract between you and the organization that covers your cargo. This document justifies the price of the insurance and the conditions of the contract.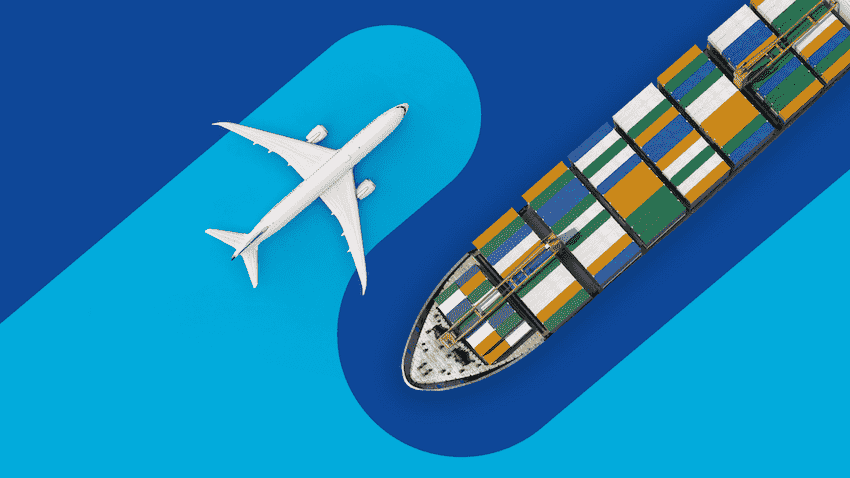 Sea freight Vs. Air freight – The comparison
Shipping by airplane or by ship?
Cost
Sea freight is - by far - the cheapest method of shipping above a certain volume. In general, it is preferable to go through an expedition by sea when your volume is greater than 2m3 (sometimes 1.5m3). For all lower volumes, it will be preferable to opt for a solution by air.
Naturally, it is very easy to send an entire container by sea freight. It is also the preferred method of transport for large manufacturers, despite a fairly long transit time, the savings are significant.
Info DocShipper: As a reminder, there are different sizes of container, but overall you can keep these 3 in mind:
20 feet Container  = 33 m3
40 feet Container  = 67 m3
40 feet HQ Container  = 77 m3
Delay
In terms of delay, sea freight is by far the slowest method of transport. As an example, the delays between China and United Kingdom would be:
5 to 7 days by air freight

40 to 45 days by sea freight
Flexibility
Unlike air or rail freight, transport by boat is extremely flexible and those on 2 points: the volume of your cargo and the nature of the products.
Indeed, there are no restrictions on the volume of your cargo, whether you are shipping a 20-meter boat or a 2m3 parcel, sea freight is the solution. Besides the volume, the nature of the products is important! For example, it is impossible to send lithium batteries or liquids by air.
Sea freight maritime – DocShipper's recommendations
If we tackle the question of the "price" of your future shipment, sea freight is a wise choice! As mentioned above, this method of transport is economical for most cargoes. On the other hand, note that for small volumes (generally less than 1,5 m3 see 2 m3).
In addition to the financial aspect, it is important to note that certain products (notably liquids, batteries, and other dangerous products) are not transportable by air. It is, therefore, necessary to go by sea for certain classes of products.
DocShipper Alert : DocShipper assists small and medium-sized businesses and individuals in importing or exporting, by arranging all the steps in international transport, including customs clearance. If you are looking for assistance from A to Z, request a quote. We look forward to learn more about your needs!
Which ports are used for international sea freight from/to China?
With so many products made in China, it is not surprising that Chinese seaports are among the busiest in the world. We will present the 8 shipping ports in China that handle the most shipping containers.
Incredibly, 8 of the 17 busiest ports in the world are in China, and if you include Hong Kong and Taiwan, that number jumps to 10!
Port of Shanghai 
Include: Port en eau profonde de Yangshan et terminaux d'expédition Waigaoqiao
Operator: Shanghai International Port (Group) Co., Ltd.
Website: portshanghai.com.cn
In 2010, the port of Shanghai overtook the port of Singapore to become the busiest container port in the world. Now managing more than 35 million TEU containers (twenty-foot equivalent) per year, the port of Shanghai continues to grow with more projects underway to increase capacity.
The port of Shanghai includes the massive deepwater port of Yangshan - which is on an island connected to the mainland by a 32 km sea bridge - and a series of ports at the mouth of the Yangtze and Huangpu rivers.
Port of Shenzhen
Include: Port of Yantian, Port of Chiwan, Port of Dachan Bay, Port of Shekou
Operators: divers (including Shenzhen Yantian Port Holdings and Shenzhen Chiwan Wharf Holdings)
Website: yantian-port.com
The name "Port of Shenzhen" is a collective term to designate the multitude of ports located in the city of Shenzhen, Guangdong - a region increasingly famous for the success of its high-tech areas and new industry. This area is also known for the port of Guangzhou which is one of the other pillars of the region and which is only 100 km from Shenzhen.
"West Port" refers to a group of busy ports, including "Chiwan", "Dachan Bay" & "Shekou", while "East Port" is dominated by the busiest port in Shenzhen, "Yantian" .
Port of Ningbo
Include: Port of Beilun and port of Zhenhai
Operator: Ningbo Zhoushan Port Group Co., Ltd.
Website: http://www.nbport.com.cn/ 
Formally called the port of Ningbo-Zhoushan since the merger of the 2 ports in 2006, the port of Ningbo is located in Zhejiang province, about 150 km in the south of Shanghai.
The infrastructure of the port of Ningbo includes a huge crude oil terminal and an ore loading station, making it the busiest port in the world in terms of freight tonnage, although it handles fewer containers than Shanghai and Shenzhen.
Port of Qingdao 
Include: Dagang port area and Qianwan container terminal
Operator: Qingdao Port (Group) Co., Ltd.
Famous for its beer production, Qingdao is also a large port city located in Shandong province. Shandong is one of the economic powers of China with a production of GDP barely lower than that of the provinces of Guangdong and Jiangsu.
Port of Guangzhou
Include:Nansha terminal, Xinsha port area, Huangpu port area, downtown port area
Operator: Guangzhou Port Group Co., Ltd.
Website: http://www.gzpgroup.com/ 
Located about 150 km northwest of Hong Kong, Guangzhou is the only place on our list that is not considered as a coastal city. Established at the confluence of the Dongjiang, Xijiang and Beijiang rivers, the port of Guangzhou is the main port of the Pearl River Delta region. This port is not to be confused with that of Shenzhen which is positioned less than 100 km away.
Port of Tianjin
Include: Port Nord, Port Sud et Port Est
Operator: Tianjin Port (Group) Co., Ltd.
Website: ptacn.com
Located just 150 km southeast of Beijing, Tianjin is one of the 4 main Chinese municipalities alongside Shanghai, Chongqing and Beijing the capital.
The port of Tianjin made international headlines in 2015 when a series of huge explosions triggered by poor storage of chemicals caused widespread damage and loss of life. Since then, the port has been trying to retrieve its aura of yesteryear thanks to measures that aim to boost trade and trade via this port.
Port of Dalian 
Include: Port of Dayaowan
Operator: Dalian Port Group Co., Ltd.
Website: portdalian.com
The most northern of the 8 ports on this list, the port of Dalian is located in Liaoning Province, which shares a border with North Korea. It is also the most northern ice-free port in China.
Dalian is the main port in the North East region of China and has always been destined to be a port city with its prominent location at the tip of the Liaodong Peninsula.
Port of Xiamen 
Include: Haicang port area and Dongdu port area
Operator: Xiamen Port Holding Group
Located in the province of Fujian, the beautiful city of Xiamen is a major port that manages a large part of the trade between mainland China and Taiwan which is just 300 km away.
Expanded over a large region, the port of Xiamen comprises 12 different zones - including the port of Zhangzhou since 2010 - with river and deepwater installations.
Visitors to the famous Gulangyu Island of Xiamen can take a ferry around the island which passes by numerous ports and huge container ships.
Others Chinese ports
In addition to the 8 busiest ports in mainland China, there are 2 other Chinese ports that handle a very large amount of goods.
They are located respectively in Hong Kong and in the city of Kaohsiung in Taiwan:
Port of Hong Kong
Include: Kwai Tsing container terminals
Operators: various, as shown below
The busiest container port in the world in 2004, the port of Hong Kong has seen recently its volume of maritime traffic fall first for Singapore's Hub, then more recently in Shanghai and Shenzhen.
Despite this context, the port of Hong Kong remains an extremely important port for trade with Southeast Asia and is considered as the gateway to mainland China.
There are 9 container terminals at the port of Hong Kong which are operated by 5 shipping companies (link just above) and there are plans to build a tenth.
Port de Kaohsiung
Comprend: terminal Zhongxing
Opérateur: Taiwan International Ports Corporation Ltd., succursale de Kaohsiung
Site Web: twport.com.tw
Deuxième ville de Taiwan et plus grand port, Kaohsiung est située dans le sud-ouest de l'île.
Traitant plus de 10 millions d'EVP par an, le port de Kaohsiung se classerait juste au-dessus du port de Dalian s'il était inclus dans la liste principale.
How to get and understand a sea freight quote?
What does DocShipper China need to know to quote your project?
Incoterm
Incoterm is a concept that no longer holds any secrets for all experienced importers/exporters. Among other things, this term defines the responsibilities between the buyer and the supplier regarding all logistics processes. We will come back later in this page to detail more this important notion.
Volume in m3 and weight in Kg
Volume and weight, probably the 2 most important factors that will obviously influence your logistics quote. So this is not a detail to overlook.
FAQ | SEA FREIGHT SERVICES
⚓ From what volume is sea freight financially attractive?
In general, sea freight becomes interesting from 2 cubic meters, below, air freight will be cheaper and much faster.
🚢 Should I opt for sea consolidation (LCL) or a full container (FCL)?
From a purely financial point of view, the complete container (FCL) becomes profitable from 14/15 cubic meters. Although a 20-foot container has a capacity of 33 cubic meters, the full container (FCL) will pay off even half full.
🧾 How is sea freight billed?
When you carry out a logistics operation by sea freight, you have 3 types of charges: export charges (in China), import charges (in the destination country), and sea freight. Freight in consolidation is charged per cubic meter (for example 30 USD / m3) while the full container is charged for the whole container (for example 1500 USD / 20ft container).
🇨🇳 How to choose the port of departure in China?
Your choice of the port of departure will depend on 2 factors: first the departure address to determine the nearest port(s). Then, it will be necessary to compare the sea freight prices considering that the more the port is important, the more the pricing and delay will be interesting.
🗺️ What are the main shipping line operating from China?
As China is the most important exporter in the world, all shipping companies operate from the majority of Chinese ports. DocShipper will choose the shipping line most in line with your budget and timing: MAERSK, CMA-CGM, MSC, COSCO, EVERGREEN, HANJIN, OOCL, KLINE ...
🌍 What is an international freight forwarder?
It is a company that will manage the international transport of your goods from point A to point B. They will coordinate with several agents to handle the whole logistics process including freight, packing, storage, customs clearance...
🕵️‍♂️ How to choose a good forwarder?
The easiest way is to choose a forwarder who speaks your language and has offices in the country of origin or destination. Moreover, you should focus on freight forwarders who answer quickly to all your questions.
📦 What do I do if my shipment hasn't arrived?
There are two possibilities: either your shipment left later than expected, or the delay is due to a longer than expected transport time. In either case, your operations manager will provide you with an explanation.
DocShipper China | Procurement - Quality control - Logistics
Alibaba, Dhgate, made-in-china... Many know of websites to get supplies in Asia, but how many have come across a scam ?! It is very risky to pay an Asian supplier halfway around the world based only on promises! DocShipper offers you complete procurement services integrating logistics needs: purchasing, quality control, customization, licensing, transport...
Communication is important, which is why we strive to discuss in the most suitable way for you!