As a member of the DocShipper group, we have a global presence all around the world, in more than 40 countries to be precise. DocShipper is therefore also present in Thailand to assist you with all your international purchasing and logistics operations. You will see that importing and exporting has never been easier!
DocShipper services in Thailand
Sea freight from/to Thailand
Sea freight is a reliable means of transporting large volumes, with options designed to accommodate different sized cargoes. It is the most widely used method of transportation because it allows us to ship large volumes to the other side of the world at a competitive price. The two main ways are :
Less container load (LCL): You group your goods with other shippers in a single container.
Full container load (FCL): You reserve the whole container. The container is sealed from departure to arrival.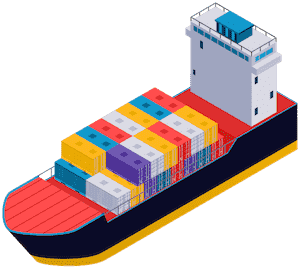 Air freight from/to Thailand
Although this type of transportation is quite expensive and polluting, air freight allows goods to be shipped over long distances and quickly. Air freight is one of the most reliable and fastest methods of transport, with global coverage, so you can ship your goods anywhere in the world, and real-time flight tracking. Again, you will have the possibility to choose between 2 different options: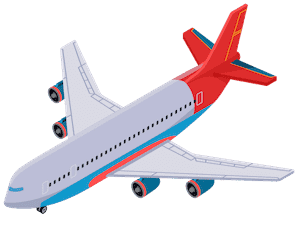 Conventional Air Cargo: With the type of cargo, your goods will use the space available in the commercial flights of conventional airlines, such as Qatar Airways, Air France, or American Airlines.
Express Air Freight: This method is used in most cases to transport small packages, weighing less than 100 kgs. We recommend using express companies, such as Fedex, DHL, UPS, TNT...
Rail freight to/from Thailand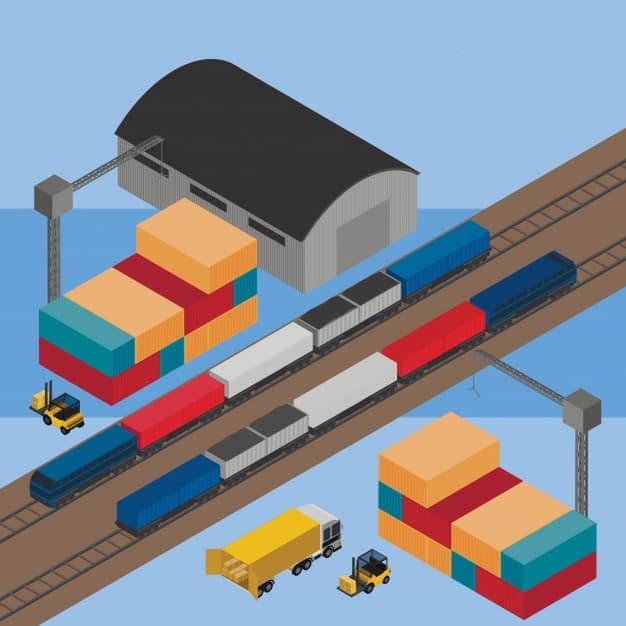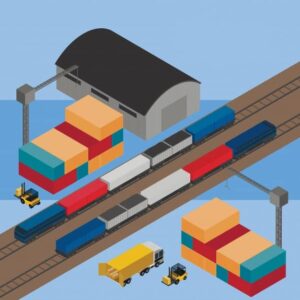 The train is the most economical means of transport in Thailand. Projects are underway for several hundred km of lines. These are intended to complete a network linking China to Singapore, passing through Thailand of course.
Rail freight is a good method that has been developing for several years. Driven by the impetus of China, which is investing billions in this method of transport, trains are becoming faster and more competitive. A solution halfway between sea and air freight: faster than the boat, cheaper than the plane.
Road freight from/to Thailand
Road freight is usually an indispensable method since it will simply link the different terminals: your office, warehouse or home and the departure/arrival terminals such as ports, airports and train stations.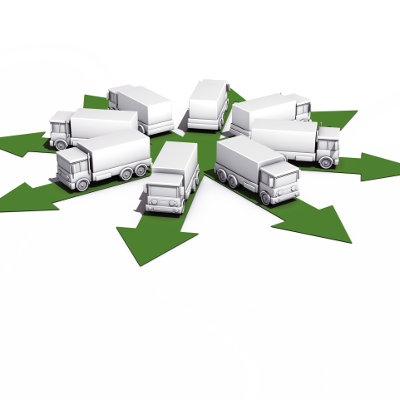 Please note that for short distances, we can use the truck for a door-to-door solution directly. This is for example the case for cross-border transport.
Post-transport services in Thailand
We offer a multitude of post-transport logistics solutions in Thailand. You need to store your goods for a short or long period of time? You can rent a space in our warehouses.
We also offer a packing service. A point not to be neglected since it will condition the rest of the operations: if your goods are packed in the right way, everything should go as planned. However, if you neglect this step, you may have unpleasant surprises.
DocShipper Advice : If you have any requests or questions regarding the packaging of your goods, please do not hesitate to contact our experts! You can also read our article to learn more about the packaging process.
Customs clearance services in Thailand 
It is simply a mandatory step in international logistics. When your goods arrive at the border of a country, they will necessarily have to obtain the approval of the customs authorities to enter the destination market. This means preparing the entire documentation package to certify the conformity of the products.
DocShipper Alert : Make sure your goods are in order to avoid being blocked by customs. If you have any questions or requests, don't hesitate to contact our DocShipper experts. They will help you with all your import and export needs. You can also read our article that will help you understand the compliance system for goods. 
Procurement services in Thailand
Sourcing services are tailor-made support during your procurement operations. No more hassle to find the right supplier producing the right products at a competitive price :
Supplier search: We search for suppliers that correspond to your expectations.
Price negotiation: With our years of experience in the field of import / export, we negotiate for you the prices of your goods
Sampling: To ensure the quality of your product, we organize for you the sending of a sample. You will be able to analyze the product.
Compliance: The products available from Asian suppliers do not always meet the standards of your market. Therefore, we check the conformity of your products.
Quality Control: Your goods are analyzed using two criteria: the quantity to be checked and the depth of it.
International logistics: We assist you in all logistics, from the supplier to the final destination.
Interested in our services? Need personalized information?
Our experts will answer you within 24 hours
Operational capacity across Thailand
Logistics services in Bangkok
Bangkok, or Krungthep Mahanakhon in Thai, is the capital of Thailand, located on the Gulf of Thailand. It is populated by about 10 million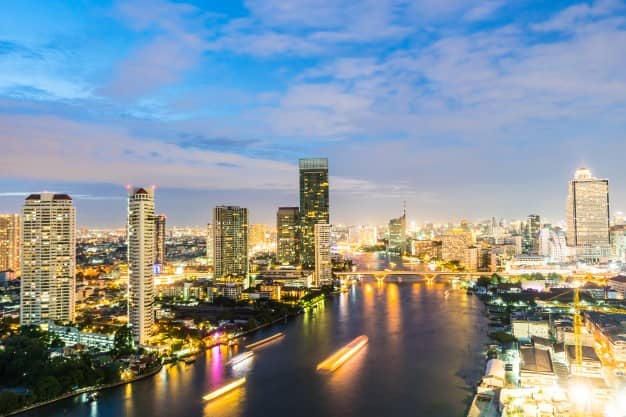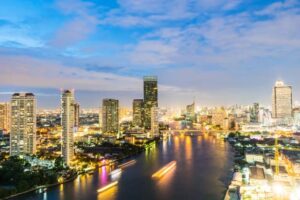 people and if you count the so-called "Greater Bangkok", you can count almost 20 million inhabitants. It is the most populous city in the country.
The city has a river full of boats, the Chao Praya, which feeds its network of canals. In addition, the city has a large port: Bangkok Port is the largest port in Thailand.
Bangkok is served by 2 airports: Bangkok-Suvarnabhumi Airport and Don Muang International Airport.
Being one of the key cities in Thailand, DocShipper delivers all your goods from and to Bangkok.
Logistics services in Chiang Mai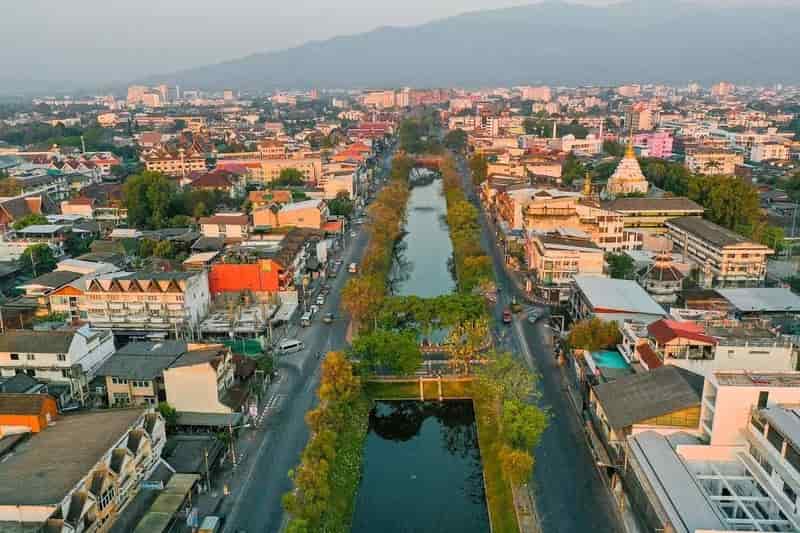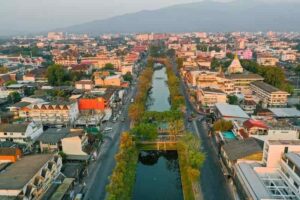 Chiang Mai is a Thai city located in the north of the country. It is nicknamed the "Rose of the North" and is the sixth-largest city in Thailand. It is the cultural and economic centre of the north and the capital of Chiang Mai province.
The province of Chiang Mai has a population of approximately 1.6 million, of which 250,000 live in the city of the same name.
The city is served by the Chiang Mai International Airport. The city is located in the mountains and has no harbour, but has an extensive rail network. Chiang Mai also has two bus stations, the largest of which is called Arcade and is located in the east of the city.
Logistics services in Phuket
Phuket, a town in the province of the same name, is located in the southern tip of the country. The entire province has about 420,000 inhabitants.


It is a tourist city which nevertheless has an international airport located 32 km north of the city centre.
The city also has a port. It is located at Makham Bay on the east coast of Phuket Island and there are a number of private oil facilities. Furthermore, it has a multipurpose berth where containers, general cargo and passengers are handled.
DocShipper Alert : Phuket City  is part of one of the important cities of Thailand and that's why DocShipper offers you its services and support in Phuket.
Transport terminals in Thailand
International ports in Thailand
Port of Bangkok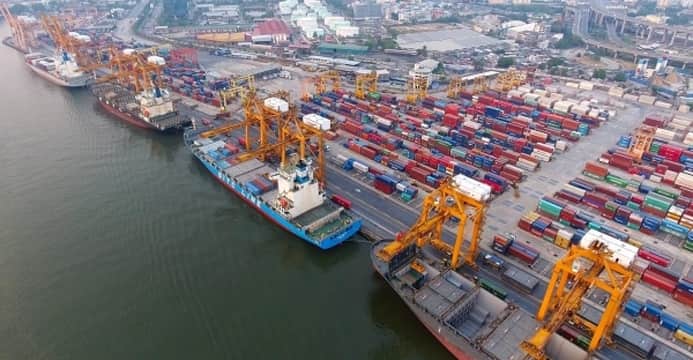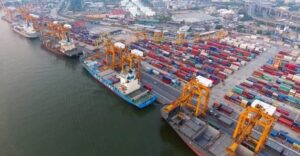 Also known as Klong Toey, the Port of Bangkok is the largest port in Thailand and can handle about 1.5 million TEUs (around 20 feet) / year. It is an international port located on the Chao Phraya River in the Khlong Toei district of the Thai capital, Bangkok.
Until recently, the Port of Bangkok was one of the 100 busiest container ports in the world. The port also offers a conventional wharf for loading and unloading cargo.
The port handles all kinds of goods, from containers, any kind of goods (depending on the country's compliance of course), chemicals, gas and many others.
Generally speaking, in terms of maximum size, the port can handle 25,000 deadweight tonnage. In total, it has approximately 84 berths. Of course, it also has mechanical equipment that can handle several tons and several storage warehouses.
At present, Bangkok Port handles 54% of Thailand's total exports and imports. The expansion project includes a new two-kilometre long, 900-metre wide and 15-metre deep quay to accommodate large ships directly. It also includes the construction of twin railways that will link the northeast of the country directly to the port.
Port of Laem Chabang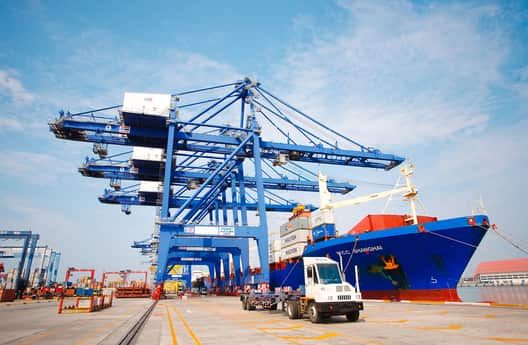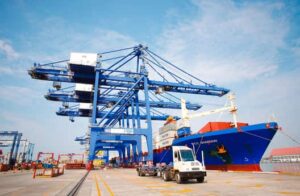 Laem Chabang Port can handle about 6.9 million TEU/year and the depth of the port is 12 metres. At present, four terminals are managed by private companies. Laem Chabang Port is located in Tungsukhla Sub-District, Sriracha District and Banglamung Sub-District of Chon Buri Province. The port covers an area of approximately 1026 hectares.
It is expected that by the end of the second basin, the capacity of Laem Chabang Port will increase to 3.5 million TEUs.
Laem Chabang has undergone two phases of development so far and is on the third phase of construction now. The third phase would raise the capacity of the port to a maximum of 18 million TEUs. Currently, following the first two phases of expansion, Laem Chabang can handle up to 10 million TEUs. The expansion aims to transform Laem Chabang into the main port of the sub-Mekong region, and ultimately compete with Singapore.
International airports in Thailand
Thailand has 6 international airports: Suvarnabhumi (Bangkok), Don Muang (Bangkok), Koh Samui, Phuket, Hat Yai and Chiang Mai. Then there are other civilian airports with domestic flights, of course.
Suvarnabhumi International Airport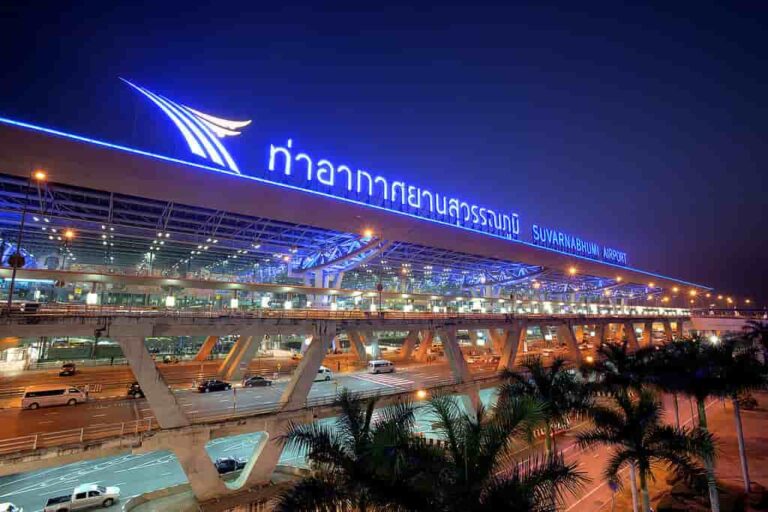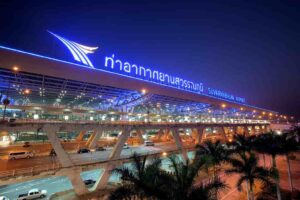 Suvarnabhumi International Airport in Bangkok has been Thailand's main airport since 28 September 2006. The name Suvarnabhumi refers to the mythical "Land of Gold" mentioned in ancient Buddhist texts.
The airport is located 32 km east of downtown Bangkok. It is the main hub for all air transport in the country. Suvarnabhumi is expected to increase its capacity by this year and thus improve cargo services as well as civilian flights.
It has the highest control tower in the world and its airport terminal is the third largest in the world at 56.3 hectares, behind Beijing and Hong Kong airports.
Don Muang International Airport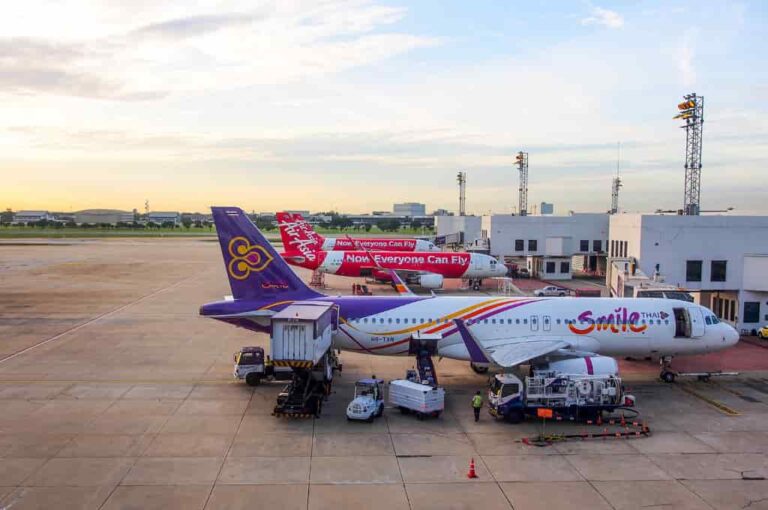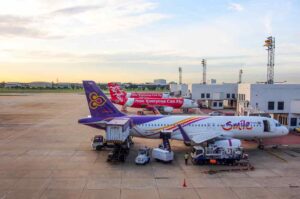 Don Muang International Airport is one of two international airports in Bangkok, Thailand. The airport is considered to be one of the oldest international airports in the world and the oldest in Asia.
In 2004, Don Muang International Airport was working with 80 airlines and carrying over 25 million passengers. It is located in Don Muang, 24 km north of the City of Angels. Don Muang Airport closed in 2006 following the opening of the new Bangkok Suvarnabhumi Airport, before resuming operations (mainly domestic flights) a year later on 24 March 2007.
Don Muang is mainly used by low-cost airlines: Nok Air, Air Asia and Thai Lion Air.
Phuket International Airport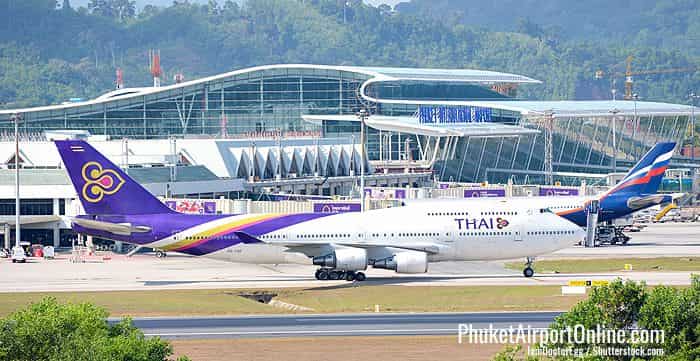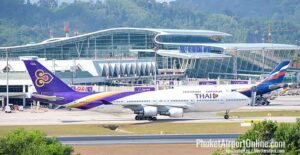 Phuket International Airport is the second-largest airport in the country after Suvarnabhumi Airport. The airport serves all major countries in Southeast Asia.
It is located approximately 30 km from the administrative capital (Phuket town) of Phuket Island.
International passengers come mainly from Asia-Pacific and Europe. The airport set a record of 15.1 million arrivals and departures in 2016, an increase of 17.8% compared to 2015.
FAQ | FREIGHT FORWARDERS AND SOURCING SUPPLY AGENT IN THAILAND
How can DocShipper help me in Thailand?
DocShipper offers unique support, a tailor-made solution that includes all of your needs. From supply to distribution, including compliance, quality control, transport and customs clearance. You no longer have to waste time in an area that you do not master, leave it to the professionals!
What is door to door service ?
We include in our door-to-door service all the procedures to follow for a smooth shipment: we take care of the packaging, the international freight or the customs clearance. We take care of everything, especially as we are specialized in this service!
How can DocShipper help me find a supplier ?
With years of experience, DocShipper has a network of certified suppliers and agents around the world. It is therefore very likely that a supplier that fits your needs is in our database. However, if none of them match your criteria, our sourcing department will search through our network to find a supplier that fits your requirements, based on various criteria, such as quantity, quality, and of course, price.
Is DocShipper a freight forwarder?
Yes and no. Our business model is unique: we support our customers throughout the entire process of purchasing, shipping and delivering your goods: from the sourcing department, which takes care of finding the suppliers best suited to your needs, to the logistics department, which manages all transport operations, to the 3PL department if you are an e-merchant, which manages your Business to Consumer orders. Our customers only need to concentrate on selling and promoting their products, DocShipper takes care of the rest!
How much does DocShipper's service cost?
Pricing is complicated. Some services have a fixed cost, but most of the time we build our solutions on a case-by-case basis. This means that the costs of a project can be very variable. If you have any questions or would like a quote, please contact our DocShipper experts. They will get back to you within 48 hours. Please be sure to fill in as much information as possible so that we can get back to you as soon as possible.
DocShipper info: Do you like our article today? For your business interest, you may like the following useful articles :
DocShipper Advise : We help you with the entire sourcing process so don't hesitate to contact us if you have any questions!
DocShipper China | Procurement - Quality control - Logistics
Alibaba, Dhgate, made-in-china... Many know of websites to get supplies in Asia, but how many have come across a scam ?! It is very risky to pay an Asian supplier halfway around the world based only on promises! DocShipper offers you complete procurement services integrating logistics needs: purchasing, quality control, customization, licensing, transport...
Communication is important, which is why we strive to discuss in the most suitable way for you!