Retail and ecommerce businesses had been facing many hurdles for two years, especially in China, where the lockdown was very tight, and the pandemic was raging. This situation led to a huge consumption of goods by the locked population, which increased the scarcity of air, sea and trucking freight spaces. The rise in prices was therefore bound to happen.
How can your supply chain company face this sort of crisis? But let's put the question more like this, in a most optimistic way: how can you take advantage of this kind of situation to thrive your business and provide a good service to your customers?
We are going to provide you with some advice from our experts that can help you to deal with the negative effect of this situation on inventories, workers, and freight. But first, we are going to present to you the former situation in China, during the crisis that still has its effects today.
Impact of Chinese lockdown on global Supply Chains
The worst situation happened in China, where a new lockdown had shown in Shenzhen and then in Shanghai at March 13th and April 2022. The supply chain was affected by too many delays, all cargo traffic and factories were held up. Truckers from outside the city couldn't come to pick up the goods.
Impact of Chinese lockdown on mode-specific Supply Chains
Ocean Freight
Sea Freight is very complex. When supply and demand do not match, it affects all the systems and creates a congestion crisis. The rising demand and the delays of unloading ships result in a shortage in equipment and in chassis. All of these trigger a lack of inventory, and it, unfortunately, encourages consumers to order products that are running out of stock.
For example, in Yantian district, we notice that a vessel could take near 120 days to reach their destination due to the long preparation time, and many others were waiting outside ports. Ports and terminals were very busy of course, but it did not work if there were only ships, they need also workers, drivers for trucks to move products from warehouses to their destination. However, many workers were confined. Thus, Importers could no longer predict anything in this kind of situation and could no longer make accurate and fair decisions. That's why, we need to consider other alternative roads and modes to face those problems.
DocShipper Advice : You can trust our professionals, who will inform you of the formalities and make you in touch with reliable partners. Get a free quote here!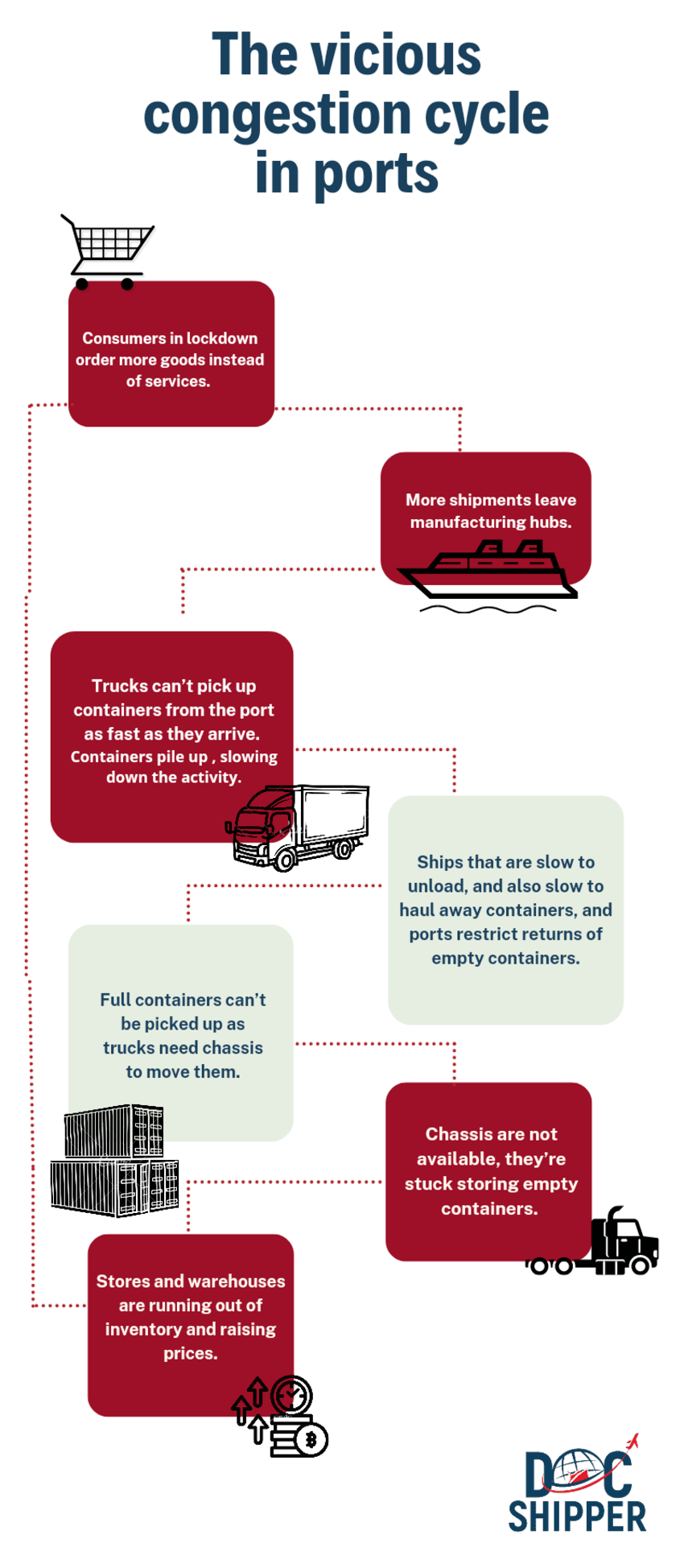 Docshipper Tip : DocShipper will be able to offer you a solution to your concerns. Our experts have the ability to optimize the transport and delivery times in case of problems. We transport goods from China or to China. We also have a permanent contact with our partners who are located all over the world. So, you can contact us here right now! 

Air Freight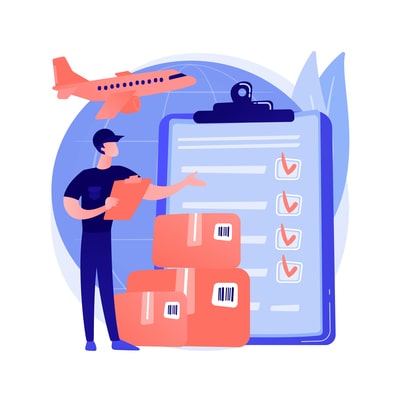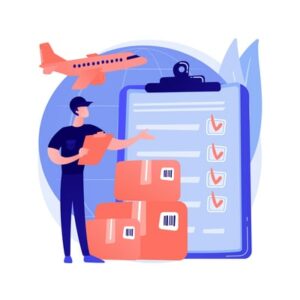 Air freight wasn't more affected than sea freight. Yet, it was getting downhill with the lack of employees and with the situation in borders between Shenzhen and Hong Kong, which were shut down for 2 to 4 weeks. As a result, shippers chose other routes and their market rates increased. The air capacity is divided between flights for air freight and flights for passengers and the passenger plane space is a big source of air tonnage but with the pandemic thousand of flights were cancelled. Whereas, the total tonnage of air freight decreased by 7%.
The good news was that the Transpacific Eastbound TPEB (China to US) and FEWB (China to Europe) had improved during the first trimester of 2022. At the beginning of March, the TPEB travel time increased to 12 days, with a decrease of 4 days compared to January thanks to improved delivery times after handling times by freight operators in North America.
Trucking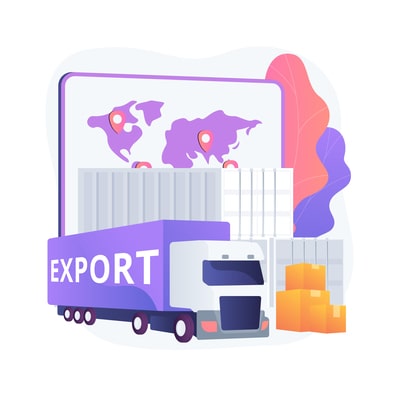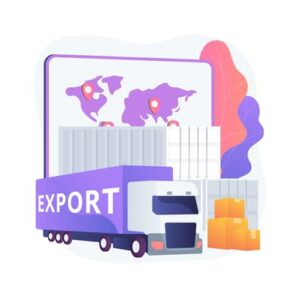 At the beginning of 2022, trucking operations did not stop. Drivers had to show a negative Nucleic Acid Test (NAT), especially in Hong Kong, Shenzhen, West Pearl River Delta, Shanghai, Yangtze, Qingdao and Tianjin ports. However, between March 12th and 14th, there were more restrictions on trucking between Shenzhen and Hong Kong, which are two important hubs.
But everything remains uncertain and unpredictable because each Chinese region had its own restrictions that drivers had to pay attention to.
How to turn Supply Chain uncertainty into a competitive advantage
To sum up, freight costs were skyrocketing, transit time was unsteady and this prompts you to pay more for premium air or sea freight to speed up your deliveries of supplies or raw materials, but lower your profit, or you finally chose to use an ineffective standard service.
So, we are going to share with you some advice to help you in this sort of situation.
Early bookings to avoid unexpected events
You should first plan in advance your shipment. For example, you need to book at least 4 weeks ahead your container and 2 weeks before, your air cargo. The earlier you communicate to your partners, the earlier they will put your goods on a plane or in a container because they have more visibility at the situation. In this way, your transit time will be really short, your products will arrive on time and your customers will be satisfied.
Multiple bookings in different vessels to dissolve the risk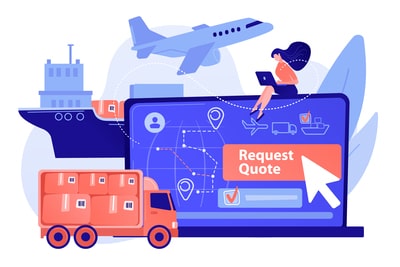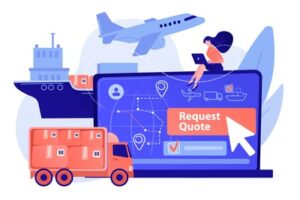 You should then set a strategy that can diversify the risk levels. Indeed, in 2021, 85% of sailing schedules were held, and the rest were cancelled. So, If you book 5 containers at once, you are much more likely to have one or two of your containers cancelled. You need to split those 5 containers in several bookings to ensure they are delivered. Putting them into several vessels increases the chances that four out of five would have been shipped.
So, spreading out your goods across several reservations is a highly recommended strategy to ensure you're getting your inventory when you need it.
Flexibility must be included in your supply chain
Moreover, you can face troubles in ports, rail yard or terminals and any time. So, you need to be more flexible. That's why, it's better to be in constant contact with your freight forwarder partner and warehouses in case of changes : in time, of routes, or there were problems. In this situation, you can take another decision to face it and to avoid delays or accidents.
Thus, the advice is to work with your freight forwarder company to avoid congestion and move your shipments to better intermodal options.
Explore LCL options if you need SKUs
Our final advice is to choose a consolidation (a Less than Container Load LCL) in sea freight, because it helps to prioritize the high-demand SKUs you need most. And if you differentiate the SKUs, you can sell faster to specific customers and at a right time. This will bring you faster transit time and reduced costs.
DocShipper also provides you with a 3PLs service that would allow you to let specialists control the quality of your products, negotiate delivery prices and check the various licences required during customs clearance and distribution. Finally, you can have access to our warehouse in northern Italy, which allows you to distribute your goods at low cost. We receive your shipments directly at their arrival, and we take care of transporting the goods to your customers via our last mile network.
DocShipper info : If you want more information about our 3PLs department, you can check our more complete presentation here ! 

Conclusion
We hope that those points would help you to improve your supply chain and your business. Indeed, it's high time to convert market uncertainties into a strength for your own business.
If you still need more assistance, DocShipper can manage your supply chain!
Do not forget that our company can help you find a suitable and trustworthy transport company to schedule your expeditions ahead, to ensure their quality and safety, finally, to find you warehouses where you can store your products.
FAQ | The global Supply Chain disruption and its impact on your business
What is the solution to face a problem equivalent to the pandemic of Covid-19 when you run a business?
- Book in advance your shipment to avoid delays.
- Stay in touch with your freight forwarder partners and warehouses in case a problem occurs, then you have to be flexible.
- Book different vessels to increase your chances of being delivered at time.
- Choose an LCL to reduce your costs.
What was the situation in China in March and April 2022 ?
Shenzhen and Shanghai were in lockdown, the borders between Shenzhen and Hong-Kong were blocked. Thus, the supply chain was impacted heavily : the air and sea freight had been facing many cancellations and trucking routes were restricted.
What is the moral lesson?
Always take advantage of the situation at hand, for example during the pandemic, you had to change your strategies and find others that would work better and to be prepared if the worst happen such as not receiving your goods at time and losing customers. You should choose strategies that lead you to focus more on your supply chain and to be more in touch with your partners.
How long did an air-cargo take to fly from China to the United States during the pandemic?
An air-cargo TPEB could take 12 days to reach the destination.
During the pandemic, what did truckers have to show to go from Shenzhen to Hong-Kong?
The presentation of a negative Nucleic Acid Test (NAT) was important to make deliveries with trucks by going from Shenzhen to Hong-Kong.
DocShipper info: Do you like our article today? For your business interest, you may like the following useful articles :
DocShipper Advise : We help you with the entire sourcing process so don't hesitate to contact us if you have any questions!
DocShipper China | Procurement - Quality control - Logistics
Alibaba, Dhgate, made-in-china... Many know of websites to get supplies in Asia, but how many have come across a scam ?! It is very risky to pay an Asian supplier halfway around the world based only on promises! DocShipper offers you complete procurement services integrating logistics needs: purchasing, quality control, customization, licensing, transport...
Communication is important, which is why we strive to discuss in the most suitable way for you!