When conducting business with a Chinese company, it is always a good idea to investigate their legitimacy. Experiences have shown that more than 60% of respondents cannot assure they trust their suppliers. This is where Docshipper comes in, with years of experience in this field and partnerships with rigorous firms.
How to Find Reputable Chinese Manufacturers?
Exhibitions and venues
You probably already attend a number of events each year as a vendor or business owner. When it comes to discovering tried and true Chinese producers among your peers, these might be a very beneficial resource. There will be a variety of different fairs held at various times based on various industries. The China Export Commodities Fair, for example, is one of the largest fairs in Guangdong, China.
Internet search
Conducting an internet search is the most basic technique to locate Chinese suppliers. Simply type what you're looking for into the search engine (like Taobao or Alibaba), and you'll see a long list of results. Although this will provide you with numerous possibilities, it is a bit of a shotgun approach, and it may take some time to explore the options and discover one that is a suitable fit.
Special sourcing companies
You can use the services of a specialized agency to find a manufacturer for you if you don't have the time or confidence to do so yourself. Although this is a quick approach to identify a manufacturer, the agency will charge you a fee.
DocShipper Advice : For all your logistics, feel free to dive deeper into the DocShipper website and contact us.
Social media
You can typically rely on social media for suggestions, as you can with most things in life. Joining business and seller networks might help you get referrals for reputable Chinese manufacturers. Alternatively, try searching for terms on Facebook to find similar business sites or supplier contacts.
Major point : Request the Business license and certificates
This is a simple barrier to place in front of the Chinese company you are dealing with. Chinese suppliers must register with the government and acquire an individual company registration number. If your supplier is unable to provide you a unique company registration number, it's too risky to continue dealing with them.
Here is an example of a good and due form business license.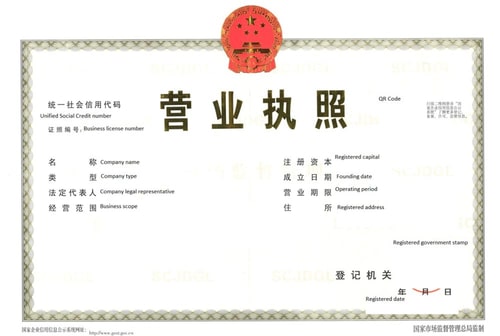 However, because business licenses are frequently falsified (we've encountered a wide range of fakes), you should conduct additional investigations to ensure that the organization is legitimate.
A further step would be to make a license check with relevant authorities if you know the company's official name in Chinese. This is useful if you wish to check a company's legitimacy before conducting business with them.
Here is a list of common documents a company has to prepare :
Legal owner's ID card
The business License
Tax Registration Certificate
Financial Stamps
Bank Account Opening Statement
Don't hesitate to call their landline
Most scammers do not give actual registration information online to avoid being tracked by law enforcement officials. They may, for example, present a bogus firm address, phone, and fax number, or convince buyers to contact them only via mobile phone. If a supplier simply has a mobile number and not a landline, you should be concerned. People in China can buy hundreds of mobile phone numbers without any restrictions or limitations. As a result, scammers exclusively use mobile phone numbers rather than landlines. Some companies lack communication skills, this could be an indicator of a bad company culture or worse, an understaffing. Some messages have to be exchanged between you and the supplier and understandings made clear.
Your requirements have to be clearly answered by the supplier, any fuzzy situation can lead to future business delays and issues.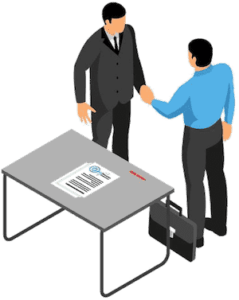 Require references
A Chinese company's financial statement is commonly used to demonstrate its financial strength. A firm with a good financial statement is less likely to go bankrupt or break its capital chains. Property loss is less likely when dealing with such a corporation. To verify the supplier's financial state, and ascertain the supplier's track record of ethical business practices, request references from prior customers and do not hesitate to contact them as well.
Similarly, if you know of any other brands in your field, reach out to them and ask for recommendations of any Chinese suppliers they've worked with.
Here is an example of a good and due form financial statement.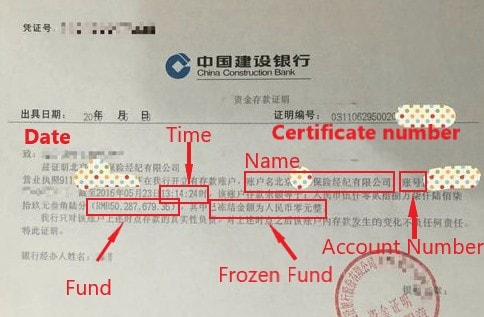 Check if the company is legally compliant
Before importing, always examine trademark, patent, product safety, and other compliance. Smaller businesses believe that because they partner with a large Chinese supplier, the supplier will cover all of their legal bases. Your suppliers, on the other hand, does not need to check for intellectual property, patents, or anything else. The legal compliance investigation has to be done on your side.
What are the possible risks when dealing with a Chinese supplier?
Lack of motivation on the part of the supplier
The supplier answers yes to everything at first, but after you get going and start doing business, you realize that emails are being delayed, deadlines are being extended, and everything appears to be moving at an excruciatingly slow rate.
The supplier is not able to offer a service according to your quality standards
It happens more frequently than you might expect. If you have high quality standards, make sure you find a supplier who understands them before you begin business. If you want your order to be defect-free, make sure to mention that when you place it. Everything must be agreed upon in advance.
Uncontrolled costs and the supplier trying to raise prices all the time
This is one of the issues with Chinese providers that frequently arises when you look for suppliers and choose the cheapest one.
You have closed the order in a rather informal way with the cheapest supplier, and you have made a down payment of 30% of the total order. From that moment on, you start receiving a series of emails telling you that prices have gone up in price, and they can't keep the original quote.
These are signals that the supplier miscalculated the costs in the initial quotation and is attempting to increase the profit margin.
Lack of motivation on the part of the supplier
Depending on the supplier you've chosen and the type of order you're going to place, you can find that the delivery time seems to run on forever.
If you place a modest order with a large corporation, you should expect your purchase to be delayed because production will begin only when a gap exists between their huge orders.
When looking for suppliers in China, this is a crucial factor.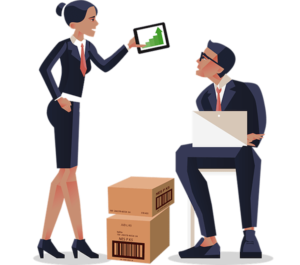 With all of this in mind, what are the reasons to choose DocShipper
To save time
You can anticipate to devote a significant amount of time and effort to locating your contractor. With Docshipper, you save time to devote to other business activities. Docshipper has connections with suppliers in provinces where you can send and receive an order in less than half the time it would take you to source on your own. An experienced company like ours can save you time and money for your business endeavors. You can contact us to get a quote.
To make a smart choice
Taking orders off the internet can be risky even if the vendor seems to be serious, as we saw before. Finding quality qualifying suppliers is a multistep procedure. You should know what to look for, and the easiest way to do so is to get in touch with already established companies. DocShipper issues RFIs, verifies that suppliers have the required certificates and permits, conducts audits, and does any other inspections you request.
To get the best quality
Profit margins are slim for Chinese vendors. To stay successful, they take multiple orders and pay special attention to large orders and long-term customers. It can sometimes mean a reduced focus on smaller purchases or new customers. DocShipper assures a constant service to every customer we choose to take on.
To keep tabs on your order
It's possible that your supplier will prioritize large orders and ignore small purchases that don't have a significant impact on their bottom line. This raises the possibility of missing delivery deadlines. A company may be shut down due to a labor dispute or government decree. Despite the fact that supplies are disrupted, Chinese suppliers may take time to inform you. With DocShipper you will know what's going on and how different events can influence your order.
To avoid getting held up at customs
Customs inspections are conducted to ensure that the nature, origin, condition, amount, and value of items leaving the nation correspond to the information provided on the declaration form. Inspectors pick shipments at random for manual examination, looking at the packing, transit marks, and other visible signs. They may remove the packing to investigate the items if something doesn't add up. Sourcing agents handle both the final goods inspection and customs clearance, guaranteeing that your cargo does not be delayed.
Knowing that a trusted agent with boots-on-the-ground is staying in touch with you, DocShipper will be a hassle-free experience on your behalf. Your agent will keep you updated, and you can communicate any inquiries you have. This can go a long way in preventing a lack of understanding due to the language barrier and provide the visibility needed to correctly confirm anything related to your order.
What to keep in mind with all of this information
As we see along the whole article, finding a trustworthy supplier is a hassle in many cases. Established companies can neglect smaller inquiries to favor profits. DocShipper acts as a trustworthy company in the way it conducts business.
What to keep in mind with all of this information
As we see along the whole article, finding a trustworthy supplier is a hassle in many cases. Established companies can neglect smaller inquiries to favor profits. DocShipper acts as a trustworthy company in the way it conducts business.
FAQs | Are Chinese suppliers trustworthy? [Legitimacy, Certificates, Licenses]
Is verifying a company's legitimacy a harsh process ?
Finding a supplier and verifying its legitimacy can be a very long process. From some days in the best case scenario to weeks long if they can not send you the necessary documents. Thus, using an already established and known business like DocShipper can save you on hassle and money.
What does DocShipper offer ?
DocShipper is an established brand with years of experience in the supplying field. We have done our due diligence process for the companies we work with. We offer a seamless experience thanks to our agents that can take your needs in charge.
What if I require special attention ?
Sensitive products and special shipping can be handled by us, for more precision you can contact us directly.
How simple is it to get in touch with DocShipper ?
If you need to get in touch with a legitimate supplier like us, you can simply contact us and transmit the information we need.
DocShipper info: Do you like our article today? For your business interest, you may like the following useful articles :
DocShipper Advise : We help you with the entire sourcing process so don't hesitate to contact us if you have any questions!
DocShipper China | Procurement - Quality control - Logistics
Alibaba, Dhgate, made-in-china... Many know of websites to get supplies in Asia, but how many have come across a scam ?! It is very risky to pay an Asian supplier halfway around the world based only on promises! DocShipper offers you complete procurement services integrating logistics needs: purchasing, quality control, customization, licensing, transport...
Communication is important, which is why we strive to discuss in the most suitable way for you!